En español, en français, em português.
In hotel distribution, we know that there is no universal formula that can be applied to all establishments to achieve the perfect channel mix. However, once we are clear on the key players and what each of them can contribute (for better or worse), the next step is to know what practices to avoid so that your distribution does not turn into a living hell.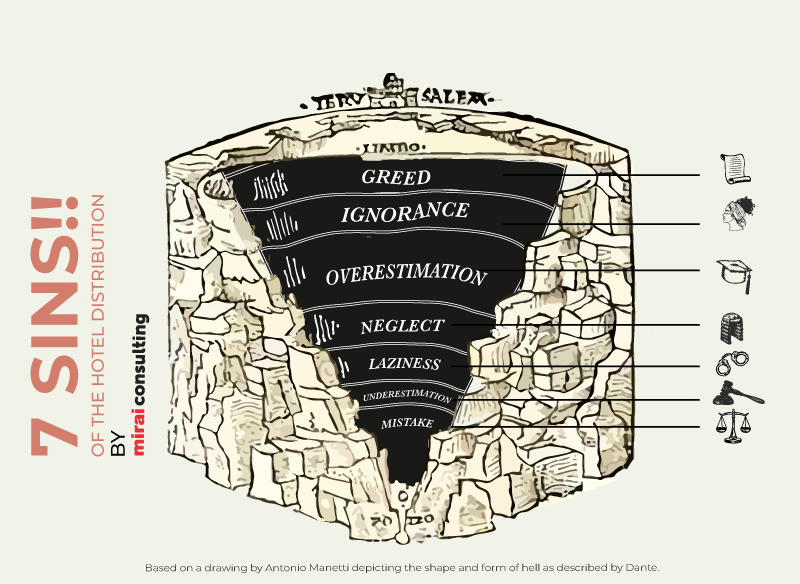 Controlling your hotel's distribution is essential, both to achieve greater profitability and revenue, and to respond to moments of crisis or uncertainty with the greatest possible solvency. The lack of transparency in distribution, and the price war for the end customer, make this control very difficult (if not impossible) to achieve.
Following the path of virtuosity in the marketing ecosystem, we must try to avoid temptation as much as possible and stay away from the seven deadly sins of distribution:
The more channels, the better: This can lead to channel mismanagement, resulting in uncoordinated and unprofitable distribution. By over-contracting certain types of channels (following the famous "more is more" philosophy), you run the risk of losing control and independence, not only in terms of distribution and profitability, but also in the direct relationship with your own partners and, of course, with the end customer, increasing the payment of commissions to third parties.

Not knowing the real profitability of each channel: Calculating the net contribution of each channel is certainly a complex task that very few establishments perform regularly or adequately. Only by understanding the true cost of distribution and the net revenue of each channel, will we know the true value they bring (not only in terms of revenue, but also when they help fill the hotel) and be able to make the right decisions. Make sure you eliminate the channels that detract from, rather than contribute to your distribution and keep those that can help you achieve healthy and profitable marketing.

Assuming that all channels have more capacity to engage customers than you do on your own: The e-commerce revolution has changed the behavior of users when buying their holidays, with 72% already doing so online. This means that all of a hotel's distribution channels are being democratized, as the customer uses the internet as a priority purchasing channel. Many of the channels that mediate your distribution have access to the same audience as your own website and are displayed in the same showcases (even with a limited capacity to generate demand on their own). Capture all the demand that will keep your direct channel within the right profitability margins through a good visibility strategy.

Neglecting your online presence and reputation: The direct channel is strategic to your distribution and should be at the top of the priorities of any establishment. To make it work, it is essential to have an attractive and easy-to-use website with a solid booking engine that encourages conversion. But you also need to take care of your online reputation, which may not generate sales by itself, but can tip the balance in your favor. Above all, you need to be visible to your audience in the showcases where customers are looking for your accommodation, by aligning a good digital marketing strategy with your direct sales strategy.

Letting other channels build customer loyalty for you: By fuelling third party loyalty programmes, you are allowing them to take your customer. Once that first booking is made, the channel will not hesitate to offer the customer any alternative accommodation in the future, for their benefit, not yours. Gaining customer loyalty allows you to take control of the relationship with the direct customer, develop more effective communications, have access to their data and buying habits, allowing you to personalize your message and reduce the cost of acquiring that customer in the future.

Assuming that direct sales are cheap: Your direct sales channel may be one of the most profitable (if not the most profitable), but your costs may also rise to the level of other intermediaries. Getting the first booking from a direct customer can be even more expensive than through a tour operator or OTA, which is why lifetime value and loyalty are so important, as they help to dilute the cost of that first booking over subsequent visits and reduce the commission paid. And let's not forget that in the long run, for the same cost, direct selling offers many more advantages (such as independence, control, sustainability, agility, etc.), which should also be part of your medium-term distribution objectives.

Believing that intermediaries will respect your price: As we said some time ago, the end of parity is a reality. Many intermediaries, such as Booking.com or Expedia, offer the end customer a better user experience or customer service than the direct channel, which makes the sale fall on their side. But we have also been feeding their own disparity over the last few years through loyalty or agency payment programs (payment on Booking.com or Expedia). The merchant method encourages intermediaries to play with their margins and offer more competitive rates than the direct channel. Controlling price distribution is essential, as is presenting a competitive price and value offer on your website in line with customer expectations.
Hotel distribution can be complex and challenging, but it is fundamental to the success of any accommodation. It's easy to fall into temptation, we've all been guilty of one of these sins on more than one occasion. If you're guilty, don't beat yourself up, the solution is in your hand. To get back on track, you must take control of your distribution, which will help you ensure a more profitable and healthy distribution and allow you to be more responsive to market challenges. Controlling distribution channels and their profitability, taking care of your online presence and reputation, building customer loyalty and considering the real cost of direct sales, are just some of the practices that can help improve your hotel's distribution.
About Mirai Consulting
Our consultancy and support service for hotels looking to take their distribution and direct sales to the next level. More information at consulting@mirai.com