En español, en français, em português.
In recent years, the social context has favoured the development and positioning of direct sales as a key channel in hotel distribution. Despite this, many hoteliers have not yet taken the steps necessary to promote their growth and optimise their channel mix; or worse, after the recovery seen in the sector this season, they have taken a step back in their strategy in favour of other less profitable or strategic channels.
All channels try to adapt to change to increase their presence in the ecosystem, even to survive the circumstances of the time. Many have evolved and mutated over the years in search of the master formula that will put them at the forefront of this race to win over the customer.
During the next few minutes, we will take a look at some of the key terms and ideas in the world of distribution. We will do this by reviewing some of the main channel partners, their role and the extent to which we should use each of them to best implement our distribution strategy.

Let's start with the basics and a simple definition of the term: Distribution is the process that makes it possible to put our product at the service of the end consumer. The more diversified our product is, or the more rooms we have, the more difficult it becomes to reach that consumer and to stand out from our competitors in the tourism market. In this context, distribution channels come into play, as they help us reach clients that we cannot access independently, or those that would be too expensive for us to access. Profitability (calculated through average net price analysis) and common sense must be the basic components of our strategy and the framework for establishing a healthy and optimised channel mix.
Understanding how the different channels work can be difficult, as they do not come with a detailed prospectus, and the terms we currently use do not properly define the complexity behind each of them: Online Travel Agents (OTAs) that redistribute or pay guarantees to hotels, tour operators that sell to the end client or that connect dynamically with accommodation providers, Business to Business (B2B) intermediaries that demand package rates, etc. The distribution ecosystem becomes even more complex when we talk about channels: we find channel partners that sell, others that distribute, some that are purely showcases, and some that have tools to facilitate the distribution of our prices.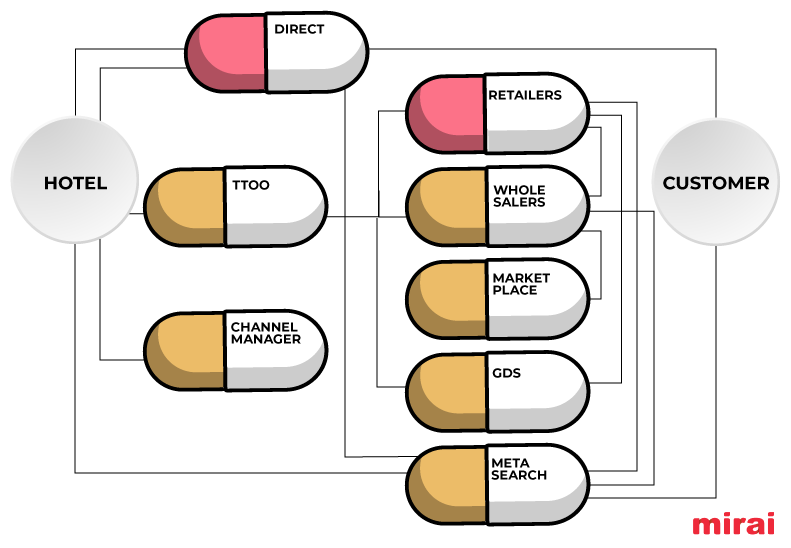 All well-managed channels have the potential to deliver value. The problem arises when we treat all channels equally, do not correctly delimit their scope of action or the commercial conditions that protect our overall strategy (and direct sales in particular), or simply allow one of them to take control of our distribution.
Tour operators
These are, along with travel agencies, the great pioneers of the sector and to this day continue to be the backbone of many hotels.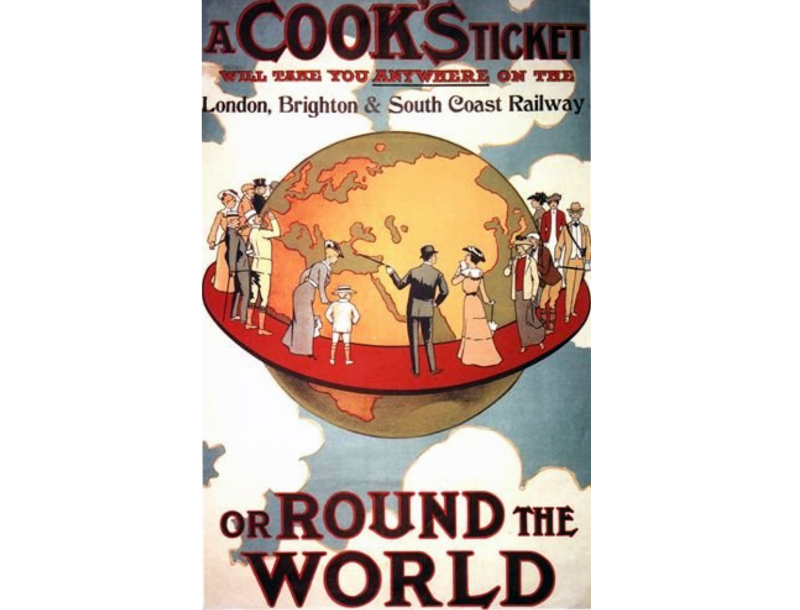 It is undoubtedly a channel that brings great value, as it complements online sales very well and allows you to reach many clients you won't be able to access otherwise. They have great potential for generating demand and promoting new destinations, as with their strategic agreements they design tour packages and can consciously direct clients to your accommodation or destination.
Their target client is usually not the final consumer, and they distribute through agency networks (which they may own) and other intermediary companies. Their origins are in the offline world, but some markets (such as the Nordic market) or companies (such as Jet2) have been carving out an important niche for themselves online.
Coming from the offline world translates to working within rigid margins with contract princes and not standing out for their versatility and agility to adapt to changes.
Historically, they are the great allies of holiday hotels. They can handle a high level of commitment (guarantees) and risk (airline seats) and are able to increase occupancy in low seasons. However, they tend to move in the lower net range, and in the event of a crisis they can be the first to disappear, so it is important to find a good balance within the channel mix and not to leave your entire product in their hands.
(Big names include Tui, Apple, Sunwing, Ving, etc.).
Dosage: although it can bring great benefits, we recommend you use this channel in very controlled doses. Complement it with other channels that access different niches, especially your direct channel.
The dosage needed for your channel mix will depend on the online positioning of your product. The smaller it is, the more you will need their support. In this case, we recommend working on a strategy to reduce your dependence on them, as this could lead to addiction.
Locate and work with the most strategic partners by source market and delimit the perimeter in which they can operate, respecting the areas of operation of the other channels (especially direct sales, which you must protect in your agreements).
If it is not financially necessary, do not enter into guarantees or exclusivity agreements and work with free sale quotas (never closed ones). Choose the smallest number of operators that can cover that channel's largest share of demand. Accept digitalisation as a positive opportunity and work connected and dynamically whenever possible.
Side effects: relying entirely on tour operators simplifies management but leaves your strategy in the hands of third parties, which means you lose control and independence. You will have little room to manoeuvre if you have to react to a crisis.
If you sign Free Independent Travel (FIT) rates, they must be limited to package tours and tour operator distribution, not made available to the online consumer.
B2B intermediaries
Also known as wholesalers, bed banks, etc. They operate between hoteliers and travel agencies (online or offline). They sign direct agreements with suppliers with quite high starting margins (or commissions), thus having a major impact on profitability.
This is probably one of the channels whose nature has changed the most over the years and where we currently find the most competition to accumulate sales volumes. They use technology to integrate with a wide distribution network (via APIs, XML or consolidators), redistributing to agencies and other intermediaries, muddying the sales flow. These integrations have led to a loss of control over prices and over the places where your hotel is eventually showcased.
Some intermediaries create packages dynamically but have no control over the flight product (although they may sometimes have special pricing arrangements or a certain quota on other operators' flights). They take few risks, and their ability to generate demand or promote new destinations is limited (unless it affects their margin, in which case they promote your product to third parties through a commission-based arrangement).
They can offer payments similar to guarantees in exchange for exclusivity and are the kings of price disparity.
(Hotelbeds, W2M, WebBeds, etc., are obvious examples, but Expedia, with its network of affiliates, or Logitravel with Traveltino also act as intermediaries).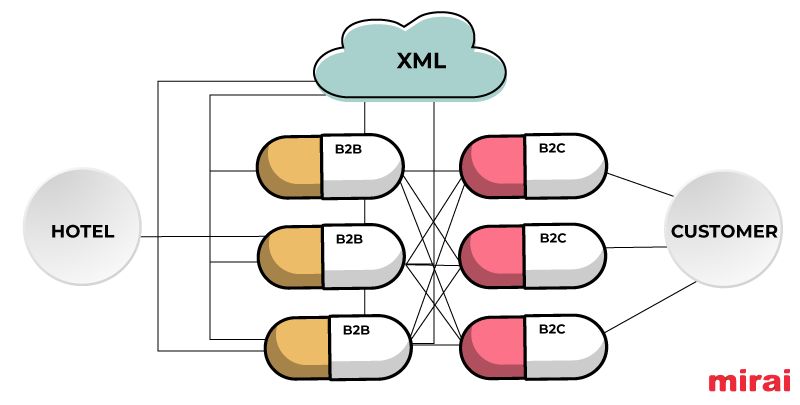 Dosage: we recommend you use this channel in very controlled doses.
The impact of B2B intermediaries on consumers and markets is limited, as they access them through third parties. Traditionally, they have been used as a tool to reach shop windows that you can't access by your own means, but the reality is that nowadays bookings come in through easily accessible portals. They are hard to control. Carefully choose those that can complement your distribution model and stipulate a well-defined framework of collaboration that aligns with your interests and goals.
We recommend always working dynamically and checking payment conditions and commissions carefully, as these can be somewhat exploitative.
These intermediaries may act as the representative or local agent of a foreign tour operator, in which case the "rules" of the first channel apply.
Avoid guaranteed quotas, contract-based marketing contributions or signing rebate agreements.
Side effects: numerous cases of disparity have been reported in hotels that abuse the use of this channel.
Great danger of overdosing (overbooking of channels) which can critically affect the direct sales and profitability of your hotel.
Loss of control over your product and lack of transparency.
The nature of some channels or how they really behave can be confusing. In such cases, we strongly recommend protecting the interests of your distribution and clearly defining where, by whom and, above all, at what prices they should distribute.
The line between some wholesalers and retailers is thin and tends to disappear in many cases or to operate in a hybrid way. If so, delineate the terms and conditions well by reflecting them in the commercial agreement.
Retailersor travel agencies
These sell directly to the end consumer. They should not redistribute, although sometimes they do (it is strongly contraindicated), and they usually buy from intermediaries, though they may also have direct agreements with hotels or belong to a group or airline. Online agencies package dynamically. They talk face-to-face with the direct client, handle a large amount of data and have a good understanding of customers' behaviour. They can invest large amounts of money in marketing to give visibility to their showcase (and include your hotel directly) and are the biggest competitor to the official hotel website.
They can generate a certain degree of demand for a particular destination but are dependent on airline routes, so their ability to promote destinations is limited. They can highlight your product in their showcase to give you more visibility, but most will ultimately depend on the good graces of the algorithm.
(Booking.com is the undisputed king).

Dosage: these are necessary to increase your hotel's online sales volume if you are still largely independent from tour operators. The lower your share of online sales, the more likely you are to be showcased on an online travel agency (OTA). As your direct sales increase, you will need to reduce the dosage. The target client of OTAs is the same as the target client of your website, so you can learn a lot about the behaviour of your potential clients and use this to the benefit of your direct channel.
Protect your brand and shield your loyalty programme from third-party programmes, otherwise your campaigns and client acquisition will become more expensive.
By not redistributing (totally contraindicated), their margins should be lower and adapted to each market.
We recommend working with an agency model (payment at the client's hotel) and avoid at all costs absorbing online payments.
Side effects: growing in these channels can cannibalise direct sales through your website; monitor their behaviour to analyse whether they add value to your channel mix and how far you should let them grow. It is important to understand their scope, marketing models and interests in order to align them with those of your hotel.
They usually bid for your brand to get better positioning in search engines. They also get into all the showcases where clients usually look for you. Shield your campaigns in your direct agreements to prevent them from impacting your sales and profitability.
Beware of hidden costs (virtual card payments, Package rate spreads or redistribution to other channels), which can cloud both your prices and your interests.
Direct
Here there is direct contact between the end consumer and the hotel. This can be through your official website, contact centre or directly at the hotel.
It usually involves technological costs (website, booking engine, call centre, etc.) and investment in marketing and other tools. However, there are no intermediation costs. The net contribution is usually among the highest (if not the highest).
A good strategy is needed to turn this into a channel with a significant share, as on its own it does not have the power to compete against the levels of investment made by the other channels.
This is the only channel that provides real independence, control, sustainability, profitability and customer focus throughout the entire flow. So, for an equal or slightly higher cost, it will always be better for you if the sale comes through your direct channel.
Generating new demand is more expensive because it lacks the investment potential of intermediaries, but it is easier to capitalise on brand investments and derive sales from other channels, through an appropriate pricing, distribution and end-customer loyalty strategy.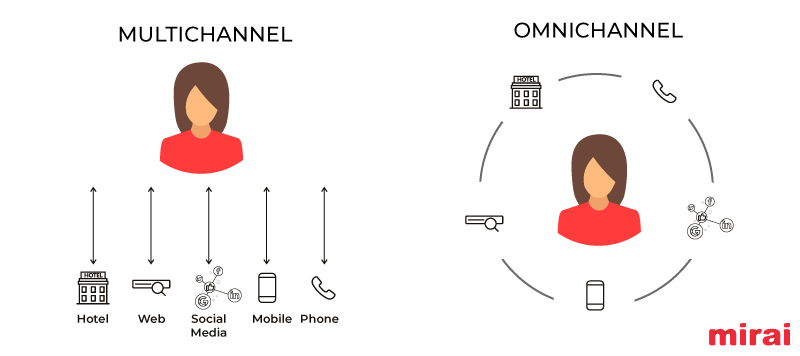 Dosage: enhance the omni-channel nature of direct sales and maintain consistency across channels.
Don't think of marketing as an expense, but as an investment in helping customers to find you.
Building direct customer loyalty, even at a higher initial cost, allows the initial acquisition cost to be spread across in future bookings.
Side effects: none reported. The higher your direct sales quota, the more profitable and independent you will be.
Metasearch engines
These offer the biggest showcase for online channels where it is therefore essential to have a presence. They were initially created as product price comparators, listing all the alternatives available for specific dates, allowing the consumer to choose where to complete their purchase.
The customer carries out the search with a product in mind, so metasearch engines have great decision-making weight in the lower part of the funnel but not so much in the inspirational part, i.e., they do not generate demand, but redirect it to one sales channel or another. The purchase is completed in the retail site/direct website that is making the investment.
They drive large volumes of traffic to the different websites.
(Google Hotel Ads is the one with the highest volume, but TripAdvisor and trivago also have a strong presence).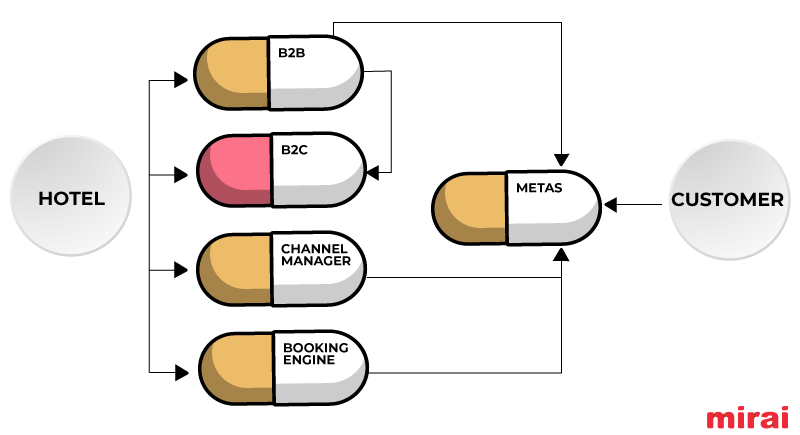 Dosage: metasearch engines offer different investment models that adapt to the needs of each establishment: Cost per click (CPC), Cost per action (CPA), Cost per thousand (CPM), etc. Analyse the models and choose the one that best fits your goals.
You must ensure your investment is backed up by a strong pricing and availability strategy in favour of your direct channel if you want to get the highest return while limiting the cost.
Side effects: metasearch engines only show results from channels connected to them. To appear with your website, you need a tech partner. Choose the one that offers the highest granularity and quality in its connectivity.
Working on commission models can provide a false sense of "comfort". Don't passively relinquish control, but always look for ways to get the most out of your investment by changing your investment model when necessary.
GDS or Global Distribution System
Is a tech tool that allows hotels, airlines and other tourism service providers to reach travel agents, corporate travel platforms, consortiums and other intermediaries, usually for the purpose of creating packages. Once the booking has been made, each of the parties involved is contacted with confirmation.
These systems usually work on the basis of a fee per booking and an entrance fee.
Depending on the type of accommodation you manage, you may not need to work directly with a GDS (as many hotel chains do).
(The most commonly used are Amadeus, Sabre, Galileo…).
Dosage: use this channel only if your establishment really needs it (luxury, corporate or urban segment). If not, you don't need to complicate your distribution model further.
Side effects: publishing your prices on a GDS can confuse your distribution model if your rates aren't well delimited.
Other channels
In addition to the main channels that we have analysed throughout this article, other relevant parties come into play in the world of distribution that allow for the development of both direct sales and intermediation. Many of these tools may have a start-up cost and often operate on a fee-per-booking basis.
A tool that helps you manage and distribute tariffs among most of the relevant parties. It is essential if you want to maintain control and consistency over the prices you send to each channel. It allows you to generate business rules for each of them and to facilitate the loading of prices and inventory into the online ecosystem. It is key for both optimising your commercial actions and for carrying them out from a single point.
Relatively new on the market, they allow accommodation providers, through connectivity, to become their own intermediary distribution channel. This technology connects OTAs, B2Bs and tour operators directly to your product and allows you to define the business rules you will apply to each of them. They can become an efficient monitoring tool to set your conditions. By distributing directly, you can lower the margins of many channels, and by centralising prices and conditions through a single tool you can also save administrative work.
These allow the different channel partners to integrate with each other (both intermediaries and retailers, and even service providers). They are often key in cross-channel distribution and where the distribution trail is usually lost, as your product may be available through different intermediaries and retailers will apply whatever conditions they consider appropriate to the highest bidder.
Conclusion
There is no master formula when it comes to planning your distribution strategy; each accommodation provider has their own circumstances and goals and knowing them and defining them should be the first step in establishing your roadmap.
To achieve this, you need to know how to mix the right dose of each of the components (channels) that will play a part in it. And without a doubt, the direct channel should be the main ingredient in your recipe.
Analyse the channels and their average net price, set your conditions and objectives for each of them and work with those that are aligned with your vision, are willing to comply with agreements and will respect the growth of your direct sales channel.
About the author
Marta Romero is Senior Consultant in our distribution consultancy division, Mirai Consulting. If you are interested in reorganising your distribution and optimising your channel mix, we can help you.