En español, en français, em português.
Mirai customers now have access to Tripadvisor's commission per stay model (called CPA Meta Consumption by Tripadvisor). Mirai is one of a limited number of Tripadvisor partners worldwide that have this possibility. This completes our offer of commissionable models in four major metasearch engines, adding the Tripadvisor model to Google Hotel Ads in pay per stay model, trivago Net CPA and Skyscanner in commission per stay model.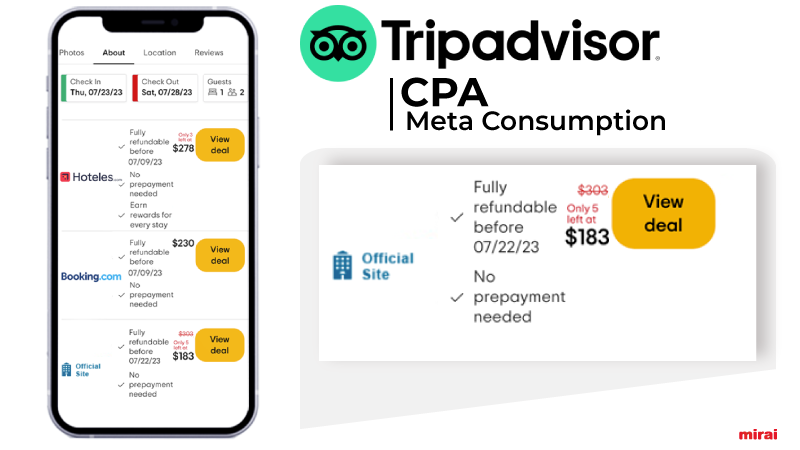 If you are not yet participating in the Tripadvisor comparator, we encourage you to do so and see the campaign results for yourself. It is risk-free and as you choose the commission, the profitability will be at a level that suits you. Why not channel the bookings now being taken by OTAs to your website?
How does the bookings reconciliation report work?
If you use the Mirai Booking Engine, you don't have to do a thing. With the monthly reconciliation report on our extranet, we will take care of everything.
If you use Mirai Metasearch with a third-party booking engine, you don't have to do anything else either, as it will be the same booking reconciliation process within our Mirai Metasearch Dashboard.
How does Tripadvisor CPA Meta Consumption billing work?
On the 15th of each month, we send Tripadvisor a summary of all the bookings with checkouts in the previous month and Tripadvisor issues invoices based on this summary. Please note, although the entire Tripadvisor CPA system works in USD, hotels with a different billing currency to USD will receive their invoices in the corresponding currency.
What should I do if I am interested?
Contact your account manager and we will take care of everything.