En español, en français, em português.
In our blog, we try to advise hotels about what they should (or not) do to compete with OTAs. Our goal is to challenge hoteliers, providing real data and have them revisit their strategies. Decisions that made sense in the past may not make sense today.

This post will be different. It will not be Mirai speaking, but a regular consumer (myself) explaining why I used an OTA instead of the direct channel to book my last hotel. And to be honest with you, it was a very easy decision. Although I am an advocate of direct sales, as users, we book wherever we find the best deal and wherever it is easier. Before you criticize my decision, put yourself in my shoes and tell me if you wouldn't have done the same or if you never use OTAs for booking. What I found was that for the same hotel and dates, Booking.com offered me a better rate, a better room type and a better cancellation policy. The cherry on the cake was a $110 travel credit toward my next reservation (on Booking.com, of course). The best (or maybe worst) part is that I'm pretty sure the hotel is totally unaware of this mess. My question to you is: are you sure it's not happening to you too?
My trip to Washington D.C.
Like most travelers who are not experts in a city, I started my hotel search on Google, Tripadvisor and, of course, the OTAs (Expedia and Booking.com). This upper funnel is where the OTAs truly add value. After 30 minutes, I had made my decision. A nice independent hotel between the White House and the Capitol.
I then switched to "where-to-book mode" (lower in the funnel) and went to Google Hotels, Trivago and finally checked my Plus account on Tripadvisor, hoping to find a better deal. Given my background, I went to the direct channel to check prices there too. After another 30 minutes, I was done. It really was a no brainer. Booking.com was by far the best option.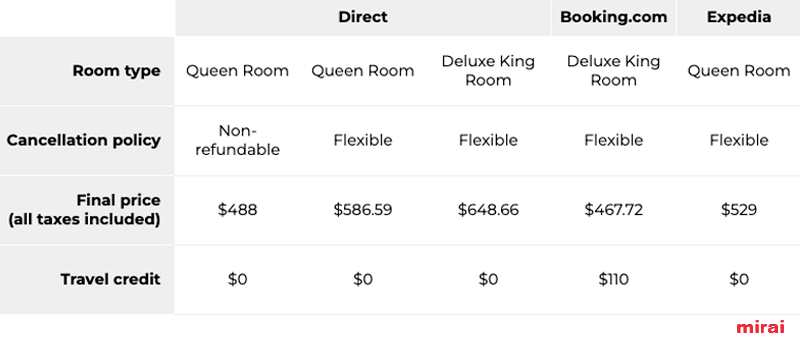 As a customer, I am surprised that a travel agency can offer a much more attractive deal than the hotel directly. Why would a hotel pay an agency to sell their best rooms for a lower price? But remember, I'm wearing the customer's hat so… who cares? What matters to me is what I get. What the hotel gets is not my business.
After a few seconds, I had made my reservation on Booking.com, feeling satisfied with the "great deal I had found". Thanks Booking.com for your great service. Or should I say, "thanks hotel for rolling out the red carpet to Booking.com so that they can roll it out for me?"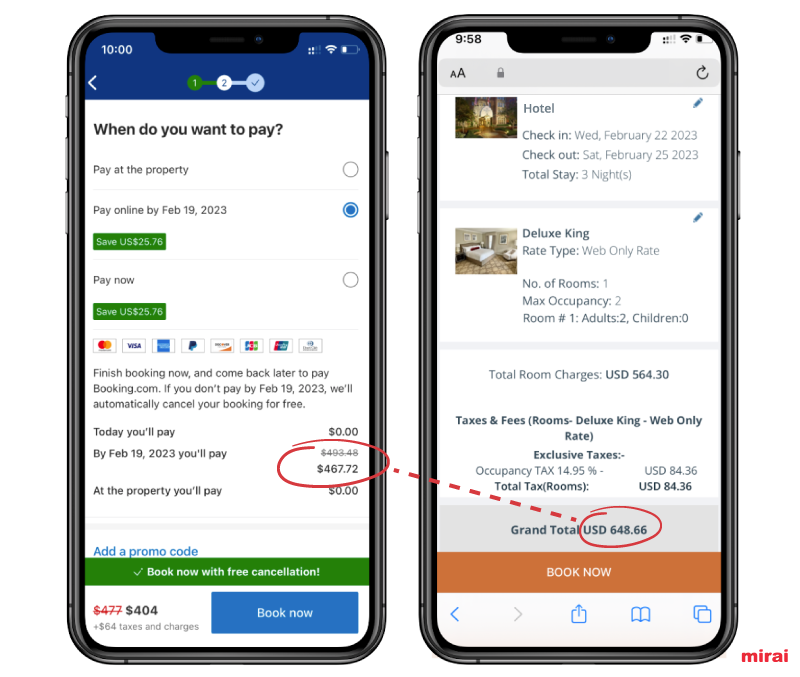 The four decisions the hotel made that created this mess
Hotels regularly receive proposals from OTAs offering "more visibility" in exchange for either an exclusive discount or a higher cost. Nobody does anything for free. And if there is one thing the OTAs have mastered, it is marketing. These new programs look great, full of advantages and with very little to lose. Unfortunately, it's very much the other way around. OTAs have a lot to gain, and hotels have a lot to lose. But hoteliers, who are always pressed for time and in a constant rush, tend to accept them without thinking twice. And that, I suspect, is what has happened with this hotel.
Booking Genius, which gives Booking.com members a 10% discount. Unfortunately, the hotel does not offer this 10% discount on their website even though they have a loyalty scheme. Looking for reasons to leave Booking Genius? Here are more than 20.
Mobile discount, which gives Booking.com another 10% discount on mobile "only" (approximately 80% of its traffic). Once again, this same discount is not applied to mobile users on the hotel's own website.
Free room type upgrade, which gives Booking.com an advantage by offering a better room for the same price. Most hotels think that Booking.com offers the upgrade after the reservation has been made or in the very last step before booking. They are wrong. The upgrade is shown up front and Booking.com does a great job of highlighting it. Why would you offer a free upgrade on Booking.com and not on your own site? The free upgrade saved me $126.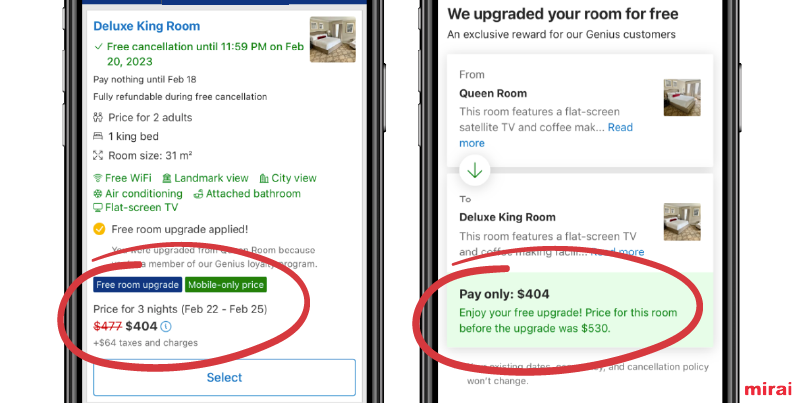 Booking payment solution, which gives Booking.com the ability to charge the customer (moving the OTA away from the agency model to the merchant model) while reducing their margin and undercutting you. If you accept this new payment solution, you should be aware of all the consequences of the merchant model. This hotel enabled the Booking.com payment solution and, as a customer, I saved another $25.76 compared to their direct channel.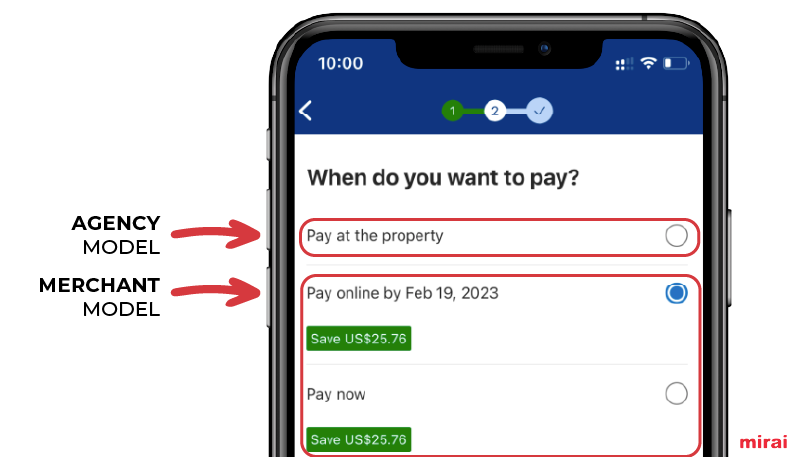 Here we can see how Booking.com masters transparency and marketing in its final message, reinforcing that Booking.com is a much better choice than booking directly.

Travel credit: the cherry on the cake
As if that was not enough, Booking.com had just sent me one of their many emails with a promo code offering an attractive $110 in travel credit if I book before a certain date. So, I used the code and got my travel credit, which is now waiting in my "wallet" for my next reservation.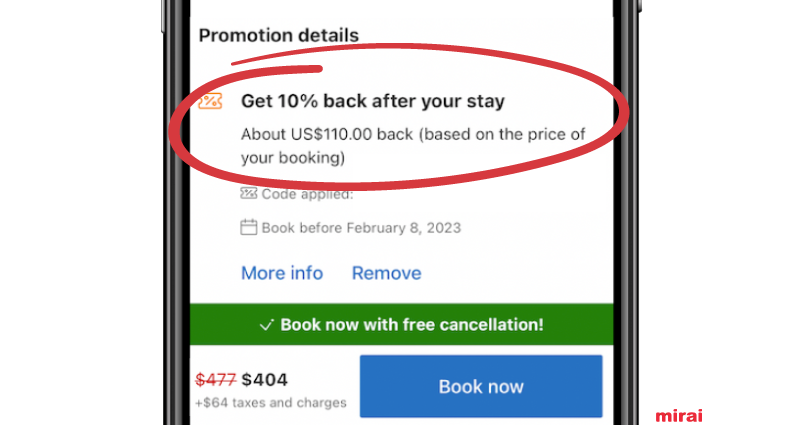 Conclusion
It takes a lot of time and effort for hotels to choose the best technology, invest in the right digital marketing and define a winning direct strategy. But it only takes a few seconds to flush it all down the toilet. The same time it takes to log into the Booking.com extranet and make two clicks. Are you sure this isn't happening to you?
By the way, it is not impossible to activate all visibility boosters on OTAs and still maintain a good direct sales strategy. What makes no sense at all is to give everything to OTAs and not do the same with your direct customers.
About Mirai
Mirai works in partnership with hoteliers to maximize the potential of direct sales. We provide the know-how and the best technology to compete with intermediaries, gain independence and reduce overall distribution costs: booking engine, web project, metasearch connectivity, digital marketing, distribution consulting and contact center.