En español, en français, em português.
One of the great advantages of your direct selling is the data it generates. You're probably already well acquainted with and actively utilise some of these data points, such as those related to analytics or the bookings you receive—which, when properly analysed, can give you clues to improve and suggest opportunities. But there are other data points that, while of great interest, aren't as widely known: the booking requests you receive through your booking engine.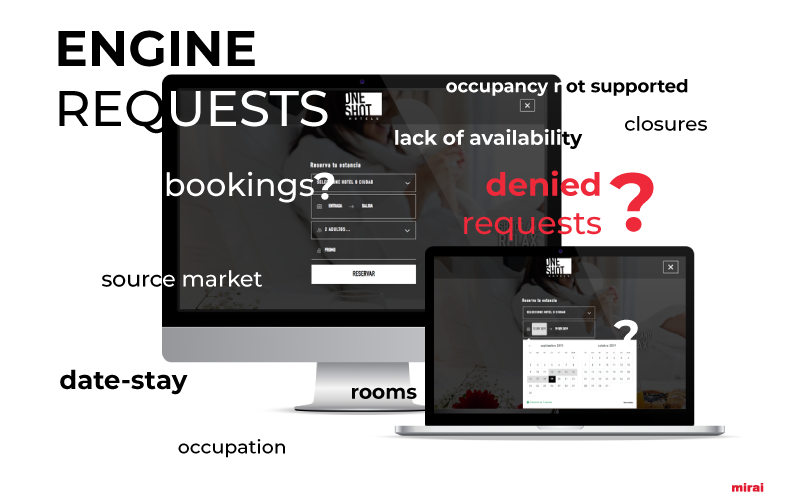 Your website traffic doesn't always reflect real demand and can therefore skew your conversion results (remember that the site isn't only fed by direct customers—e.g. tour operator customers who want to learn more about your hotel, not buy—and that some customers go directly to your engine —e.g. meta search engines—). Engine requests, however, provide very valuable qualitative information that is worth analysing. Whenever someone is genuinely interested in your hotel, they ask you in detail what they're looking for. After their question comes your answer, which can be positive or negative. The former case is the scenario we are most familiar with and which plays out in the conversion analysis that most of us do on a regular basis. The latter case (negative responses), where we're 'rejecting demand', is a scenario that we tend to overlook quite often but which, if we analyse it well, can present us with many opportunities for improvement.
If we review the marketing-sales funnel, we can see that we pay a lot of attention to the top part, planning and optimising the marketing campaigns that generate the traffic we need (as long as the commission incurred is kept in check, we recommend not limiting the budget). We also invest in creating a good website which properly communicates information on our hotel and the services we offer, and which features the necessary content and incentives so that the traffic we're attracting with our marketing campaigns continues to move through the process and eventually makes a request through the booking engine. Having got this far, it would be a shame if users were to slip through the cracks, wouldn't it? Well, that's exactly what happens with all the people to whom we give negative responses without offering alternatives. These are users in whom we've already invested considerable effort and money, but who are unlikely to end up buying something from us. In fact, many will end up booking with the competition.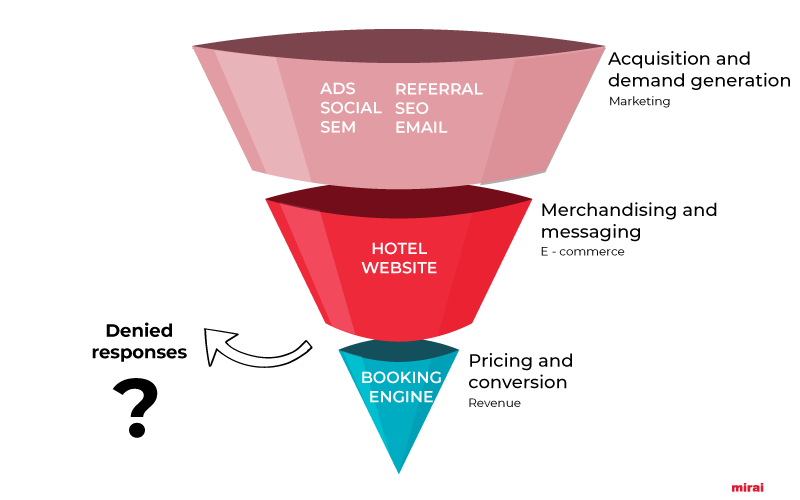 Denied requests (demand rejected)
We usually deny booking requests for three main reasons:
Lack of availability (partial or total) on requested dates
Lack of available rooms to accommodate the required occupancy
Non-compliance with the restrictions in place for that period (min/max. stay, etc.)
With fresh and detailed data from these cases we can even estimate the business value (applying the ADR and conversion we have for those dates) and thus understand the business potential within our reach. By being a little flexible and creative, there are often solutions that we can implement depending on the potential business.
What can we do with this information?
Each of the above-mentioned reasons presents unique characteristics and there are different ways of approaching the solution:
For example, when there's a lack of availability, we can try to 'scrape' a room from other distribution channels or from an unfilled vacancy, or by verifying suspicious bookings (or to oversell some of the rooms if we know for a fact that we will have cancellations / no shows).
If the problem is that we don't have room to accommodate a certain occupancy, such as the classic 2+3 (large family), we can probably think of a way to propose an attractive alternative, such as transforming two communicating rooms into a family room or adding that occupancy to a superior room where an extra portable bed can be placed.
Or, considering the potential behind the denied requests, it might be in our interest to slightly adjust certain restrictions in order to obtain several additional bookings that we're currently rejecting.
For instance, let's look at the case of a Majorcan holiday hotel that has a higher percentage of rejections over the last two weeks on certain stay dates: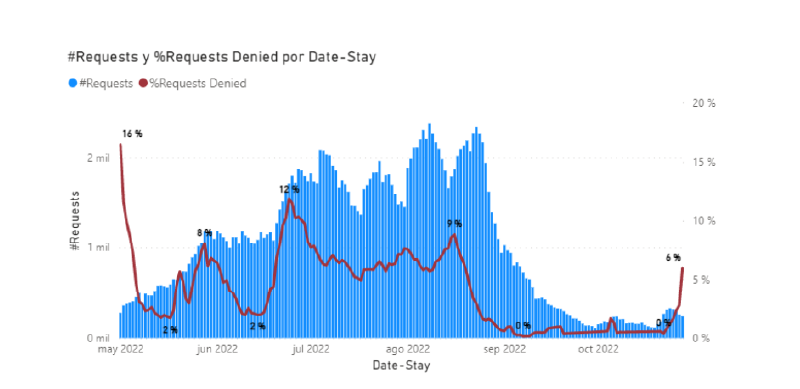 Here's the key to the denied requests and an estimate of the associated potential sale:

It would appear that there's clear potential for improvement if we understand the reasons behind these cases and think of ways to transform this challenge into an opportunity.
Looking at these data, we would start working on the lack of availability, recovering the possible inventory of unsold vacancies for the critical dates, confirming/cancelling suspicious bookings or finding alternatives using superior rooms. In any case, this exercise is sufficiently substantial and complex to merit its own post (which we will also publish soon).
Additional valuable information that unlocks many possibilities
In addition to rejected demand, requests to your engine are also a good indicator of the overall demand for your hotel. These account for a significant percentage, making it a 'statistically significant' source of data. Ensuring quality and taking proper advantage of it allows you to gain agility (this information can be made available almost in real time) in improving revenue management or fine-tuning your marketing campaigns.
Suppose you see an unusual spike in requests for a given hotel on certain dates from the USA, which you investigate and learn that a new direct air route between New York and Palma de Mallorca is being launched in June. I'm sure you can think of ways to capitalise on this new demand, either by adjusting prices or by planning a specific digital marketing campaign.
How many times have you heard that direct selling alone can't generate significant volume? Or that there's no demand for such and such a market in this destination? Or that no one searches in sufficient time beforehand? These data allow you to check how many requests you receive, when you receive them, for which stay dates, where they come from, which ones you can't attend to for each reason (discussed above), and how far you could go during each season. Remember that the online channel (especially the direct channel) has a shorter lead time than other channels, and when the peak of the season arrives there's often no capacity left to play with. In our experience, this can represent a very significant amount.
Which data do you need?
Requests from end customers to your booking engine with details of the source market, booking dates, dates of stay, number of adults, number of children and number of rooms.
Negative responses (rejected demand) with the above details and the reason for denial (lack of availability, closures, occupancy not supported, min. stay, max. stay, etc.)
With all of this you can put together useful KPIs that you can then use in reports:
#Requests (requests received)
Conversion Rate % (bookings achieved divided by requests received)
Denied Requests
% Denied (requests denied per hundred requests)
Denied reasons: Availability, Occupancy, Restrictions (details if available)
Lost Revenue (estimate of what you could have sold if you had not rejected)
As always, you should be able to analyse it by booking date, date of stay or a combination of both. And if you get some historical data for comparison, patterns and trends, even better!
How can you move forward and start taking advantage of this information?
Request your booking engine to share with you the information of the requests received, if possible with the details mentioned above (markets, dates of stay, etc.).
Calculate the main KPIs and generate reports focused on answering the key questions (the ones suggested here and any that you may have).
Understand the data well: analyse, research and think about how you can leverage your findings, spotting opportunities and taking advantage of them, or finding solutions to minimise unmet requests.
At Mirai we already offer our clients various reports to tap into this information: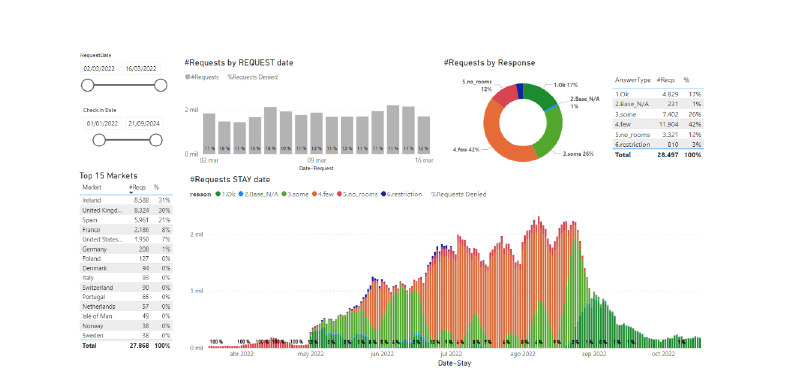 When analysing your direct sales, don't overlook the booking request data you receive through your engine, both the total requests and the requests you're unable to fulfil. You will find that they provide you with a lot of information that can offer clues to opportunities for improvement.