En español, en français, em português.
Historical data deficit and business process analysis
Traditionally, hoteliers have focused on data such as occupancy, arrivals, departures and costs, all of which are operational and profitability indicators. In contrast, they have paid less attention to other marketing related data (net income per channel or per market, or distribution costs) as guests were brought in by Tour Operators and other distributors, who were responsible for selling the product in the source markets.
It was the moment hotels started to take control of their distribution, when "new" data (even though much of it has always been in the PMS) became more necessary. A concrete example is knowing the channel mix well — gross and net — and being able to cross it by market, anticipation or type of rate.
These data are very important as hotels move forward in direct sales and online marketing, since good decision making requires data to be based on and plenty of analysis.

PMS' role
The hotels' main working tool has always been the PMS (Property Management System), which conditions the culture of data and information consumption to date. Historically, PMS efforts have focused on improving hotel operations, paying less attention to marketing and distribution data (since it was also not necessary at the time).
Today, needs are very different. And the industry tries to adapt at a quick pace and with high-quality solutions, in some cases. Many new-generation PMS have also appeared, having all this already solved. Nevertheless, not all the existing PMS advance at the required speed, as it is not easy in many cases (due to the product and its architecture being out-dated). This means that there are many hotels anchored to obsolete PMS, not changing because of the "high financial and operational cost", without realizing that the "cost of not changing is even higher". It is at least curious that some hotels continue to renovate rooms every few years and yet keep using the tools they used 30 years ago.
Data to boost direct sales
Direct sales is not an insulated, airtight channel, but a fundamental piece that must fit in and coexist with the rest of the hotel's distribution. Therefore, in order to figure out how to make it grow, having a complete picture of how your hotel gets bookings through each of the channels (offline and, above all, online ones) is a good starting point.
For each of these channels, you should solve the following questions regarding bookings.
When are they for (time in advance)?
Which rate at or which offer with?
Which room and occupation are they for?
Which is the board option?
What are the extras?
From which markets do they come from?
What is the average stay?
What cancellation policy are they booked with?
From which device are they coming in?
How much are these sales costing you? (The interesting thing is actually what net ADR you get out of them).
All this information should be analyzed, not only regarding new bookings, but also in regards to cancellations, so that you can learn and anticipate. As you may well know, there are channels where cancellations are much higher than others.
It would be even more enriching if we "go up" a bit in the funnel and access the web analytics data, which give us a lot of additional and very relevant information.
New and repeated visits.
Countries of origin.User devices.
Average time on the web.
Cancellation rates (to build the conversion funnel).
Average booking value.
Traffic sources differentiating mainly between:

Free sources (mainly organic, direct and referral).
Paid sources (Ads, metas, retargeting, display, etc.), from which we have even more data to find out: Impression share, CTR or click-through-rate, average position, clicks, sales, conversion, costs and profitability.
Web analytics and marketing data are often not accessible in most channels, as it is part of the information that, if shared with and known by you, would make them vulnerable. And for your distributors this is not particularly appealing.
The more information you have regarding sales (and the origin of these) in all your channels, the better. It will give you a more complete picture and make it easier to identify opportunities and areas where you can improve, which will ultimately lead you to make not just better, but also more accurate and risk-free decisions.
To find out this information we must compare our direct sales data with those of other channels, especially online distribution. We seek to detect where our own website is doing well and where it is suffering, which is where OTAs are hurting us the most. For example, some markets that sell very well online but that are weak in direct sales, or perhaps last minute sales from mobile phones may be our unfinished business. Truth is, there are often surprises when doing this exercise for the first time.
The Internet is becoming more and more transparent, and allows customers to find the best price for each hotel on the desired dates (thanks, for example, to meta-search engines such as Google Hotel Ads). Thus, incorporating this information into the analysis is vital, both to monitor your website's competitiveness and to follow up on different business strategies you may decide to implement for your direct sales.
Finally, another very interesting piece of information, particularly for your direct sales, is online demand. The point is measuring and analysing customer requests to book your hotel, and so finding out the unattended demand, i.e. that which you cannot satisfy and the reasons behind this: lack of rooms, unavailable occupancy or restrictions such as minimum stays or closure upon arrival. This information, unfortunately, will not be provided to you by anyone except your own booking engine, which should give you the information by date of stay, or type of enquiry or room.
Where to collect all this data from (sources)
We already know the data we're looking for. Let us look now onto the possible sources of this data:
Startin with PMS, where all the information is consolidated, it allows us a complete and transversal view. Up to date, this is usually what gives us the channel mix, where all channels are included. Here we can see what share of direct sales we have, which is a key measure when comparing to know whether our direct sales are appropriate or we have room for improvement (reference level depends on several factors such as type of establishment, destination, source markets and location).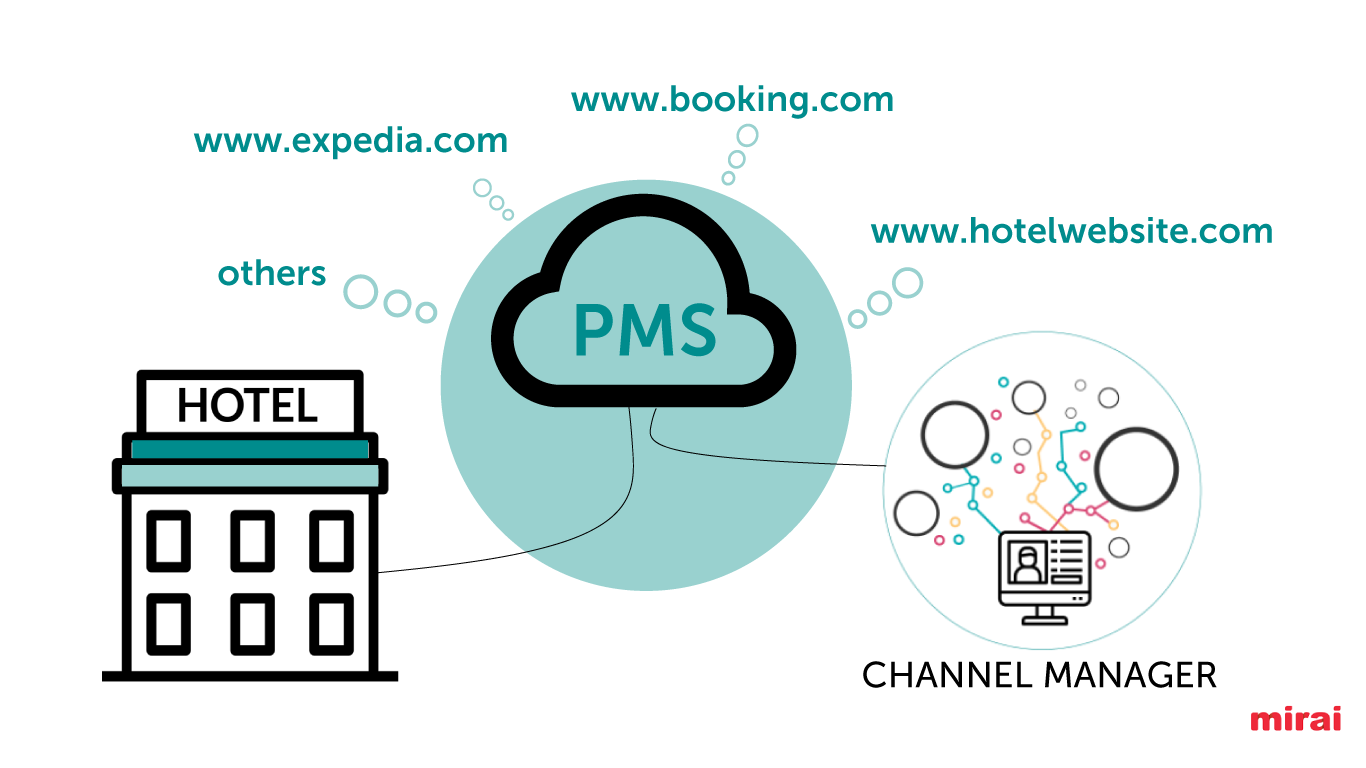 Channel Managers are a great data source to get a good perspective on distribution, usually online distribution (although more and more tour operator channels, such as Jet2Holiday). This partial channel mix is a good alternative (and a real-time one) to define and take action in search of a good direct sales strategy, as well as to do follow-ups.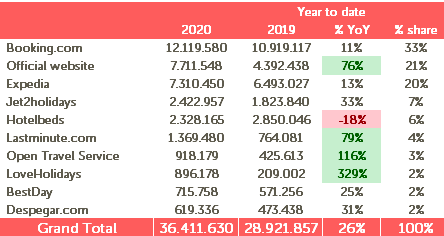 Data from the booking engine is undoubtedly essential and always the most granular data. They are the starting point of knowing what state you are in so as to then improve your direct sales. As Sun Tzu says in The Art of War, "if you don't know yourself, you will be imperiled in every single battle". And growing direct sales every day is a "battle". At Mirai, we have recently presented our BI, with all the data to optimize your direct sales in one click.

In order to complement the engine, we should add the data from our Call Center, and, above all, to compose the complete picture of our web store, we would need the data from Analytics which, with the adequate settings, offers us valuable information about online marketing formats and platforms we work with in our campaigns. It is common to use Google Analytics (a leading tool in the market), which also collects relevant data from Google Ads or even Google Hotel Ads.

We can also take advantage of the good data provided by the OTA's extranet such as Booking.com and Expedia, which, in addition to being powerful online sales channels, have plenty of valuable information that will help us to improve and adjust our direct sales strategy. Furthermore, they allow us to compare by destination, setcomp (or group of hotels you are competing with) or even by reference group, which is very useful to find out if we are achieving what we should at each moment.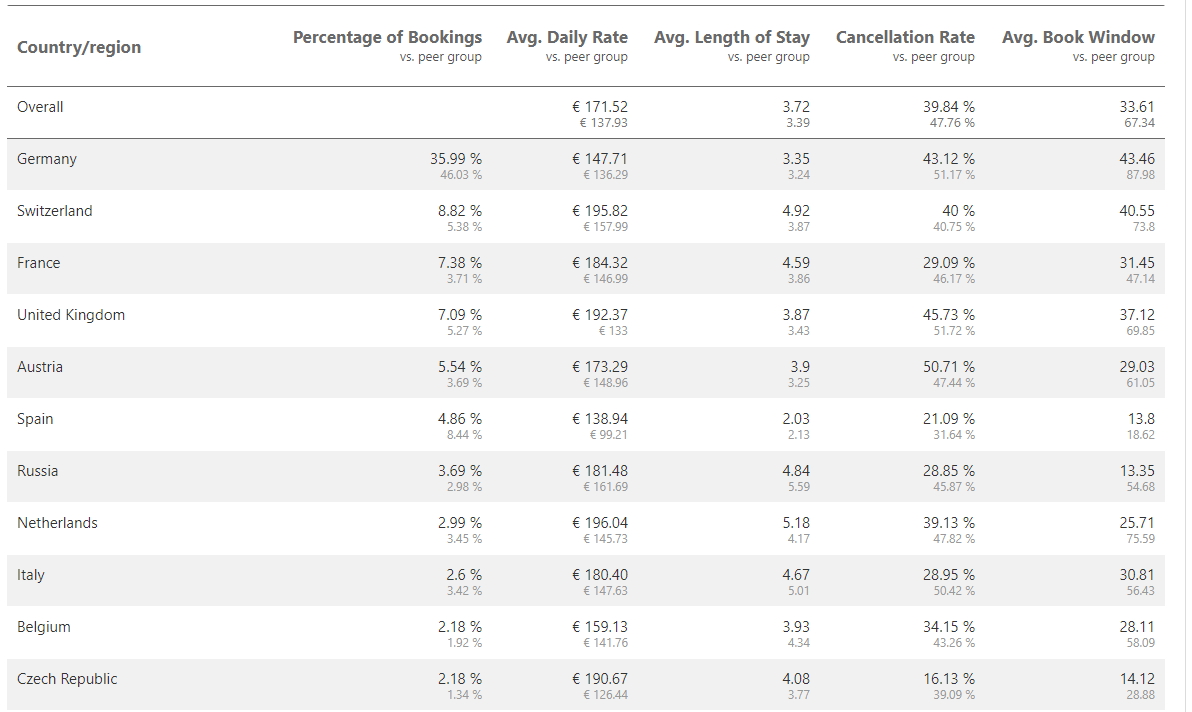 They are also a possible source for tracking your price level against other channels that also distribute your product and with which Booking.com, for example, makes a rate quality index with daily details.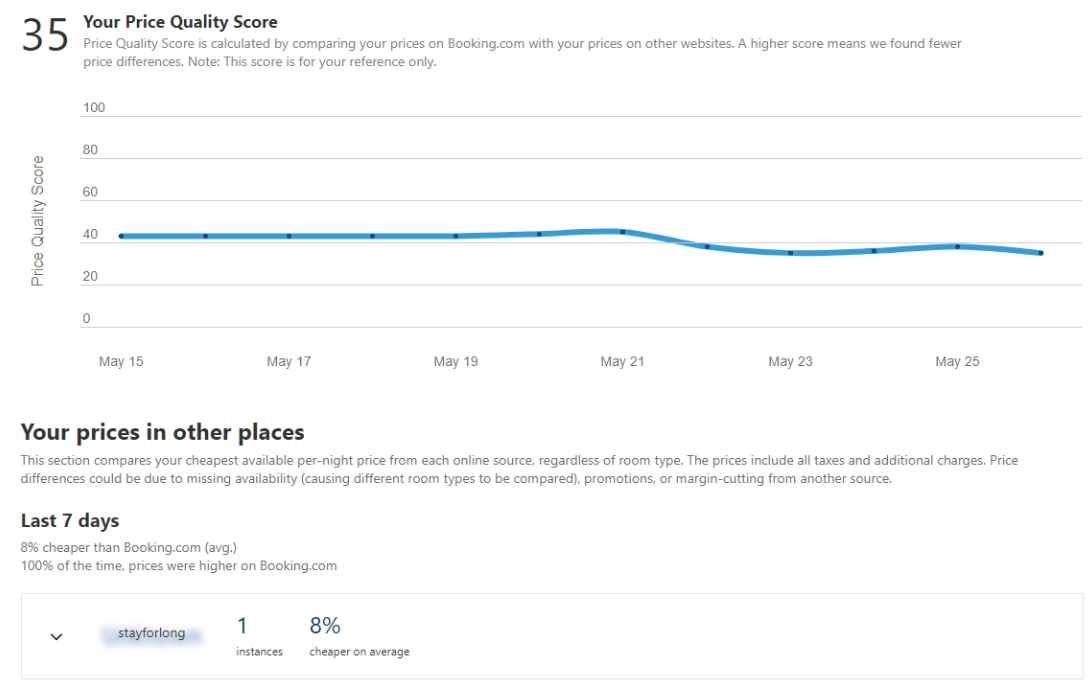 Lastly, we find price comparators, or rate shoppers, and even some meta-search engines that offer metrics in this regard. Knowing the competitiveness of your direct price in relation to OTAs is essential in order to control your product and how it is positioned in each market. Whatever you do, if you do not control your price for your direct channel to be competitive, any commercial or strategic action will fall on deaf ears.
Reliable, updated, granular, usable and Excel-exportable data
We already know the data we want and how to extract it from the different sources. We need to make sure the information is of good quality and verified. The freshness of this data is also important. In a best-case scenario, we can have real-time data, although, in general, a daily refreshment would be sufficient. The important thing is the appropriate granularity of the data, were they to be too aggregated, we would not know some details that might be essential.
This granularity is key to crossing variables, filtering and breaking down information in order to find improvement areas and interesting opportunities. So it is the usability of the reports, which can make it much easier to understand and analyze the data, facilitating fast and accurate decision making. And at this regard, the chosen platform is decisive, as it largely conditions the functionality and views allowed.
Another very useful functionality is the possibility of exporting the data to Excel or other tools, which may be necessary for some things or facilitate certain tasks.
Illustrative examples of what can be achieved with good data and a good BI tool
In order to know ourselves well, a good example would be understanding what markets are working for us and what are not, analyzing in detail, thanks to BI, the evolution of each important parameter in direct sales: bookings, stays, ADR, length of stay, booking advance , percentage of mobile sales or even cancellation pattern by nationality in order to modulate our marketing investment. This same exercise should be done for the main campaigns we launch, including their cost and calculating the return on investment. Or something as simple as understanding every week how much we sold and how it compares to last year!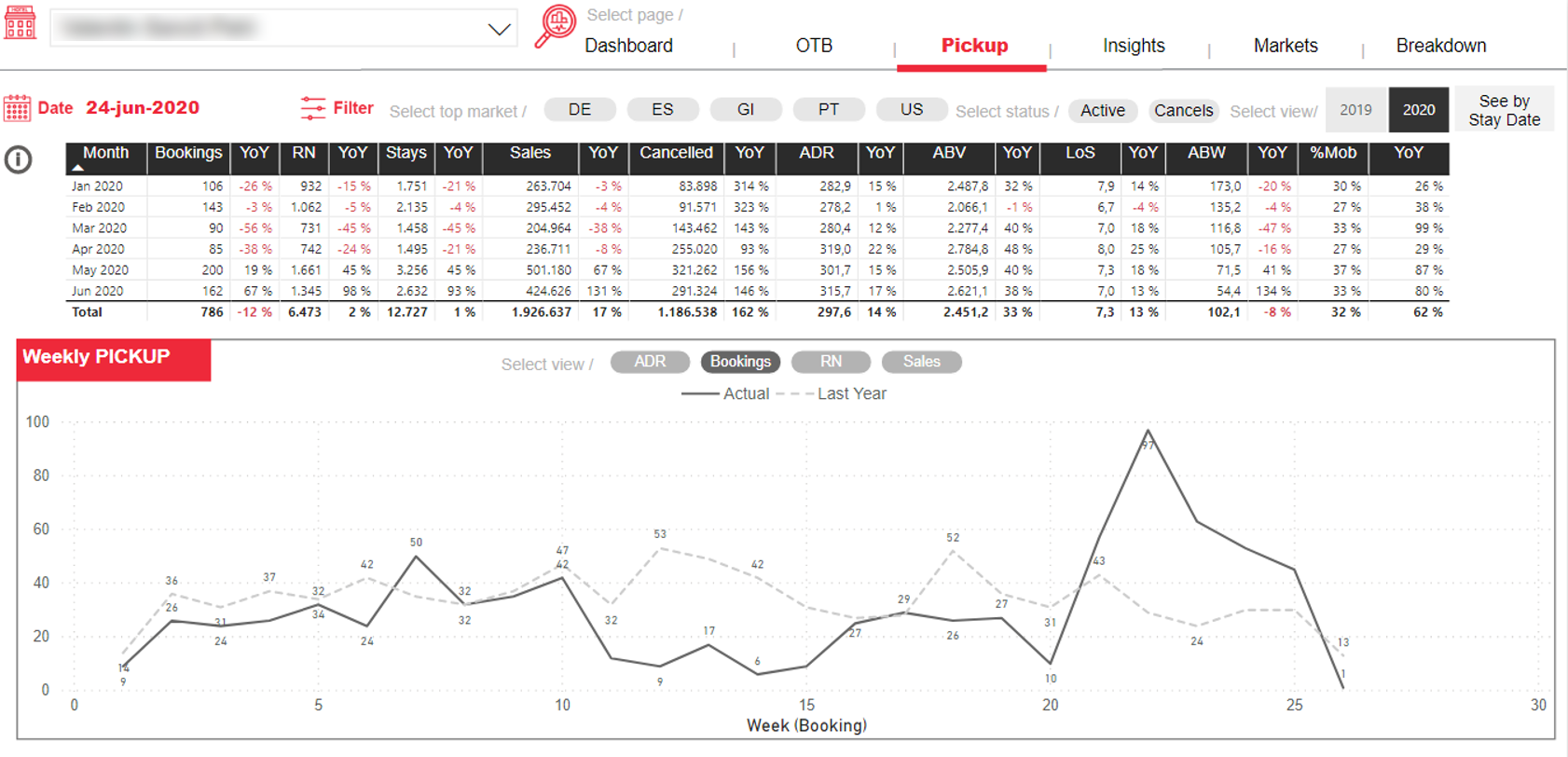 Another thing we can do is locate markets that sell well online, but are weak in direct sales. With PMS or Channel data we can see which online channels are most relevant. We access their extranet and analyze data by market, compare them with our direct sales by market for a similar date range and look for those countries where we are not up to our distributors. Once we find it out, we keep on researching to get a better sense of stay dates and customer profile, and so designing a good action plan.
We can do something similar with devices used, occupation, or even with aspects such as room types or diets, more related to the product. The idea is really just using the data we can get from our online distribution channels to detect customer types to which we are not succeeding in selling well through direct sales, understand why and design an action plan to reverse the situation. Or, if we are able to calculate and compare the Net ADRs for each channel against our direct sales, we might realize that in certain cases closing a channel is a better option… As the saying goes, sometimes "less is more" (fewer distributors in certain scenarios -markets/products- can earn us more, especially if we achieve a good return on direct sales).
And we can also seek inspiration for the multiple dilemmas that usually assail us every day. For example, sometimes we do not know whether to focus on reservations made well in advance or, on the contrary, try to get last-minute ones… Looking at graphics like this one from Booking.com we can certainly have a clearer mind, especially if we look at the reference group's values, which give us a better idea of the market.

Conclusions
Hotel marketing and distribution data shortfalls have made it much easier for OTAs to capture a large market share of online hotel sales. This is because OTAs know their customers better in 10 minutes than hotels in a week of stay. This must change, and access to data, analysis and its use for decision making is key.
Hotel marketing, especially direct sale, requires a lot of well-structured information to be used for analysis and good, timely decision making. And the first step is knowing the data and its possible uses. We do not need to go crazy and we do not need the best tool, much less to get started. The market is increasingly offering better and very powerful BI tools at reasonable prices.
With data and tools, whether it is an Excel file or a BI tool, we will detect areas for improvement or with potential, as well as new opportunities we did not see before. Making quick decisions backed up by data allows us to take action in a safer way. And re-evaluating the effect of our actions helps us adjust and improve, thus creating an agile, data-driven work methodology that will certainly increase our increasingly-important direct sales. If you are already working on it, we encourage you to continue. If you have not started yet, what are you waiting for?