En español, en français, em português.
Just like Google, trivago has enabled free ads, which are ads that do not require a bid on the metasearch engine. The aim is to give independent hotels, whose rates are often displayed through OTA ads, more visibility and the opportunity to generate more direct revenue. By offering these free ads, trivago hopes to demonstrate the traffic and booking potential of the metasearch engine to the hotel and encourage them to activate a paid campaign (either CPC or CPA).

What are the benefits of this new trivago option?
The main benefits for the hotel are:
New free option to generate more bookings and revenue on trivago
Opportunity to compete with OTAs and reduce their dependency
More autonomy to control pricing and brand visibility
Increase qualified traffic to hotel websites
The end user also benefits by having more channels to choose from and the ability to book on the official website, where they will most likely find the best price available.
Will there be a difference between paid and free ads?
Unlike Google free booking links, there will be no additional slot for these ads or any other difference that identifies them as free ads. They will appear as normal direct channel ads, identified as 'hotel site'.
Because participation in trivago Free Booking Links is limited to those who do not have an active campaign on the site, it will not be possible (as is the case with Google) to have paid ads running alongside free ads on trivago.
What visibility will the ad have in terms of positioning and impression share?
The ads will appear on the slide-out in the search result list, that is below the third position. However, if the official website of the hotel offers the best available price, it will be guaranteed the third position. Hoteliers can leverage this guaranteed position by offering the lowest price to gain more free visibility, traffic, and bookings.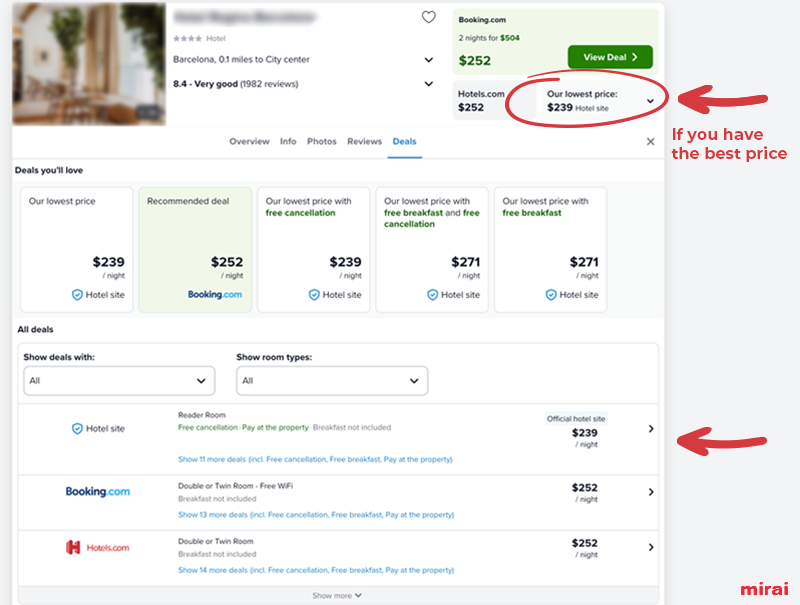 As far as impression share is concerned, we will have to wait for the first results to determine the visibility of these ads.
In which markets is it available?
It is currently available in France, Finland, Germany, Ireland, Italy, Spain, Sweden and the UK. It is expected that trivago will expand to other markets in the near future.
Is it available to all advertisers and integration partners?
Free ads will only be available to the direct channel, OTAs will not be able to participate in Free Booking Links.
Integration partners who meet trivago's requirements can offer Free Booking Links to their clients. At Mirai, we meet all technical specifications and are in the process of activating these free ads for our clients who meet the participation requirements.
Which hotels can participate?
Currently, only independent hotels that do not have active campaigns on trivago can participate.
Please note that due to the positioning of the ads, paid ads will receive significantly more traffic than Free Booking Links, so it is not recommended that hotels pause their campaigns to activate Free Booking Links as they will lose traffic and bookings.
How long can a hotel participate in trivago's Free Booking Links?
Hotels can participate in Free Booking Links for a minimum period of one year, which may be extended by trivago. After this period, the Free Booking Links will no longer appear and the hotel will have the option to activate a paid campaign, either on a CPC model or on a CPA Net or CPA Gross model.
Update April 2023: trivago now offers hotels the opportunity to take advantage of Free Booking Links indefinitely, allowing them to determine the duration of their free ads to evaluate performance. Additionally, hotels can switch to a paid campaign at any time to maximize their reach on trivago.
Where can I see the performance of the free ads?
trivago will send a report on the performance of campaigns to integration partners such as Mirai, and Mirai will share it with participating hotels.
Can I unsubscribe at any time?
Yes, the hotel can inform their account manager and Mirai will remove the free booking links.
What do I need to do to participate in trivago's Free Booking Links?
If you are interested in participating, please contact your integration partner. Mirai is already activating all independent hotels that do not currently have active campaigns on trivago.
About Mirai Metasearch
Mirai Metasearch connects your hotel to metasearch engines, achieving higher profitability than sales generated through OTAs. For more information, contact us at metasales@mirai.com