En español, en français, em português.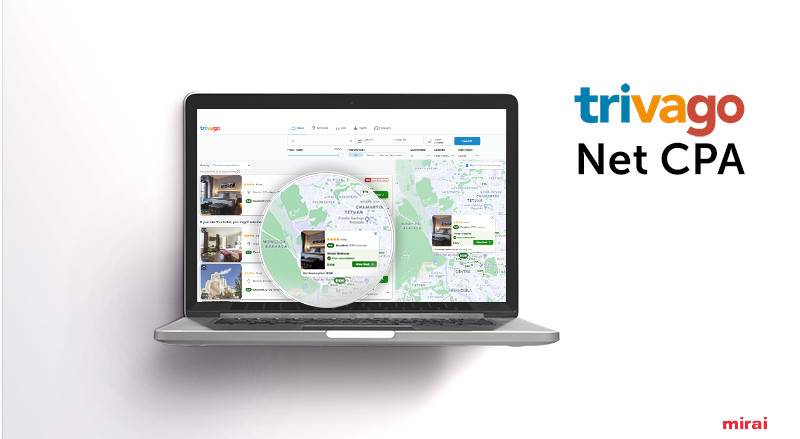 A year ago, trivago launched its CPA-based (Cost Per Acquisition), or commissions-based, engagement model, and Mirai was one of their first partners worldwide to implement it.
Update March 2023: trivago launches Free Booking Links
Over this challenging year, the CPA model has successfully reduced hotels' risk by allowing them to pay per booking (not per click) and on a commissions basis (which is well understood by hotel managers), thereby enabling them to feature in the results of a major metasearch engine such as trivago.
Our data show very interesting results in terms of visibility, conversion, and profitability, despite the considerable market uncertainty and volatility.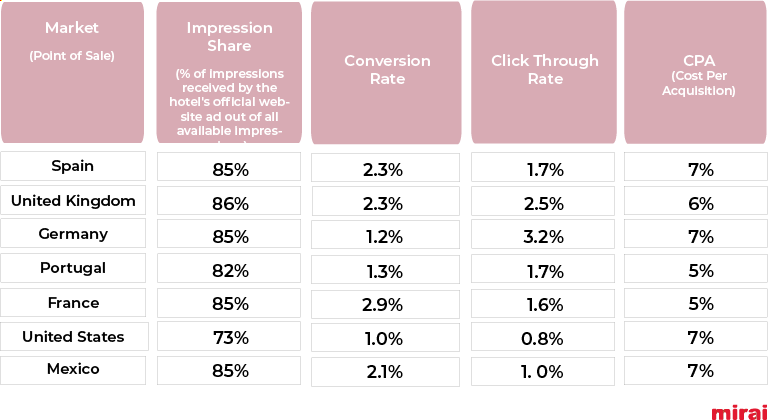 The disadvantage of this model is that the hotel manager still bears the risk of cancellation, which creates a degree of uncertainty, as we are still seeing higher cancellation ratios than in 2019, although they are steadily decreasing. If we add this data to our table, we see that hotels' real costs increase substantially, although they are still below the 18% limit set by OTAs.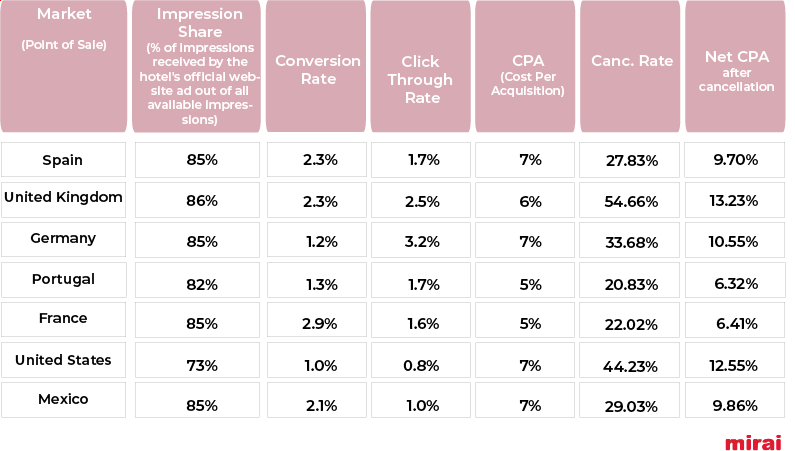 Net CPA or Net commissions, trivago's new product

In recognition of this situation, and to address this concern, trivago is transforming its Gross CPA model into a Net CPA model for independent hotels, which will take cancellations into account when charging commissions.
The model will soon be launched by trivago and in Mirai we have already undertaken the necessary developments (to ensure accurate traceability and reconciliation of bookings) to be one of the early adopters of the new CPA Model.
How does trivago's new Net CPA on Transaction model work?
trivago's Net CPA model works differently from the commissions per stay paid to OTAs or Google Hotel Ads, which is settled by reconciling post-checkout bookings, but the result is essentially the same.
At the end of each month, trivago will charge commission on bookings made during the month, as with the Gross CPA model, with the exception of those bookings made and canceled in the same month.
Hotels will have up to 180 days after the booking date or checkout date to reconcile these bookings and notify trivago which of them were canceled or modified.
Each month, trivago will take these cancellations and modifications into account (in the form of credit notes) and adjust the invoice for the following month by subtracting the difference.
Thus, over a year, the effective commission payable is based on Net bookings, as cancellations are refunded by trivago in each successive invoice.
Which new commissions are introduced by the Net CPA model?
The minimum commission varies by market and is based on the minimum commission already established in the Gross CPA model, plus an additional 20%. For example, if the Gross CPA commission is 5%, the Net CPA commission will be 6%. In doing so, trivago is merely anticipating a 20% cancellation rate, which is below the market average, even using 2019 data, let alone at present. It is therefore a highly attractive proposition from trivago. It is important for the hotel to set a competitive CPA target in order to achieve good visibility, as the minimum CPA might not be enough.
trivago currently offers 6 commission levels per market for hotels to achieve higher visibility in different points of sale. In all cases, the commissions are well below the limit set by the OTAs (18–20%), which makes it a highly recommendable option. Keep in mind that trivago's main role is at the bottom of the conversion funnel, and it is therefore a 'channel shift', where everything you capture below 18% is to your advantage.
The minimum starting commissions in each market are as follows: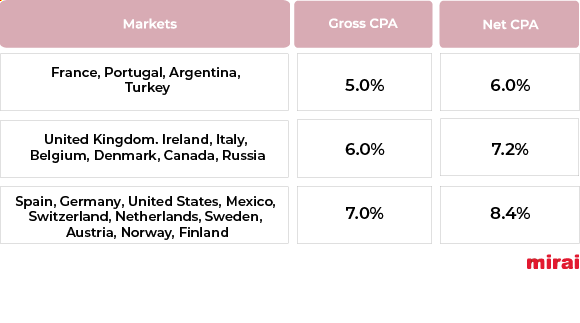 Can I combine different models (CPC, Gross CPA, and Net CPA)?
Only in different markets. Each hotel will have to choose from among the CPC, Gross CPA, or Net CPA models for each market based on its ADR, or average price, and its cancellation rate in that market.
As mentioned above, cancellations are quickly declining in all markets, but there are still disparities. As we see restrictions lifted on movement between countries, we expect a stronger correlation.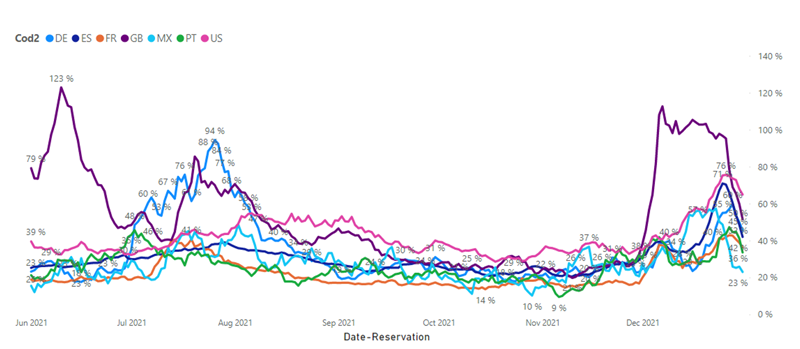 What happens if a booking is canceled 6 months after it was made?
This is one of the model's blind spots, as you would still pay the commission, even though the booking was canceled. However, we have tallied the bookings that meet this criterion and found them to be minimal. In any case, if this applies to you, you should take it into account and increase the final Net commission proportionally. If, for example, 2% of your bookings are canceled after 6 months and you are paying 8% Net CPA, this would increase your commission payable by 0.16% (8% x (1 + 0.02) = 8.16%).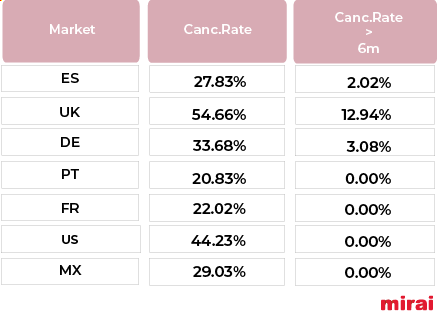 What other changes are introduced by Net CPA on transactions?
Many things remain the same in the transition from Gross CPA to Net CPA:
How ads are displayed
Ranking in trivago's search results
The frequency of changes in commissions and campaigns
Campaign activation
The campaign attribution window is 30 days
The ability for OTAs to participate
The largest impact of the switch to Net CPA is on how cancellations affect the commissions to be paid and on how billing works between trivago and its connectivity partners.
I want to activate the Net CPA model for my hotel or migrate my current campaigns to the Net CPA model. Is this already possible?
This change must be made by your trivago integration partner and you need to contact them to request the change.
At Mirai, we always strive to be early adopters of new features and developments and are ready to implement the Net CPA model when it is launched by trivago. This new model will be available for all our independent hotels.
Where do I need to reconcile my trivago bookings for cancellations to be credited?
If you use Mirai as a booking engine or metasearch connector, we will do the reconciliation on your behalf. No additional manual steps are required.
Is Net CPA also available for Rate Connect?
Yes. Clients who have subscribed to trivago's Rate Connect service can also use Net CPA. Three differences:
It will be a pure commission-per-stay model with post-checkout reconciliation and crediting of cancellation (like OTAs).
Minimum commissions will range from 15% to 18% of the booking value, including taxes.
trivago provides the hotel with 'trivago business studio' to allow the hotel manager to carry out reconciliations.
Conclusion
This improvement allows trivago to successfully offer hotels a simpler, more transparent, and more reliable model. This substantially reduces their investment risk and thereby improves their return on investment.
This model should encourage all hotels that are not currently investing in trivago to start doing so by choosing the model (CPC, Gross CPA, or Net CPA) that best suits their needs in each market.
Another major advantage is psychological. As this is almost a commission-per-stay model, in many cases hotel managers will be able to treat commission payments as a distribution cost instead of eating into their marketing budget, thereby allowing them to dedicate a larger portion of their budget to diversifying their paid digital marketing investments.
For those of you who are already investing in trivago on a Gross CPA basis, it makes sense to switch to Net CPA if your cancellations in a given market account for 20% or more of all bookings. For those who have remained with the CPC model because it makes financial sense (owing to tightly controlled distribution, good ADR, and the sophistication of being able to manage and automate CPCs), this change is not particularly relevant.
If you are not yet a Mirai customer and would like to learn more about trivago's Net CPA model or find out how to get the most from your metasearch investments, please visit Mirai Metasearch or contact us at metasales@mirai.com.