En español, en français, em português.
Update February 2022: trivago improves its CPA or commissions programme and will take cancellations into account (Net CPA)
Update March 2023: trivago launches Free Booking Links
A few months ago, trivago announced to its partners the implementation of a new participation model based on commissions or CPA (cost per acquisition).
In this way, trivago joins the rest of the large meta-search engines in launching a CPA model as an alternative to the classic CPC (cost per click). A novelty that will be much welcomed by an industry that is looking for alternatives that guarantee the profitability of investments in digital marketing, while achieving the highest volume of sales on their own official website.

At Mirai we already have more than 100 active hotels in trivago CPA and the preliminary data invites us to be optimistic about the performance of this new modality. If you want to know how it works, read all the details in our article:
What is trivago CPA and how is it different from classic CPC?
trivago has always relied on the cost-per-click or CPC as the participation model for its meta-search engine. That is, you paid an x amount for each click, which translated into a visit to your website, regardless of whether that client ended up booking or not.
Unlike the CPC model, trivago CPA allows you to appear in its meta-search engine by paying a commission only for each booking made. In other words, the clicks your ad receives will incur no cost and you will only pay trivago if, after the click, the user books on your website.
Is trivago CPA available?
Yes, trivago CPA is now available. It was launched on October, 1st, 2020.
Mirai is one of the first partners worldwide to activate campaigns since that date. The first campaign was launched in the Mexican market and we already have CPA campaigns in all markets, including Spain, France, UK, Portugal, Germany and USA. Preliminary data invites us to be optimistic about the performance of this new modality, where we already see improvements with respect to CPC in such relevant metrics as the conversion ratio.
Does trivago CPA take into account cancelled bookings or no-shows?
For the time being, a commission is paid for all bookings made, whether they are effective, cancelled or turn out to be a no-show. This would be the equivalent of the "commission per conversion" model, using Google Hotel Ads terminology. Therefore, you should keep an eye on cancellations in order to evaluate the greater or lesser success of this new model.
This year 2020 has been a rollercoaster of cancellations which, despite showing a moderating tendency, are still at very high levels when compared to last year. On a positive note, we see much less volatility in cancellations, which allows for more confident planning of the investments to be made.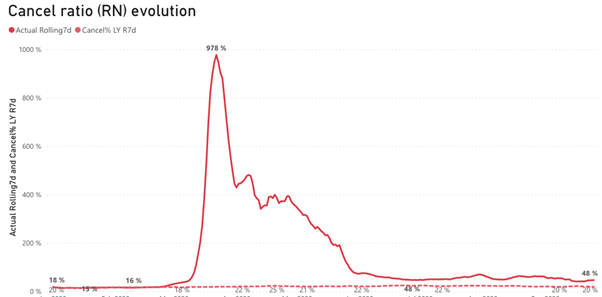 To counteract the uncertainty in cancellations, trivago allows to set different target commissions per market (on certain markets where the cancellation rate is high, you will be able to choose a lower commission bucket).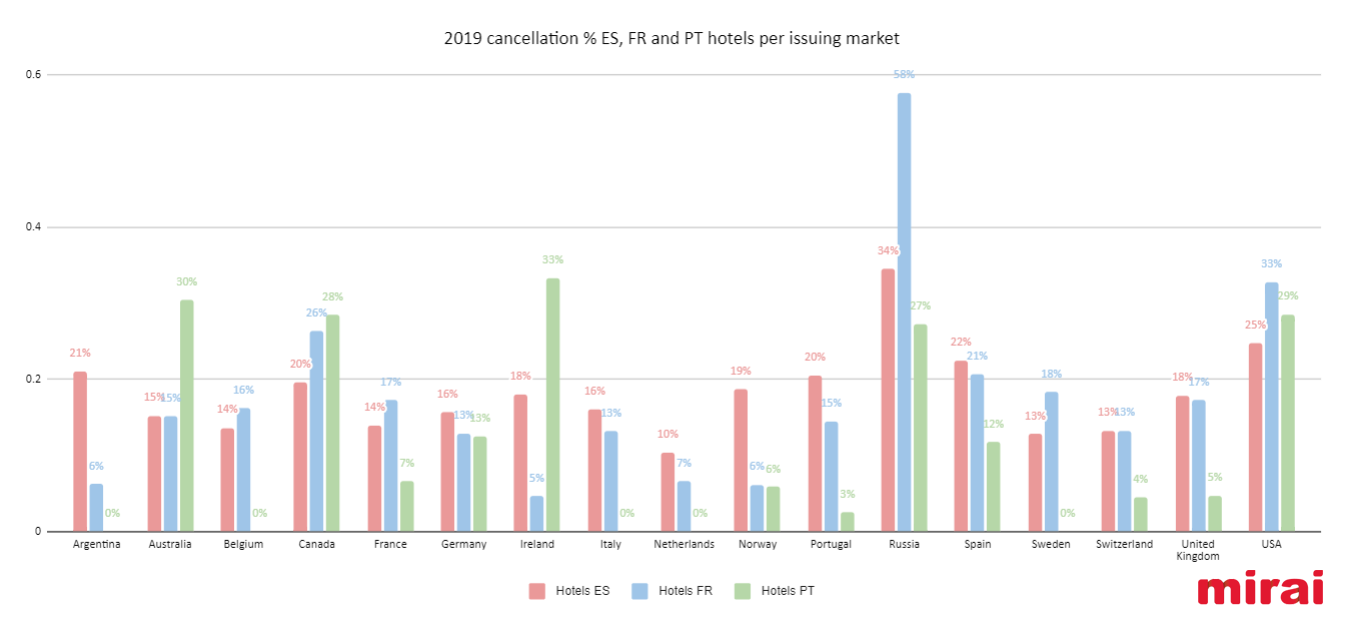 Analyzing a "normal" year, such as 2019, we find more stable ratios, but there are still important differences in cancellation ratios depending on the issuing market. For example, when looking at the issuing market in France, the cancellation ratio for hotels in Spain is 14%, while it is only half that, 7%, for hotels in Portugal. Consequently, a Spanish hotelier seeking good visibility in the French market needs to be more cautious to counteract possible cancellations and choose a lower commission. By contrast, a Portuguese hotelier may choose a higher commission, while still obtaining a good return. Hence the importance of being able to establish different commission levels in each market.
It would nevertheless be desirable for direct sales that trivago develops its CPA campaigns in the future to offer a pay-per-stay model —discounting cancellations and no shows— with post checkout conciliations. That is, a "commission per stay" model, in Google Hotel Ads language. Trivago plans to add this pay-per-stay model in the near future, although the date has not yet been set.
How are trivago CPA ads shown?
The ads are shown in the same way as traditional trivago CPC ads. There is no difference, and therefore, it is not possible to tell by looking at the ads if a hotel belongs to one model or the other.

How much does trivago CPA cost? Is there a minimum commission?
trivago allows you to set up two different commission levels per market, with no minimum commission to participate for the moment. There may be minimums set, per market, in the near future, to ensure enough visibility if the CPAs set are too low. At Mirai we estimate that commission ranges will be between 5% and 8%.
Which model (CPC or CPA) is better to position my ad in the results?
In order to determine the ranking of your ad in this CPA model, trivago calculates a value per click or VPC based on the following criteria: commission level set, website conversion and average price.
Once the VPC has been calculated, it enters the auction and competes against other VPC and CPC from other channels to gain maximum visibility. Therefore, competing with bids on different models in the same auction .

Thus, you can achieve good visibility with a CPA model if you combine well all the bid variables (commission, conversion and average price). It is still true, however, that the CPC model ( more based on the bid amount than on other variables) gives you more control, impact and immediacy. Instead, you have to deal with conversion and cancellation fees.
In any case, for trivago, it is important to note that their algorithm has no preference for any particular model.
Can I then have different commissions for the same hotel?
Yes, but not in the same market or point of sale.
Each integration partner can have two commissions (or buckets) per point of sale (POS). Each partner will choose these commissions. For example 7% and 9% for Spain and 9% and 12% for the UK.
As a hotelier, you can choose to be in one bucket or another depending on the point of sale. Having different CPA campaigns per market allows you some flexibility when it comes to optimizing a campaign, since you can customize and define a higher commission for a market that is more relevant to your hotel. The challenge here is choosing for each point of sale the commission that grants you a better visibility/profitability ratio for your campaigns.

Can trivago CPA coexist with classic CPC campaigns?
Yes, you can use CPA and CPC models simultaneously for the same hotel, but in different markets or points of sale. This is what trivago calls "hybrid model".
For example, a hotel may use a CPA model in Spain and France, but a CPC model for the United Kingdom.

This also applies to and is of particular interest for hotel chains, as they may have different percentages or models for each hotel and market, if necessary.
Which means that for the same market, for example the United Kingdom, Hotel A can continue in CPC, paying a cost per click, while Hotel B can configure a CPA campaign at 10% commission and Hotel C can also set it as CPA at 8%: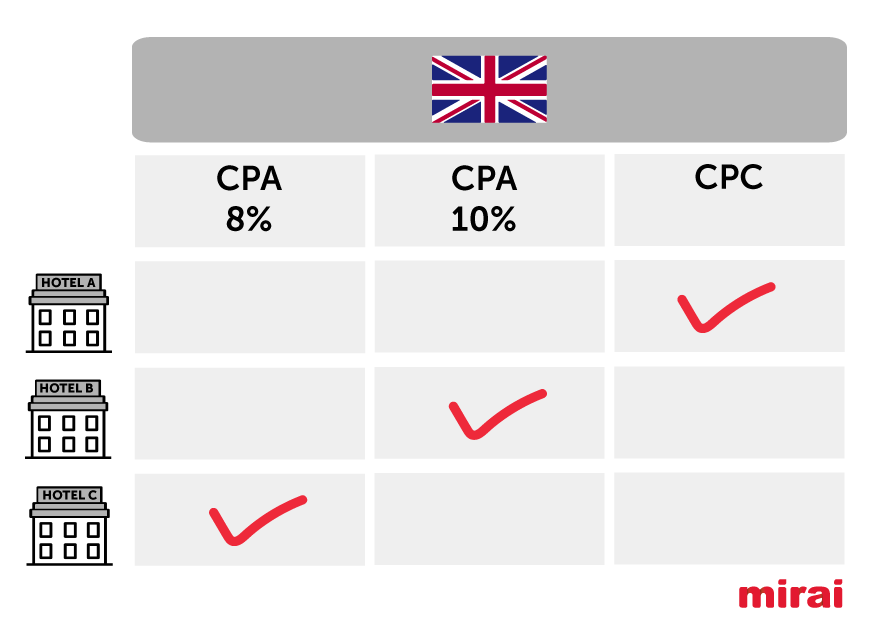 Can I join trivago CPA only?
Yes, the choice for CPA or CPC depends on each hotel's preferences. You can participate in the markets you wish in the commissionable model only.
How often can I change the commission?
For now, the connectivity partner can only change the commission of a CPA campaign once a month. Likewise, the hotel can also change the commission group in each market on a once-per-month basis.
When are commissions paid for bookings made through trivago CPA campaigns?
The commissions for bookings made through trivago CPA campaigns are paid in the invoice issued at the beginning of the month following the booking date.
What is the attribution window for bookings made through trivago CPA campaigns?
trivago works with a 30-day attribution window. This means that it assigns to CPA campaigns those bookings made up to 30 days after the user clicks on trivago. Thus, the booking's check-in or check-out dates are not taken into account.
I would like to join trivago CPA, what do I have to do?
Activating a campaign is simple, as long as your integration partner has the technical capacity to do so. Contact them and ask them to activate your campaigns in CPA.
At Mirai, we have implemented the necessary development to manage CPA campaigns. If you are interested, please contact your account manager, and they will advise you on the best options for your needs.
How will I see the bookings made through trivago CPA?
Your integration partner will show you the bookings and hence the amount to be paid each month. This is how we are going to do it at Mirai with our clients. Additionally, we add these bookings for our clients to easily see them directly in our Metasearch panel.

Is trivago CPA open to OTAs or is it only for the direct channel?
trivago CPA is open to all partners who advertise on trivago, both OTAs and the hotel on its direct channel.
Will trivago CPA be available for trivago Rate Connect advertisers?
trivago CPA is already available for Rate Connect, however it is still in a beta test phase.
Conclusion
trivago, the first major meta-search engine, is finally betting on a commission-based participation model that reduces investment risk and contributes to the visibility and development of the direct channel. A model that is much more appealing to many hotels that did not participate in the CPC model, and with it trivago aims to get back the lead in their competition with the increasingly dominant Google Hotel Ads.
After a very complicated 2020 and with their sights set on 2021, this movement from trivago is great news for the industry, which is eager to look for safe, profitable alternatives that allow for investment diversification in digital marketing. Now all that remains is to test, measure and trust that everything works as we would all like it to.
At Mirai we are starting to activate CPA campaigns throughout October, aiming to optimise the profitability of our clients' investments. For our clients:
If you

already invest

in trivago, we encourage you to try this model at least in one important source market for your hotel and compare it with its previous performance in CPC.

If you are

not yet investing

in trivago but are considering doing so, trivago CPA is a safer option for making your investment profitable. If you wish to invest, please contact your account manager and they will discuss the best option for you to start with trivago CPA.
If you do not work with us and want to know more about trivago CPA or how to get the most out of your investment in metasearches, please visit Mirai Metasearch or contact us at metasales@mirai.com.