En español, en français, em português.
Direct selling, both telephone and website, has gained a large share of sales during the pandemic, demonstrating its great sales capacity and resilience. This huge increase has meant that many hoteliers have changed their passive or neutral attitudes towards direct sales to considering it a strategic pillar in their distribution. In this post, we will analyse the reasons for this explosion and, in a second post, why part of this change will be permanent and what hotels need to do to consolidate it.

The leisure segment is leading the recovery
Covid has revolutionised hotel distribution in the short and medium term, with segments that have held up better and others where recovery seems slow and painful. The segment that has suffered the least and is recovering the fastest is leisure, which, in recent weeks, has even registered increases compared to 2019, mainly for summer stays. On the other side of the spectrum, we find MICE, corporate and, undoubtedly the worst affected, the group segment.
In the latest report of Q1 2021 results of large hotel companies, we can see this vast differences in performance by segment:

A very different mix of channels
This "dance" of segments automatically generates another one for sales channels, with some losing share while others are experiencing their "sweetest moment". We always talk in terms of share or weight of sales and less so in terms of absolute values, even if some channels have been registering record absolute figures over the last few weeks of strong recovery.
The most affected channels are traditional tour operator and travel agents, which are heavily impacted despite operating in the leisure segment, as well as GDS, which has a more corporate bias but also deals with leisure, especially with American customers. On the other hand, online channels are generally responding much better. An unprecedented shift of share from offline to online for many.
Few would dispute that, in the long term (2 years onwards), much will return to normal in terms of both segmentation and source markets. But it also seems clear, however, that much of this turnaround is here to stay, even if it doesn't please everyone. It's hard to believe that travel agency or tour operator sales will return to their pre-Covid levels or that corporate sales will recover in the same format and with the figures they had just 2 years ago. So many things have changed for good.
Among the top performing channels is direct selling, which is surprising everyone with share increases of up to 300%. According to a recent SiteMinder report, the direct channel has gained market share in almost every country analysed, overtaking Expedia in many of them and closing in on Booking.com.
Why is this happening? Was this intentional on the part of hotels or is it a consequence of the situation? This is our analysis.
Why direct sales is performing better than the rest and is experiencing "its finest moment"
There are many reasons that have led to this situation and each hotel will be able to identify with some but maybe not all of these reasons.
• Customers are looking for accurate hotel information.
Given the situation of such uncertainty, customers are making an effort to look for information at its source, and what better way to do this than on the hotel's website. We don't trust what Booking.com says because it might not be updated and we don't trust the latest review on TripAdvisor because it's probably no longer valid. The hotels that have gained the most from this change are those that have taken great care of their direct website and telephone channel in terms of communicating Covid protocols, opening dates of the hotel or common areas, as well as identifying which services are available and which are not. An effort that has been rewarded.
• More domestic and even local customers.
– Less need for air travel and, therefore, for packaged sales (the big loser here is Expedia).
– Greater relevance of the hotel brand and repetition rate, which again greatly facilitates direct sales over intermediated sales.
– Same language and time zone. As many customers are local, it's much more convenient to contact the hotel via the website or phone for answers to questions or bookings. And as it's a local call, it doesn't cost anything, unlike an international call.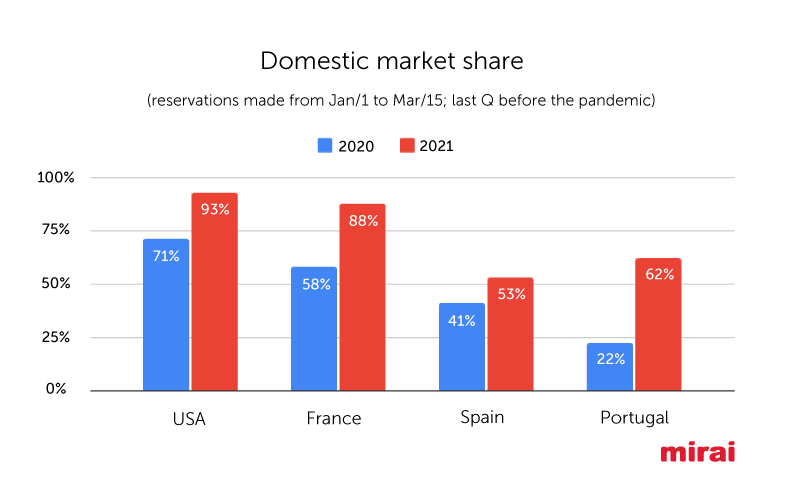 • Greater agility of online channels to reactivate quickly.
Opening an extranet takes a matter of minutes, while reactivating a tour operator, travel agency or even wholesaler always takes much longer, especially for short-term sales. Reactivating flight operations requires sustained demand over time, something that has not happened until very recently and is still very timid. Staff returning from temporary lay-offs or investments in marketing to stimulate demand are actions that also take time. For this reason, customers were often only able to book hotels online and, for the most dynamic hotels, moving to direct sales was not a difficult challenge.
• Internet as an escape route from continuous confinement.
We've spent months locked up at home, with very few outings. The internet, and mobile devices in particular, have been our travel companions for long periods of time. For many months, the only way to book a trip was online. This has helped many to lose the fear of booking and buying online.
• Lack of group, MICE and corporate segments.
As we saw earlier, for many hotels, there are some key segments that are still experiencing tough times. This means that all those resources that are normally reserved have been made available for leisure and online as a lifeline. An unintended consequence for other hotels, however, is that they are now competing with these hotels on the basis of price.
• Loyalty has its rewards.
Those hotels that had well identified and loyal customers were able to lean on them to start their recovery and generate those first few bookings without the need to turn to OTAs. What could be a better way to return to normality for many customers than to go to a hotel they already know? This again demonstrates the strategic importance of loyalty.
• Bad experiences with intermediation during the pandemic.
Although there are many different stories out there, it is rare to find someone who has not had serious difficulties managing a non-refundable airline ticket or hotel reservation. Many hotels disappeared and never responded, but those who turned to their customers and their direct sales made a lot of headway for the reactivation of the sale. Aware of this situation, OTAs such as Booking.com took the unilateral decision to defend "their" customers and convert bookings from non-refundable to flexible, triggering a storm for many hotels and great displeasure with the intermediary that showed its bitter side.
• Better conditions on websites than OTAs.
Although many hotels, including almost all major hotel companies, already offered better conditions on their direct channel than OTAs, maintaining this policy combined with an increase in visits to their websites has had a multiplier effect, achieving great results for direct sales.
Conclusion
Although direct sales had been gaining ground every year, the pandemic has created a before and after for many and, instead of being just another channel, direct sales has become a strategic asset that should be cared for and promoted. Of course, many of the variables that have led to this growth will gradually change and return to normality. To think that this will last forever is naive. But it would also be naive to assume that everything will return to the way it was before. Many of the changes that have occurred over the last 16 months will no longer be circumstantial but structural, offering a great opportunity for hotels to consolidate and further enhance their direct channel strategy.
Remember that direct sales is not a goal in itself and no hotel can survive on direct sales alone. What is really important for any hotel is to maximise profitability and create a sustainable model without having to depend on an intermediary. In the search for this balance, it is clear that direct selling has, and will have an even more fundamental role from now on.