En español, en français, em português.
Visibility is the goal of any hotel. And providing visibility is the OTAs' major value proposition. It sounds like a perfect match. However, not everything that glitters is gold or, in other words, not all visibility boosters are effective and, not to mention efficient. The big trick (maybe lie?) behind them is how to prove their incrementality beyond the "you'll get more bookings" promise of their account managers. This lack of transparency makes OTAs' value proposition blurry. Still, many hoteliers take the bait and jump into any new booster with a fancy name.
Two of these confusing visibility boosters are the "free room upgrade" and "free breakfast" by Booking.com. Do you know how they work? Do they generate incremental demand for your property? What are the drawbacks they generate?

Free Room Upgrade and Free Breakfast add-ons
A quick summary how the programs work:
It is only offered to Genius 2 and 3 members, or those who completed five stays in two years. Something not very difficult these days. Unfortunately, Booking.com does not disclose the numbers of its loyalty program by tier, so you cannot know how many potential guests you can target. But don't worry, the OTA is working hard to grow its customer base so that number can only grow.
Booking.com highlights the programs' benefits with irresistible messages such as "boost your property", "attract high-value guests", "drive more bookings" or even "increase occupancy". What hotel on earth does not want all that? Sounds terrific!
You pay the same commission as with any other reservation. Additionally, Genius 2 is associated with a 15% discount. If Booking.com is paying you with a VCC or virtual credit card, add from 2.5% to 3.5% financial cost. Finally, with every free upgrade you are filling a more expensive room, consequently reducing your ADR if you end up reaching maximum occupancy. Your food & beverages (F&B) would get the impact of all those breakfasts given away for free. These bookings do not seem attractive from a profitability standpoint, do they?
Booking.com offers some options to limit the programs' impact: a number of room upgrades per day and a maximum booking window (only in the room upgrade) and blackout dates (available in both add-ons). Few options but better than nothing. At the end of the day, Booking.com knows few hotels will set restrictions and, those that do, will eventually forget keeping it updated making these limits eventually without effect.
Although you can select the room type to upgrade, the only options are your cheapest or the best-selling one. Booking.com wants to make sure you don't choose a more expensive room type to lure the guest to finally reserve the cheap one. Obviously, you can select as many room types as you want in the "free breakfast" add-on. The more types the better (for Booking.com).
The questions you should really ask
Before making a decision whether these are good programs for you or not, you should make sure these two questions have a clear and well-reasoned answer:
Incrementality. We don't question that these programs bring you more visibility. However, how will you measure the incremental revenue you will get thanks to this extra visibility? Let's say you are already generating a revenue of 10k, how much more are you going to make from now on?
Cannibalization. How much of your existing revenue is being offered free room upgrades or free breakfasts? You may haven't noticed, but the OTA is offering both options to all Genius 2+ guests whether they found your hotel thanks to these add-ons or not. That means you may be upgrading for free guests who would have booked anyway. Ask the OTA to quantify this information too.
If you don't get a credible and scientific response to these questions, think twice before moving forward. Booking.com's extranet should be the place to find these reports. As of today, we found no place where this information could be found. You can try and ask your account manager in the OTA. My bet is that you will never get a clear response. I might be wrong, so happy to update this blog post with any reporting tool Booking.com offers to answer these questions with data.
The worst part, the impact on your direct channel … and your credibility
If you haven't had enough, the worst part is yet to come.
With both "free room upgrade" and "free breakfast" add-ons, you are allowing Booking.com to undercut you and all other OTAs. Be aware that superior room types represent from 25% to 70% of all bookings depending on the hotel. The same with reservations with breakfast that vary from 10% to 80%. Have you quantified how many guests did not book with your direct channel and chose Booking.com because of this price difference? Have you monetized the incremental cost this shift in bookings means to you?
Let's see a real example. We'll use the "free room upgrade" option and how it's being presented to your guests.

This is what the guest finds when landing on the direct channel: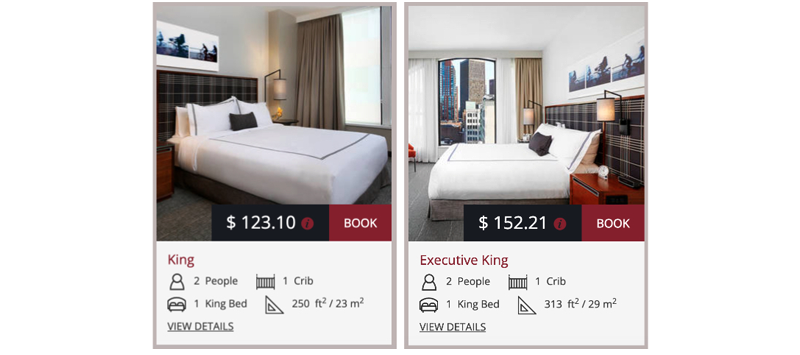 And this is what Booking.com offers, with your acknowledgement and complicity: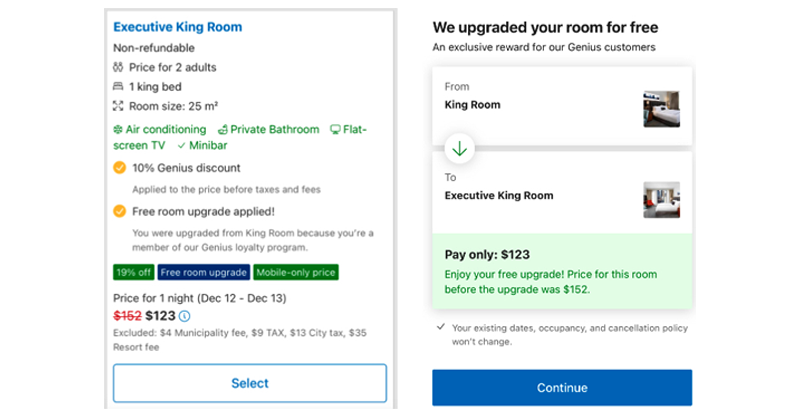 Where would a guest looking for a superior room book? Where would a guest looking for a standard room book? The answer for both questions is straight forward, isn't it? It's not only that as more long-term and concerning questions arise. What message are you sending to your clients? What will your repeat guests think when they realize this? Who will capitalize the loyalty effect of this reservation: Booking.com or you?
But it can be worse (guess it can always be worse). When hotels are up to any booster they are presented with, terrible combinations can occur with devastating effects on your direct channel as I experienced myself, although this time I saw the sweet part of it (the hotel lived the nasty one).
Yes to "free room upgrades" and "free breakfasts" but only in your direct channel
Targeting frequent travelers and making them loyal to you (instead of to OTAs) should be in your loyalty roadmap. And offering something unique when they book directly such as exclusive room upgrade options is a great way.
Why don't you add that same "free room upgrade" or "free breakfast" to your repeat and loyal guests? Ask your booking engine provider to enable that feature and give your clients another reason to book directly.
At Mirai, we allow hotels to configure free or discounted room upgrades for all their direct customers (optionally limiting it to members and even segmenting by tier needed). Additionally, hotels can find all the performance metrics including conversion rates and incremental revenue in our reporting BI tool.

Conclusion
Competition for incremental demand is strong, pushing the price to get it very high. OTAs defend their own interests (as they should) and offer many visibility boosters options so that hotels can decide whether to participate or not. None of them are mandatory. However, many hotels skip the rigorous analysis to quantify the revenue incrementality and possible undesired side effects. Decisions based on gut feeling or following what your competitive set does will lead you to wrongdoing and even shooting your own foot. The "free room upgrade" and "free breakfast" add-ons are just two last examples of a long list of boosters.