At Mirai we are firmly committed to growing your direct sales and making it one of your primary distribution channels. One of the most crucial factors in achieving this goal is to prioritize customer loyalty, an area that many hotels have not had the opportunity to focus on due to time constraints. We would like to remind you that Mirai offers all the tools required to set up a loyalty programme similar to those of major hotel chains and at no additional cost.
Once a loyalty programme is up and running, the next step is to use a CRM (Customer Relationship Management) system to manage all the customer data you collect through the loyalty programme more efficiently. To streamline this process and make it easier for you, Mirai has integrated its systems with those of Fideltour, a comprehensive CRM solution specifically designed for the hotel industry, allowing a closer relationship with direct customers to drive increased loyalty.

Its intuitive interface allows you to:
Centralize all your sources of customer data in a single database with comprehensive information on each of them.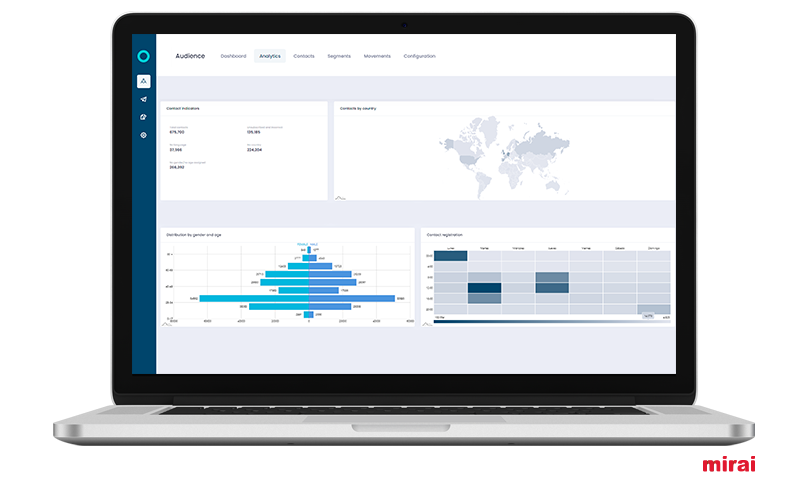 Segment the database and deliver automatic personalized messages, targeting different groups of customers with specific offers and messages to maximize the effectiveness of marketing campaigns and create stronger bonds with customers.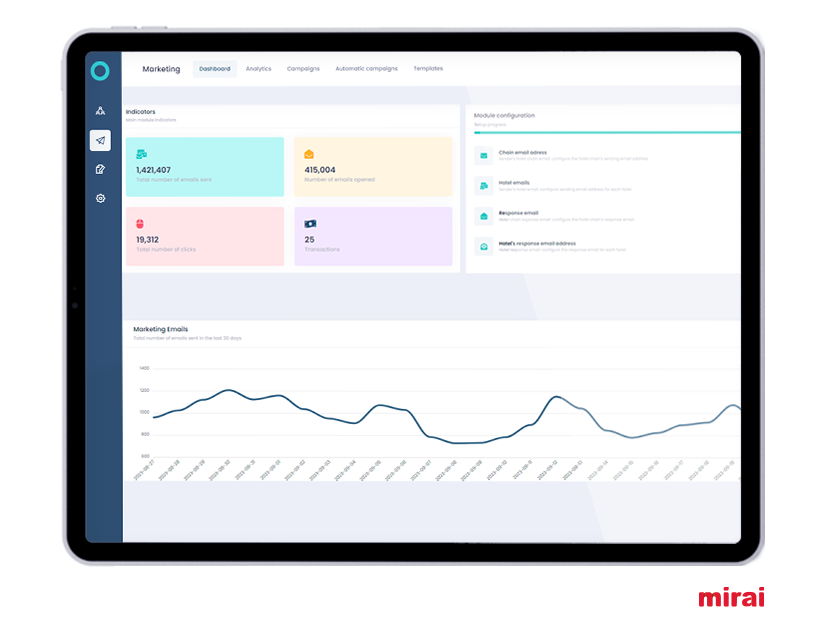 Help optimize your corporate reputation through customer satisfaction surveys.
Grow your customer database through your Wi-Fi network.
Categorize and personalize your loyalty programmes.
What data is included in the integration with Fideltour?
The Mirai integration is with the Fideltour API rather than through tracking pixels, ensuring that it is more robust and accurate, as well as guaranteeing compatibility with all website browsers, regardless of whether or not they block cookies.
When the user makes, cancels or changes a reservation through the booking engine, Mirai transmits all the data to Fideltour in real time.
If the user belongs to your loyalty programme, the CRM system will also contain all the information on their membership and the tier of the programme they have achieved (if your loyalty programme has different tiers). In the near future, we will also begin to transmit the room types booked and the total cost of the booking.
If a customer makes their first direct booking and also signs up for the loyalty programme at the same time, we will notify Fideltour of both the reservation and the membership registration.
Finally, if a user signs up to the programme through a form on your website rather than when making a booking, we will also send all the data to Fideltour along with the information on whether the account has been activated or not.
Does the integration with Fideltour have any extra cost?
None at all. Mirai is fully committed to connecting with all the technologies you need to enhance your operations and we do not apply any extra costs for integrations with other systems.
I'd like to know more about Fideltour and the integration with Mirai. What should I do?
Your account manager will provide you with more details and the contacts you need in Fideltour to get a personalised quote from them.
More information about the Mirai loyalty programme: