En español, en français, em português.
Over the last few months, we have been constantly adding new functionalities to the Mirai loyalty club for your hotel or chain.
Now, we have added a new free feature that can be considered premium and will provide a huge boost in the medium and long term, comparable with the most advanced functionalities. We're talking about membership levels, which will allow you to differentiate members according to their accumulated stays and offer them different discounts or exclusive rates.

For your most loyal customers
With a loyalty club, you are rewarding customer loyalty in general, from their very first booking. But with membership levels, you are also encouraging them to return. The more they come back, the more advantages you can offer them. Medium and large chains are well aware of this and all offer different categories in their clubs.
Decide who you want to reward and how. Setting it up only takes two minutes
The most important work is down to you, you need to decide on your requirements and reward scheme, based on your strategy. Once defined, activating and setting up membership levels is very simple.
For each level, you need to define two things:
The eligibility requirements for each level, based on minimum room nights and/or cumulative bookings. You can also indicate how recent they need to be in order to be considered. The system will automatically keep track of each member's accumulated bookings and assign them to the appropriate level at any given time, even retroactively, i.e. when you activate levels, existing members with past bookings will be assigned the correct level.
The different discounts or exclusive rates/offers each level will have. You can distinguish between them so that the higher levels get greater perks.
If you activate membership levels, you can create as many levels as you want, with a minimum of two. You can also call them whatever you want and there is the option to add a logo for each level, which will be displayed alongside the information about your membership levels and benefits.
No maintenance, operates automatically
Once activated, it will not require any of your time. The system does everything automatically, classifying members and offering discounts, according to the allocation rules pre-set by you.
The system will run through your members each day and assign them to one the corresponding levels based on their completed bookings (accommodation bookings after hotel reconciliation).
When a member logs in, the engine will identify them and offer them the discount or rates corresponding to their level.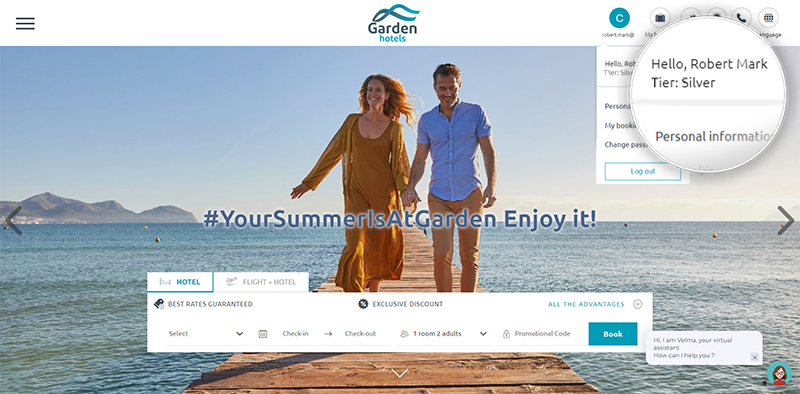 You will see the member's level when they make a booking
It will appear on the booking emails you receive and in the booking details on the extranet. We also include it in the booking information we send to channel managers.
The customer will see their level when they log in and in their member area.
No extra cost
In the same way that the loyalty club has no additional cost for you, neither does this advanced service.
You can set up the levels yourself on the extranet or ask your account manager to help you.
How to activate membership levels in your club
Once you have thought it through and decided on your levels and benefits, you can activate it yourself in the extranet, although we recommend that you do this in consultation with your Mirai account manager. You can also contact your account manager if you have any questions.
The Mirai Loyalty Club has always included all the functionalities required by any establishment, and can boast high conversion rates of over 90%, due to its simple sign-up approach alongside the booking process, which does not require any further action.
The club allows you to build a database of customers interested in your establishment or chain, which will grow progressively. Each registered user has their own member area, visible bookings and password. There are also several options available to you for managing your club. You can decide whether to offer the club from the first booking and whether to send your club rates, it is compatible with promotional codes and upselling and you can download updated databases of your members. Given that it requires no effort or maintenance on your part, and it has no risk or extra cost, you should consider activating your own club, if you have not done so already.