En español, en français, em português.
At Mirai we constantly strive to enhance our booking engine to drive incremental sales for hotels. But just saying it is not enough; we have to show it. Starting today, you can explore our BI to see comprehensive insights into the performance of our upselling functionality. This includes detailed information on messages sent, clicks, conversion rates, sales and much more that we have improved over recent months after leveraging all the knowledge gained from our clients. This upselling report is just one example of the numerous reports in the BI system which we introduced just over 2 years ago.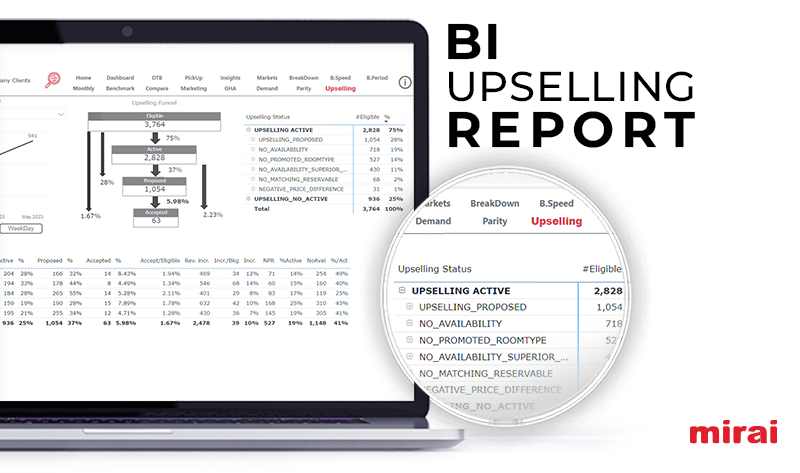 Remember that the objectives of a robust upselling system are:
Higher sales: by achieving an average conversion rate of 5% and 12% higher revenues per reservation, this enhancement leads to additional revenue ranging from 0.5% to 2.0% which has a direct impact on the bottom line.
Greater customer satisfaction and increased likelihood of them returning to your hotel.
Greater price competitiveness: releasing cheaper rooms for sale to help enhance competitiveness in periods of high demand.
A unique selling point for direct sales channels: offering something that OTAs are unable to offer.
All the data just a single click away
Our BI system gives you the opportunity to thoroughly analyze upselling activity in your hotel and make well-informed decisions.
You can now view all this data for your hotel and also have access to a wide range of additional information in our BI:
Select the desired date range for upselling analysis.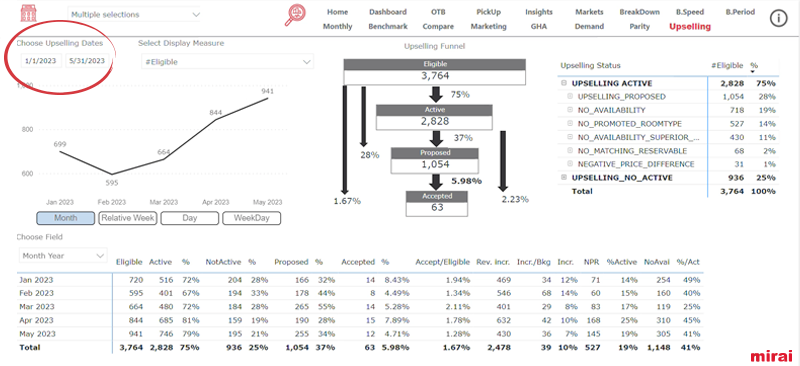 Choose one or more of the 15 metrics to see on charts, such as eligible upsellings, proposed upsellings, accepted upsellings, conversion rates, average price increase by amount or percentage, incremental revenue and more. You can also decide whether you want to see the data by day, week or month.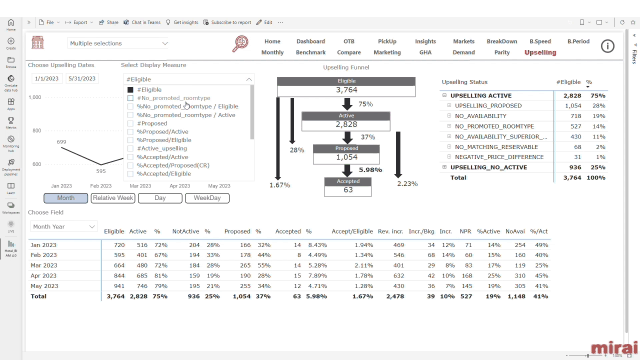 The upselling funnel allows you to visualize the entire process, from the eligible reservations at the top of the funnel to the bookings that actually occur at the bottom of the funnel.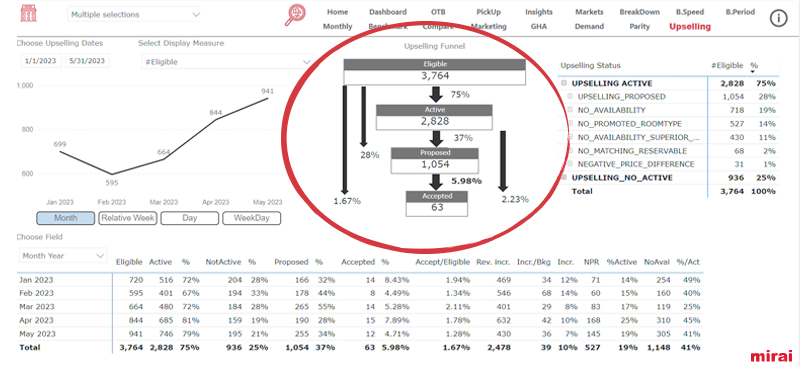 Detailed insights into why upselling was not proposed to the customer:
– The hotel is closed for one or more nights of the stay.
– The designated superior room is unavailable.
– The room booked by the customer does not have a designated superior room. It's really important to map all the rooms in your hotel to ensure you increase the percentage of guests receiving an upselling proposal.
– The booked room is more expensive than the superior room a few days before arrival.
– There is no possible match for meal plans, number of guests, rate code and/or special offer.
– Etc.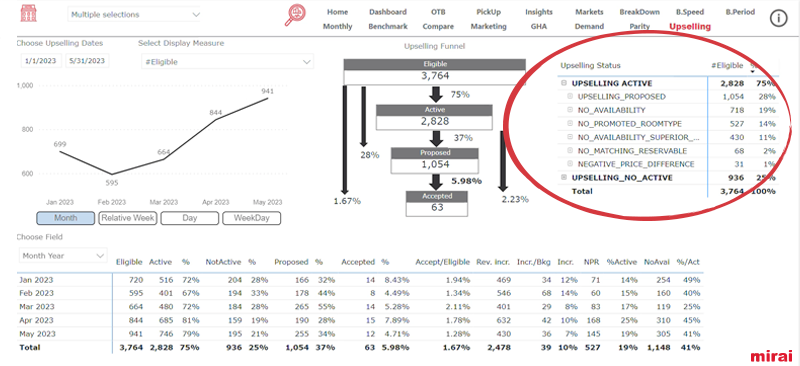 Select one or several of the more than 10 available fields (days, weeks, months, feeder market, destination, sub-destination, room type, upselling status, etc.) to examine more than 15 metrics in a tabular format to get a full insight into the upselling performance, and the qualitative and quantitative data behind that performance; reservations, incremental revenues, average price increase by amount or percentage, number of upsellings proposed, upsellings not proposed due to lack of room availability, etc.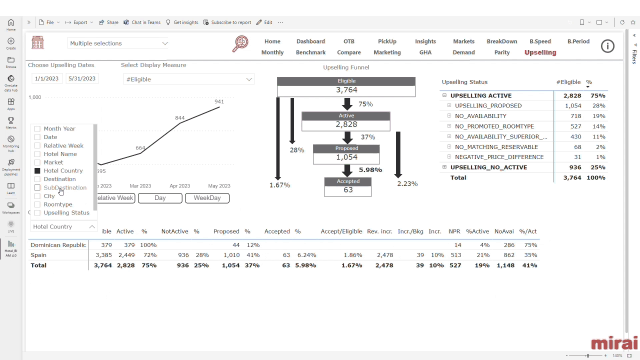 If you haven't yet activated our upselling system, the BI also allows you to analyze the opportunity cost and number of potential missed reservations. In the first quarter of 2023, hotels that implemented upselling through Mirai achieved a 4.57% conversion rate and a 13.34% average increase in revenue per booking.
Could there be an easier way to maximize revenue while increasing customer satisfaction without any risk or any extra cost? We don't think so: you just have to activate it and forget about it. 100% automatic and so very easy. What are you waiting for to get started?
Ask your account manager for help if you have any questions or need more information.
If you want to know more about the Mirai room upselling system: