En español, en français, em português.
In Mirai's system you could already choose the facilities and services available in each room, even customize them. From now on, you can also highlight the ones you want so that they are shown to the user with icons. Both on desktop and on mobile, you will see at a glance that, for example, your hotel has Wi-Fi, balcony, views… or the icon of any aspect you want to highlight. Besides giving more visibility to what is important, it will be of great help for the comparison between rooms, since you can vary the icons for each one.
It is required that your establishment is operating under Mirai's Rate System.
What is displayed: The user will see the icons in the engine results, next to the name, photo and description of each room. Up to ten icons on desktop and six on mobile. When the mouse passes over it, the text of the name appears.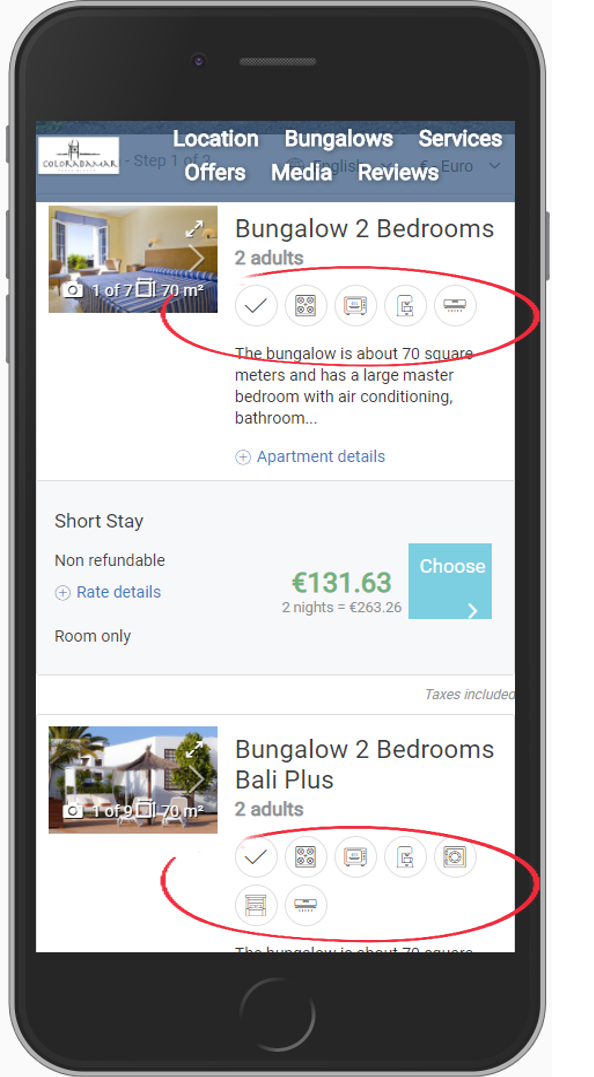 Different for each room: you can differentiate the icons for each room to make it easier for the user to compare
Sort them as you like: place the important ones or the differentiators first
Any facility or service you can imagine; yes, any: the system comes with a library of icons for all the facilities and services that Mirai proposes for you to choose from. In addition, you can add your personalised services: in this case a generic icon appears, which we can change by hand. Inform your account manager so that we can find a suitable one, if possible.
How to activate and manage it: you can do it yourself. You have a new page for this on the extranet: "Highlights" in the "Hotel info" section

Its configuration is very simple. The order in which the icons appear will follow that of the list in which you set them. In each column you indicate in which rooms they should appear:

Recommendations
Take this opportunity to review the facilities and services you have selected for each room (managed in the next subsection: "Rooms"). If you need one that does not exist among those proposed, you can create your own, with the name you want.
Many establishments indicate some service or facility of the room as included in the offers, as if it were a package, for example Wi-Fi. We recommend that you do not do this. It is not intended for that: make better use of the new system of icons. It will be cleaner and more visual, besides helping the system to identify real packages and compare results.
You can setup everything yourself on the extranet to take advantage of this new feature right away. If you have any questions, please contact your account manager.