En español, en français, em português.
Is there a better way to show your rooms during the booking process than with a 3D animation or a 3D virtual tour? Now with Mirai you can 3D-show them!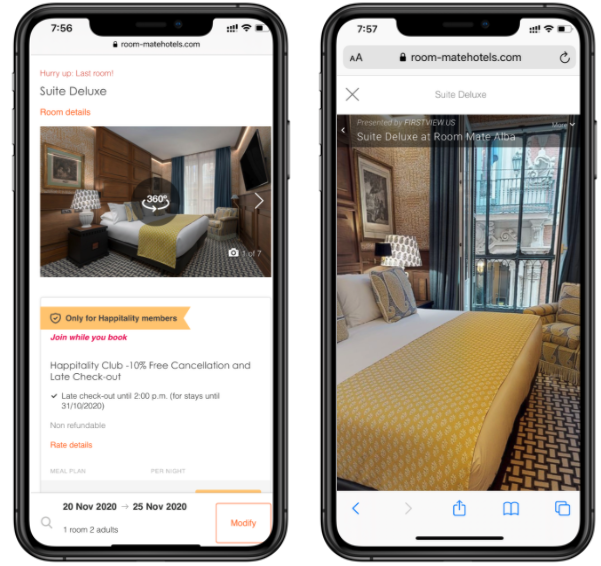 3D virtual tours will help you:
Support the price of your rooms. You can easily show why your price is what it is. This is a great challenge in times of low demand. Some clients think that many hotels are the same, but that is not the case. A 3D tour will help them see that there are better hotels than others, and that the price difference is fair.
Promote upselling. This will help your client see every detail of your rooms and the differences between them, enhancing the value of your best rooms and, therefore, increasing the average ticket of purchases.
Differentiate your direct channel. This unique 3D content will make your customers more likely to book with you rather than at an OTA.
Ease the sale of more complete (and complex) products. A good experience with videos and virtual tours is especially useful in family and communicating rooms, as well as in high added value products such as your suites or executive rooms.
Increase your conversion and sales. This greater experience and enhancement of your product will lead to an improvement in the performance of your direct sales, saving on intermediary costs along the way.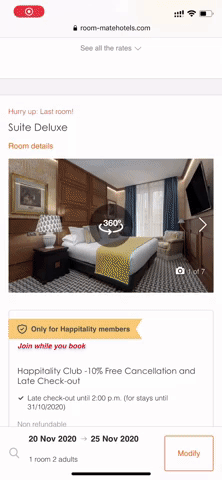 How can I upload 3D tours to my engine?
You can do it yourself from our extranet in the room section, where you will see an option to enter the URL of your virtual tours. You can add one per room. Contact your account manager for any questions.

I do not have this kind of content but I am interested in having it, what options do I have?
There are several companies and technologies that will allow you to have your 3D virtual tours, such as the already popular Google Street View options. Choose the company that best suits your needs and, if possible, choose one that specializes in hotels. This will guarantee you additional quality, which will make a difference.
One of such companies is FirstView, one of the leading ones in the industry. Moreover, we have good news! At Mirai we have entered into an exclusive partnership with them, so that we can offer their immersive 3D and 360° content (among other services) to those of our clients who would rather pay in a commissionable model based on net reservations (instead of the classic fixed cost model). This will help variabilize the cost while delaying it until resuming business. You can find more information about this partnership here.