En español, en français, em português.
The current coronavirus crisis has dramatically changed the way we book hotel rooms. Non-refundable rates have pretty much disappeared as clients do not dare to be penalised if they change plans or are not able to travel. But despite the existing uncertainty, non-refundable rates are again growing in June doubling, up to 10%, the numbers of previous months.
"Free cancellation" filter
Pre covid-19, the most important factor when deciding where to book a hotel was the price. Today, it is obvious that for most clients the flexibility to cancel your booking without any penalty is a must.
Major OTA, led by Booking.com and Expedia, have given great visibility to the option to filter hotels by those that offer flexible rates (and can be cancelled for free). As a hotelier, it is very important that you offer both non-refundable rates (that still has clients willing to book them) and flexible rates, even during the high season. Otherwise, you will lose a lot of visibility in the OTA and many clients will use this filter to make their decision.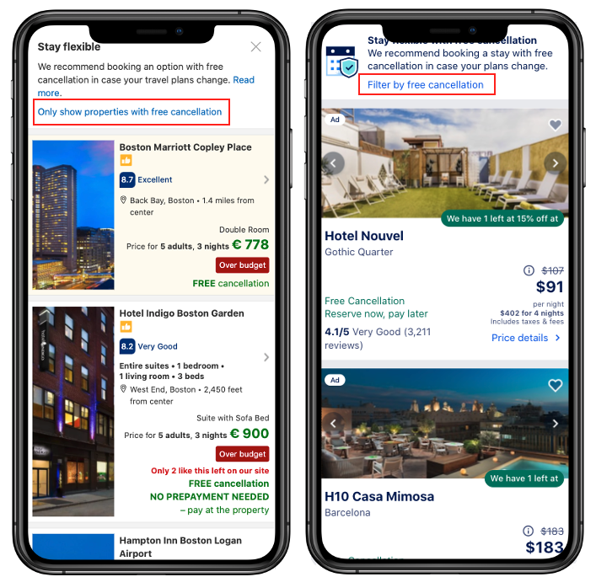 Google adds a "free cancellation only" filter
Google keeps improving its metasearch solution by adding a new "free cancellation" filter to both Hotel Ads and Google Travel to only show rates that can be cancelled without any penalty (for free).
The filter in Google Travel allows clients to narrow down their search by destination (for example "hotels in New York") to only show those hotels with free cancellation rates. It is a good opportunity for hotels to gain up to 65% more visibility. Many hotels do not disappear because they do not have flexible rates, but because their integrations are not ready to break down this information ending in Google removing them for the results. In the following example "hotels in Miami" we can see how the number of hotels shown goes from 290 to only 105 after applying the filter.
In Google Hotel Ads, this new filter is highly visible on top of the results. In order for you to show your "flexible rates" and do not disappear when activating this filter, your "integration partner" should be able to break down the cancellation policy information in all your rates. In Mirai, we have been doing so for three years already. This new feature is on top of Google's latest features such as adding rom photos to its results or the option to show the total price or by night including taxes and resort fees.
An additional advantage of this new "free cancellation" filter is that it removes some channels that are not capable of sending the cancellation policies to Google. Fewer channels in the auction result in higher visibility to your direct channel, higher potential click-through-rate or CTR and better return of investment of your campaigns.
Trivago y TripAdvisor had it long time ago
Google is usually very innovative with its new developments and features. However, it was not the first this time as trivago and Tripadvisor have offered this "free cancellation" filter for a long time already. Trivago is giving very high visibility to it on top of the results, and users can activate it with just one click. Tripadvisor still has this filter under the "filters" button, although it's the first one in the list.