If your hotel is investing to take your direct sale to metasearch engines, you should seriously think about the presence of OTAs in them who are constantly bidding and almost always on top thanks to their huge budgets (funded mostly by you and your commissions).
What if we try to get Booking.com, Expedia and the rest of OTAs removed from metasearch engines? The famous slogan, although one already stamped out by OTAs themselves, "I will take you wherever you can't go alone" does not apply here. The presence of OTAs in metasearch engines does not provide added value for you if you are also there directly.
However, what would really happen if we got rid of Booking.com from metasearch engines? At Mirai we tried and measured it, and here are the results.
How did we do it?
We found a deficiency in the integration of Booking.com in Google Hotel Ads in which, when the hotel did not have available stock for two people, Booking.com sent the price of a single room to the client and later notified him that he had to book two different rooms. A small mistake (or a trick, perhaps?) which at the time allowed us to exclude Booking.com (and Priceline.com) from the Google Hotel Ads results, something that we did with many of our clients. We did this because Google has a complaints mechanism for integration partners like Mirai which notifies these kinds of incidents, the only of its kind which offers such a nimble service, with response in 24 hours, something which shows their concern about the quality of their results.
Here is one of the many incidents that we reported to Google which was approved within hours:
Unfortunately, this bug has already been fixed, so there is nothing we can do now other than remain alert and continue checking. However, during the 4-5 months that this exclusion lasted, we had the chance to measure how the direct channel behaved when the most powerful OTA which always bids for first position was not in the results of the Google Hotel Ads metasearch engine.
Results
Although we excluded Booking.com in over 130 hotels, there was no major impact on most of them. The reason is none other than hotel over-commercialisation, which results in a huge flood of OTAs in metasearch engine results. In those hotels, removing one OTA, even if it was Booking.com, slightly improved the indicators although without causing a relevant impact.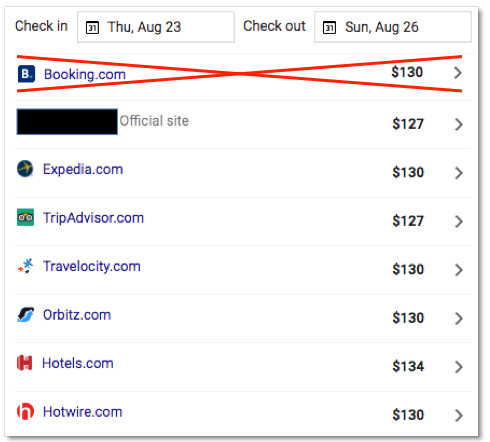 However, not all cases were like this. We were lucky enough to find different examples where there was a clear and measurable impact. These were hotels that:
Barely had two distribution channels other than their own website: Booking.com and Expedia.
Had the price under control and didn't allow any OTAs to decrease it in any market important to them.
The date that we managed to remove Booking.com (and Priceline.com) from Google Hotel Ads was July 27, whilst its reinstatement was on November 20, when Booking.com fixed its integration error and appeared back on it. Here is the before and after.
What happened in these four months? We analysed it with one of our client hotels:
Impression share
Since the hotel had few channels, the "Official website" entry almost always appeared (90% of the time approximately). After removing Booking.com, the direct channel appeared close to 100% of the time. Therefore, the hotel gained more visibility with their direct channel.
Average advert position
Booking.com usually bids to be in first position, regardless of the cost. Priceline.com, however, used to bid for 3rd or 4th position. Consequently, the "Official website" advert vied for, at best, second position. When we removed Booking.com, everything changed and the direct channel almost guaranteed first position for itself. As well as having more impressions, the official website had the best position in the results. In other words, maximum visibility.
Click-through rate (CTR)
As well as maximum visibility in the results, the click-through rate (CTR) figure grew by almost 70%, which resulted in website views from Google Hotel Ads to shoot up significantly.
Conversion ratio
More website views sounds great but were they converted into bookings? It appears to be the case. The conversion of this web traffic was slightly above average. Higher visibility, more clicks and more views ended up generating more direct bookings.
Did it reduce the cost of the campaigns?
Given that the analysed hotel, which met the requirements of having few channels and a controlled price, participated with a CPA model, we did not get a clear answer. However, hotels with CPC models did show signs of CPC reduction and, therefore, more profitability.
How many more bookings? Were they incremental?
The blue columns indicate the evolution of booking figures from Google Hotel Ads, although these figures have a strong seasonal component and therefore extracting conclusions is difficult. We can "de-season" these figures by calculating the percentage of these bookings over the total amount. As a result, we see that there was a large increase, going from 3-4% to 7-8%. Therefore, we could come to the conclusion that there was a 4% increase in official website bookings.
More official website sales but less overall sales?
The final figure that we require is whether removing Booking.com entailed a larger loss than those sales redirected to the official website. After analysing Booking.com sales for this period, we did not see a significant change to the one that had already been taking place.
Did this result in a problem with the OTA or penalise its ranking?
No. No hotel received any calls from Booking.com nor was any of them removed from the Preferred Programme. Also, no hotel appeared to lose any visibility in its ranking.
Conclusion
If a client finds and chooses your hotel on a metasearch engine, you have achieved the most difficult part. However, you are still missing the simplest one: getting the client to book. Why pay high commissions to OTAs when you can achieve these bookings with your own website? In any case, you will still need three prior conditions:
Avoid over-commercialisation. On the Internet, having two or three OTAs is enough. Having more generates ferocious competition among them and it makes it much more difficult to control what they do on Google AdWords and on metasearch engines.
The best price on your website or, in other words, controlling price hacks by OTAs.
Having good technology available (website, engine) which allows clients to make a booking in an easy and secure manner. There are some good alternatives out there on the market and some which aren't. Choose wisely.
Therefore, it seems logical to think that removing OTAs from metasearch engines will boost your direct channel, as long as it is integrated in them, of course. The figures just confirm what common sense was telling us beforehand. Are you brave enough to do it? It's in your hands.
To know more about how to boost your direct channel on metasearch engines, please click here or contact us at metasales@mirai.com