En español, en català, en français, em português.
Just finished the Mobile World Congress, it is a good time to talk about a concept that had been nothing but speculation until now: booking through voice and what it means for the hotel industry.
It is becoming clearer that using voice commands to search for and book hotels is going to be disruptive in the hotel industry and will soon be changing the rules of the game. Certain studies have anticipated that voice will account for 50% of searches in under two years. What seems unquestionable is that users will be searching the net very differently before too long.
We have come to yet another turning point where hotels are forced to "adapt or die" in the fight to defend and boost direct bookings. Voice search poses a new threat for those who are lagging behind, but it also represents an opportunity for the more active businesses that are ready to act fast.
The new priority now involves connecting your direct channel to the end user right from their first point of contact with the Internet, which increasingly means the voice assistants available on phones (like the Google Assistant or Siri) and home devices like Google Home or Amazon's Alexa. This unstoppable shift in user behaviour is likely to shake up the traditional online distribution model, starting with OTAs who will have to reinvent themselves, and also direct channels that need to find their new place.
The good news: You can now link your direct channel to Google Assistant
What could be better than offering your prices instantly in real time and allowing users to book your hotel through Assistant, the almighty voice technology app by Google that runs on both iOS and Android which is forecast to claim almost 50% of the assistant market share by 2020?
Google recently announced that people can now book hotel rooms through the Assistant on Android or iOS smartphones, and Mirai is one of the companies to offer hotels this new service. At Mirai, we are very proud to already have all our clients bookable using the Google Assistant.
Book on Google – the technology that makes it all possible
Book on Google (BoG) is Google's endeavour to enhance the user experience when searching for and booking flights and hotels.
Launched in the USA in late 2015, in the UK in 2016 and available in most European countries since 2018, Book on Google makes it easier for users to book online with a more seamless booking process, through a Google-hosted site designed to minimize friction and drop off. This avoids potential friction and the risk of losing a client when they change website to complete their reservation (especially on mobile devices). In the metasearch engine industry, this concept is known as Facilitated Booking.
Connecting your direct channel with the Google Assistant is possible thanks to Book on Google functionality, which shows one more time what a strategic tool this is for the future.
How does booking a hotel through Google Assistant work?
Making a reservation simply by speaking with your Assistant is simple. If you're looking for a specific hotel with dates in mind, you can say, "Hey Google, I want to book hotel Only You Boutique in Madrid for one night on November 1st." From there, you can view availability, pricing and then easily reserve a room using your Google Pay (G-pay) credentials which solves the highest friction step of an online booking (especially in mobile devices) that is entering the credit card information.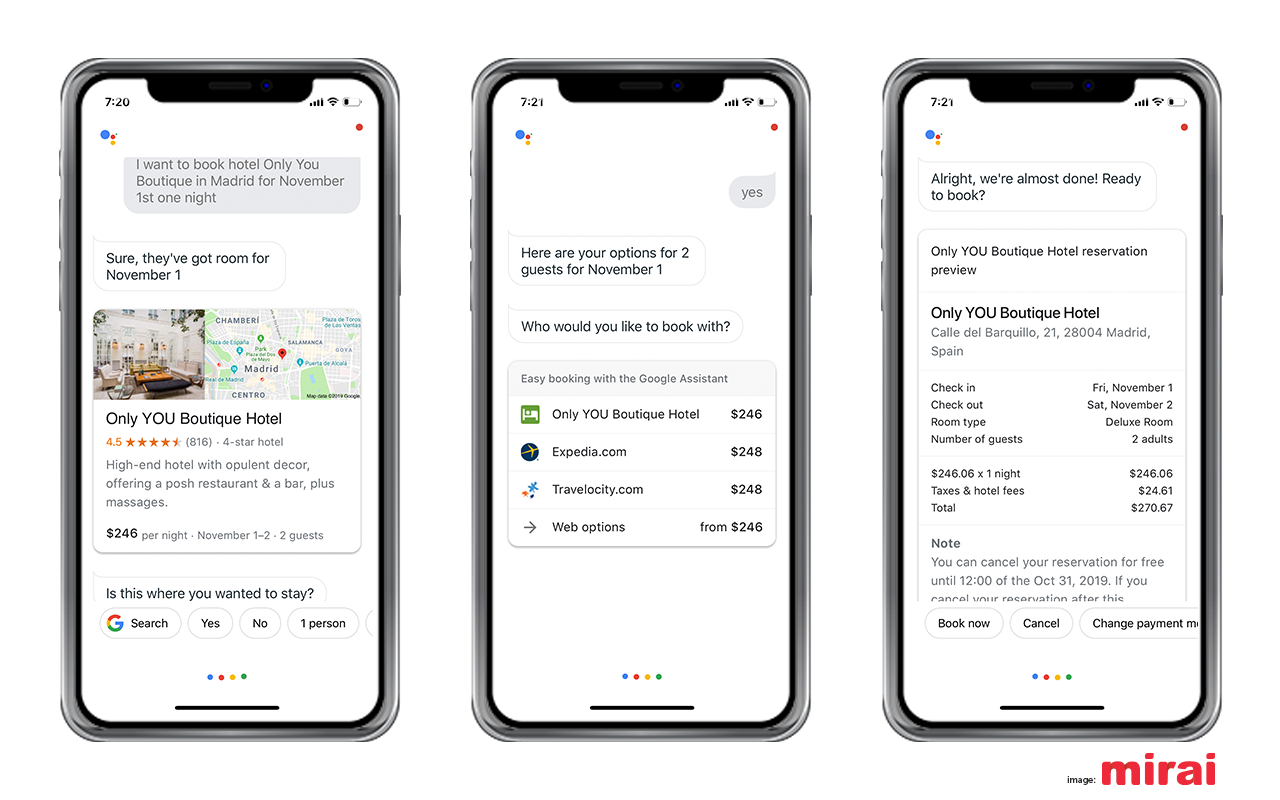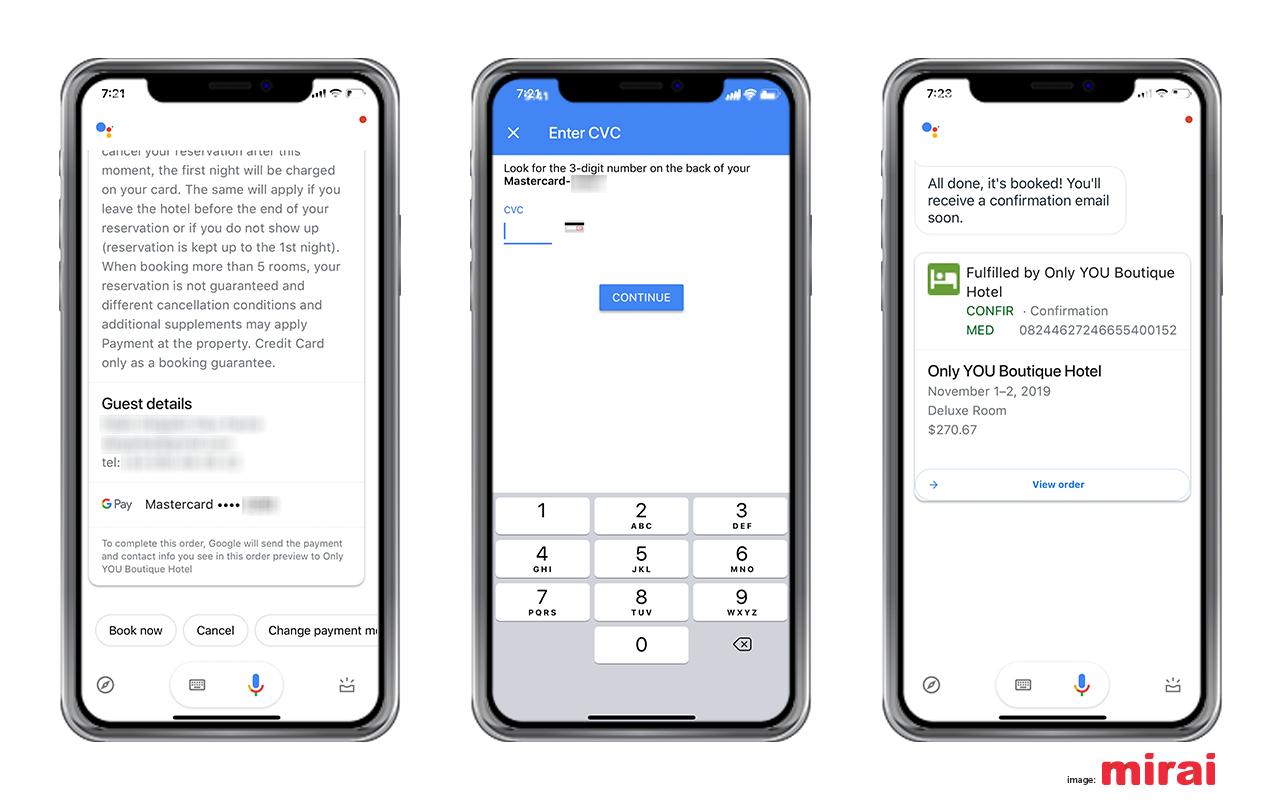 Once the booking is complete, the Google Assistant provides an overview of the details and allows the user to view the full reservation. Like any other bookings made through Book on Google, users will get confirmation from the hotel and a short email from Google informing them about their booking.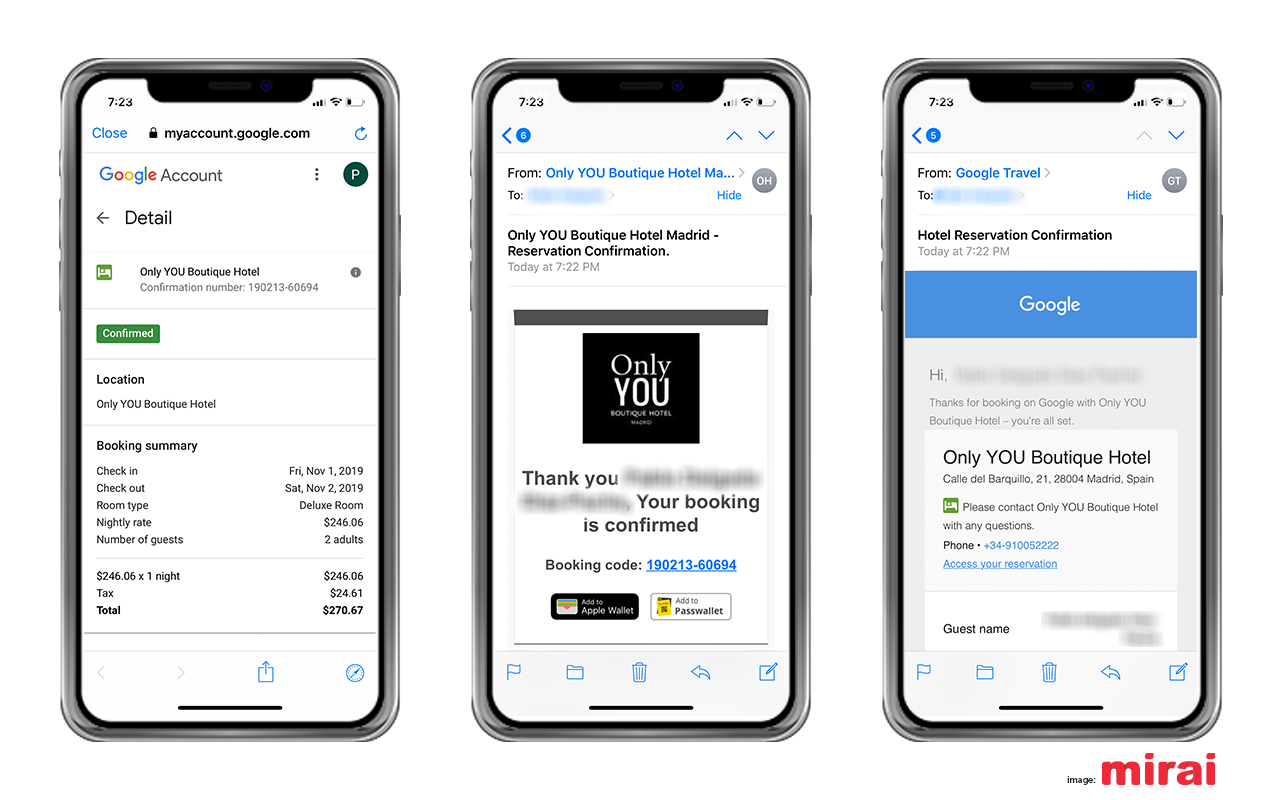 It is often easier to understand something by seeing it than trying to make sense of a series of screenshots, so we have put together a video for you. The video shows a user searching a hotel and choosing Hotel Alma in Barcelona and completing the entire booking process using only voice commands. The best thing about it is that the hotel will receive it as a "direct" booking as opposed to one made via an OTA, as would be the case for most hotels.
Who can use the Assistant to book hotel rooms?
Currently, English users in the U.S. can tap their Assistant to book a room. We look forward to seeing where Google expands this feature to next.
How can I connect my direct sales to the Google Assistant?
You only need a technology provider who works with Book on Google and has enabled the Assistant booking system. Contact your current provider and ask for this option if you are not sure.
If you work with Mirai as Internet Booking Engine (IBE), the Assistant voice booking option is already available. If you have a different IBE, you can still work Mirai Metasearch, the best option to connect your direct channel to the Assistant.
Which OTAs already work with the Assistant and support voice booking?
We do not have an exact list. According to Google "we have relationships with many different partners, including hotels, airlines, and many online travel agencies".
Our tests have revealed that Expedia, Orbitz and Travelocity are up and running to make voice bookings directly through the Assistant. Funnily enough, the player we have not seen is Booking.com, although we suspect it will only be a matter of time before they join the party.
Technology may keep changing, but your strategy need not
Keeping up with the dozens of technological breakthroughs that pour in every year is hard work, especially when you have to choose the most important ones. It is tempting to talk about all the new gadgets and widgets that promise to revolutionise the sector. We are bombarded with concepts like big data, blockchain and artificial intelligence that threaten to distract us from what really matters.
But digital assistants are bound to bring about a major change in user behaviour, so it is important for you to rise to this new consumer demand as soon as possible by connecting your direct channel.
Once you have done it, remember that your real priority is still the same: to implement a sound distribution strategy. In short, make sure the technological tidal wave does not drown out what really matters, which includes keeping your inventory under control, not over-marketing your hotel by working with too many channels, not tolerating any OTA madness and building customer loyalty.
Conclusion
Voice technologies are going to be disruptive – there is no doubt about it. The only question is whether the change will happen in 2019, 2020 or 2021. It is up to us to position ourselves wisely as soon as possible and avoid falling behind the competition – which is twofold, with other hotels on one hand and OTAs selling our hotel on the other.
As more consumers understand the ease and helpfulness of using digital assistants to get things done, we can expect the number of bookings to rise. So, the question now is: Are you ready? Or will you sit back and let the OTAs take your bookings without doing anything about it?
To know more about how to boost your direct channel on metasearch engines, please click here or contact us at metasales@mirai.com