En español, en français, em português.
Six months ago, Tripadvisor announced its newest membership program Tripadvisor Plus, a new way to up your travel. A quite innovative approach that unleashed lots of different opinions but also concerns from the hotel industry, especially related to price parity issues. Tripadvisor has just announced a significant twist in its original approach (link to new Plus program) moving from a "instant savings" (or "discount" to travelers) model to a "reward" one (to the same travelers but for future bookings and potentially cash out their rewards). According to the company, its plan is to roll out the "reward" model and gradually remove the "instant savings" one from the market based on consumer and hotelier adoption.
The goal with this post is to provide the hotel industry all the answers to the many questions Tripadvisor Plus still raises.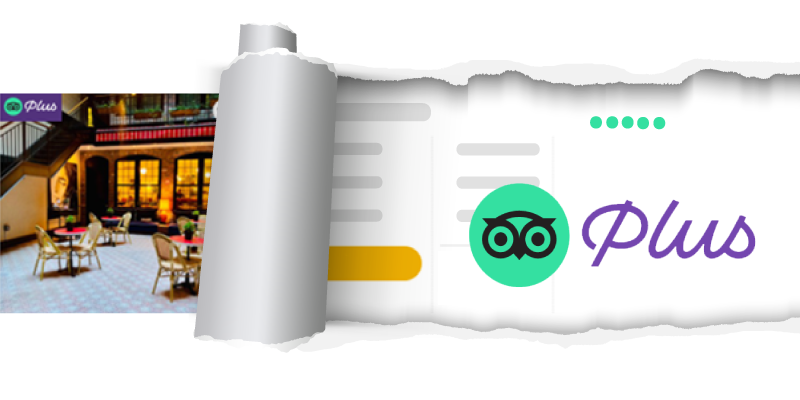 What is Tripadvisor Plus and what does it mean for users?
It is an annual subscription membership for users (travelers) offering rewards and perks from hotels when booking on Tripadvisor Plus platform. Travelers accumulate cash rewards in their wallet that they can redeem in subsequent bookings and, eventually, during their stay at the hotel (restaurant, bar, spa, etc.).
The membership costs $99/year.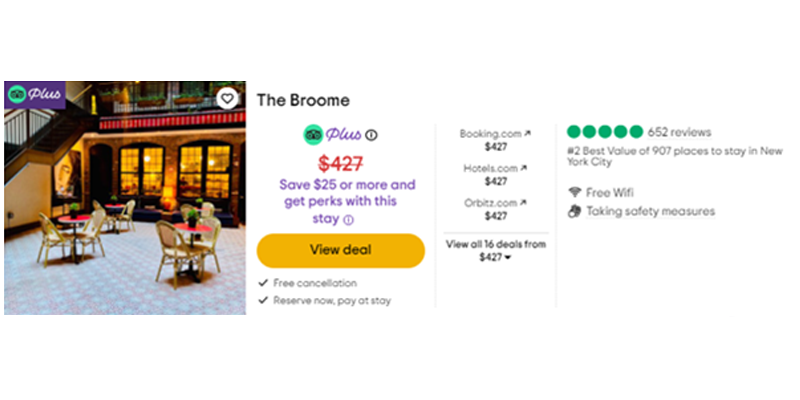 How does Tripadvisor Plus work for hotels?
Plus's first approach was based on "instant savings" for travelers, meaning that hotels had to give away an exclusive net rate that, on average, was 15% off versus public rates, in addition to perks hotels were willing to offer. Hotels did not have to pay any commission on these bookings (some wrongly said they did not have any cost).
The new Plus "reward" model works very differently. There is no need to provide an exclusive discounted rate. Tripadvisor Plus will play with the same rates and rules as the OTAs, addressing the biggest concern hoteliers had about the previous model. In addition, hotels must pay a net commission (cancellations and no-shows are excluded) to Tripadvisor. The minimum commission is 10% (15% recommended to maximise visibility) and it is applied to the amount before taxes (something normal, but we should remember hotels pay commissions on taxes with many OTAs such as Booking.com). According to Tripadvisor, commissions paid by hotels go straight to the travelers in the form of "rewards" to use on future bookings. The higher the value of the commission, the better the reward offered to the traveler. That is important because Tripadvisor's Best Value sort order – which determines where a hotel is displayed in search results – is based on the strength of the offer to travelers. In other words, the better the potential reward for travelers, the higher an offer is likely to be shown in the sort.
In addition to the commission, hotels can also offer perks for those bookings coming through Plus making their hotels more attractive to the program's members.
Can agencies and OTAs participate in Tripadvisor Plus?
Yes. Any channel that was able to connect its rooms and rates with Instant Booking will be welcome to participate in Plus. Therefore, Plus is not an exclusive placement of the direct channel.
As a consequence, hotels would be competing with OTAs to access the Plus placement. And here is where it gets tricky. Hotels are paying 18%-25% to OTAs … but how much of it are they willing to give away? The answer will determine whether the minimum 10% (recommended 15%) Plus asks for will be enough to compete with OTAs or not. A clear proof that much of the commissions hotels pay to OTAs goes to competing with themselves in online marketing placements. An interesting paradox.
What is Tripadvisor Plus' value proposition for hotels?
In exchange for this exclusivity, hotels would get:
Higher visibility in destination searches, which is the top priority for hotels as these requests traditionally mean "incremental demand" (as opposed to "brand or hotel name search"). Additionally, Tripadvisor has added a "only show Plus hotels" filter reducing the results to just those hotels participating in the program.
A lower-than-market-average commission to Tripadvisor, making these bookings more efficient (less expensive) than OTAs.
Data of travelers booking in Plus (as opposed to a sale through an OTA), allowing hotels to create a relationship with their customers and to better monetize them though upselling or cross selling initiatives.
What are the requirements for hotels to participate in Tripadvisor Plus "Reward" model?
Basically two:
Tripadvisor has leveraged Plus on the previous Instant Booking platform, so to participate in Plus hotels need to find an Instant Booking integration partner (Mirai is one of them. Check the full list here).
Properties must have an average bubble rating score on Tripadvisor of at least 3.5
There are no requirements regarding:
Minimum term of contract. You can cancel your participation anytime.
"Last room available" or LRA.
There is not a maximum number of properties in the program. In other words, all hotels in a given destination could eventually join Plus. This is a big difference between other programs such as the Booking.com Preferred Program, where there is a limited number of properties per destination allowed to join at the same time.
Once hotels sign up in Plus, they have to decide the commission they want to participate in the program with as well as the perks (if any) they are willing to offer for Plus bookings.
What is the participation rate in Plus in major cities around the world?
At the time this post goes to market and based on our own analysis testing, the participation rate (the number of hotels that signed up in Plus, either the original "instant savings" or "discount" model and the new "reward" model) in major cities is the following. Please be aware that this is just a picture of how the program looks today.
Is Tripadvisor Plus such an innovative program?
Membership programs have been around for many years. However, Tripadvisor is the first big, relevant and global player in the online travel industry that dares to charge the user as its main revenue stream. We should point out that commissions paid by hoteliers to Tripadvisor are primarily used to compensate travelers in the form of rewards. This move is brave and innovative, and follows the successful models of companies such as Netflix or Spotify. It's worth pointing out that Leading Hotels of the World recently dropped its loyalty program's fee keeping all benefits.
What is not innovative, though, is the value proposition for hotels of "more visibility in exchange of a commission". This is what OTAs and other gatekeepers have always asked hotels.
How is the Tripadvisor Plus "Reward" model shown to users?
On the destination pages (i.e. "hotels in Barcelona"), Plus rates are labeled with a special violet Plus badge. They appear immediately below Sponsored Placements, which remain with a prominent visibility in first positions. To facilitate user experience, there is also a new filter where you can see only stays with member offers. The filter applies regardless of whether you are a member or not.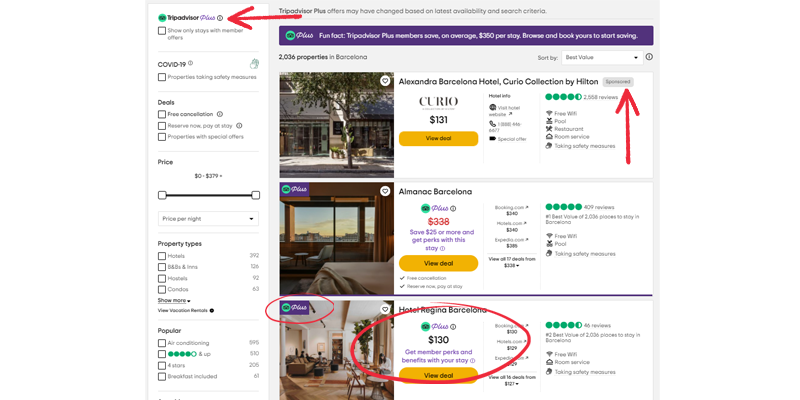 Whereas Tripadvisor Plus' first "instant savings" model only showed discounted prices to its members, the "reward" model shows the public price (not discounted) to all Tripadvisor users. In order to book that rate, users need to register in Tripadvisor and sign up for the Plus program, although most of them will sign-up in the process of their first booking, as part of that check-out flow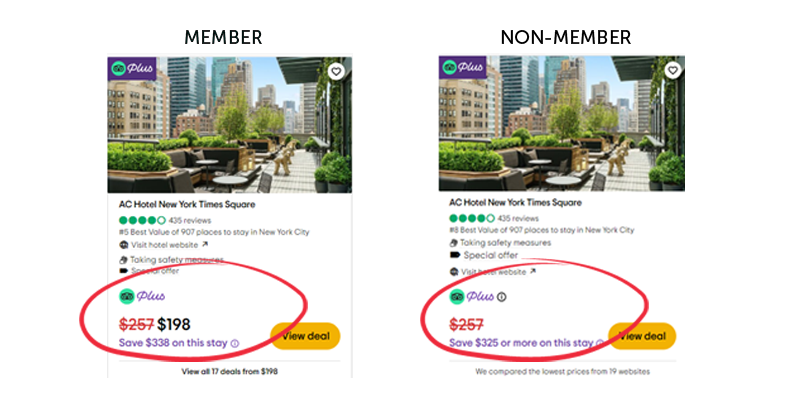 Where is the reservation made?
The same way bookings happened with Instant Booking, bookings in the Plus program occur on Tripadvisor site. The user will not go to the hotel's website, and will not record anything on its Google Analytics account. Hotels cannot add these visits to audiences to target later on with retargeting.
Upon clicking the "View Deal" button, logged-in users are brought to the booking funnel where they can see all details and book the room that best suits them. This page and the subsequent checkout flow is new for Tripadvisor Plus.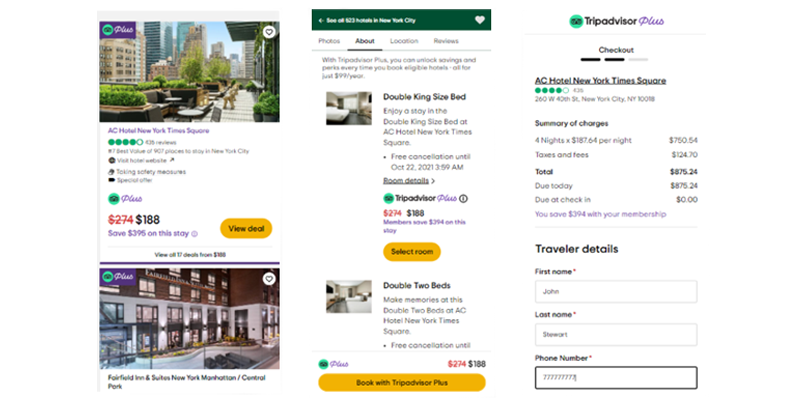 Who is the merchant of record in Tripadvisor Plus bookings? Who charges the traveler?
According to Tripadvisor, the underlying channel that guarantees the booking will decide whether it acts as the merchant of record (and charges the end client credit card) or allows the hotel to directly charge the end customer. In the cases where hotels connect their direct channel to Plus, hotels will be the merchant of record. When it's an OTA facilitating the booking, it would probably be the OTA that acts as the merchant of record. In any case, Tripadvisor would charge the user under this "reward" model. In any case, Tripadvisor will not be the merchant of record.
Who provides the customer service to the user?
Tripadvisor would not provide any customer service, leaving that responsibility to the channel providing rates and inventory. For hotels planning to participate, be aware that you would have to provide this service.
Is Tripadvisor Plus available in all markets?
From the demand side, it is only active in the US as a point of sale. Only users in the US can sign up today.
From the supply side, it is available worldwide. Any hotel can join the program.
If a user books on Tripadvisor Plus, can it be considered a direct sale?
It certainly depends how you see it. We could also have a good debate here. Remember that reservations will occur on Tripadvisor, so it is hard to claim it as a direct booking. But at the same time, your hotel will get the guest data information to include in your CRM, so in that aspect it is a direct booking. We had a similar discussion when Tripadvisor released Instant Booking, and the debate is still quite open.
How are Instant Booking and Tripconnect related to Tripadvisor Plus?
They are fundamentally different programs and fully compatible.
Tripadvisor Plus is a paid subscription program whereby Tripadvisor charges a consumer an annual fee in return for perks and discounted rates.
With Instant Booking, Tripadvisor charges the hotel a commission for all bookings made on the Tripadvisor platform. No cash back to the travellers in the form of rewards.
Tripconnect is the cost-per-click bidding system that allows hotels to set a budget and bid against other booking providers displayed on the hotel listing. You only pay when travellers click through to your website.
Important to note that Tripadvisor will be migrating all eligible current Tripconnect Instant Booking (TCIB) offers to Tripadvisor Plus. Since presently only travelers based in the US can subscribe to Tripadvisor Plus, only the active TCIB campaigns to US-based traffic will be converted to Tripadvisor Plus. For the time being, any active TCIB campaigns to non-US traffic will remain the same.
If I sign up for Plus, wouldn't I be competing with my own direct channel in Tripadvisor?
Yes. Tripadvisor Plus rates will be displayed alongside other rates available from OTAs as well as your own direct price in Tripconnect. You would have more visibility (two entries), but would also be competing with yourself which is somewhat contradictory.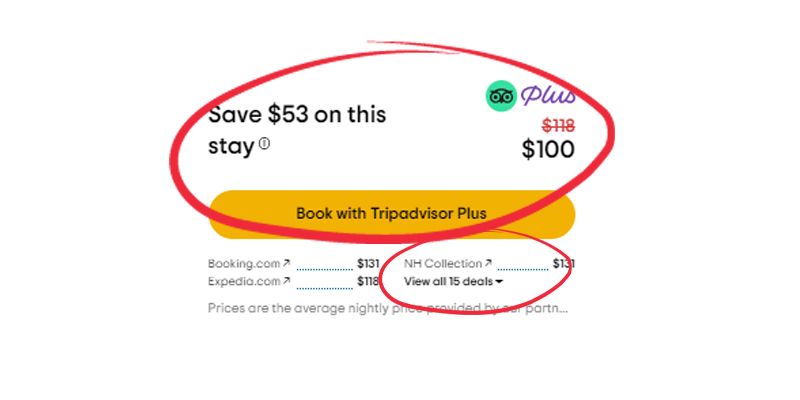 Conclusion
Tripadvisor Plus is another option for hotels to get more exposure in this already complex ecosystem. With OTAs working hard to get more market share, and Google providing more services for both travelers and suppliers, Tripadvisor has opted for a different path. Time will tell whether it was a good decision or not.
We have focused this first post on shedding light on the most relevant questions hotels may have about Tripadvisor Plus. Hotels should make the best decisions in their own interest, and the first step is always to fully understand what they are deciding. We will evaluate later on the pros and cons of the program and how hotels would use Plus to their own advantage.