En español, en français, em português.
Every single hotel, without any exception, whether large or small, independent or part of a hotel chain, with a good or bad reputation, in the centre or in the suburbs, has significant potential to increase direct sales. Unfortunately, most hotels are a long way from being able to realise this potential and find themselves stuck in a rut without any clear idea about how they can continue to grow. If they are successful, the rewards are very attractive: stronger profit margins and reduced dependence on intermediaries.
Building blocks: an excellent metaphor
A few weeks ago, I was lucky to have the chance to take part in the Direct Booking Summit in Miami (a highly recommended event, by the way) organised by Triptease. I really liked the very visual way they set up the session in which I took part, based on asking us to build something which, from the foundations to the top floor, was an analogy for how to build a successful direct sales strategy, block by block, floor by floor. This is a vision which we share at Mirai. We believe that the road to improved direct sales must always follow a specific order if we want it have the outcome we expect or desire. The analogy is with a building, made of a layer of lower blocks which support the weight of everything that is going to be built on top of them.
The building blocks of direct sales and their order
The different steps and the order in which they should be approached may be something which some readers find very basic. If you already sell a lot on your website, you will already have resolved many of these issues. For many others, however, we hope it will help as a guide to what needs to be done and when.
The ground floor or foundations
Without them, your efforts will be in vain. But with them, you will achieve a multiplier effect in everything you later do.
Team training. Direct sales know-how is not innate nor something you can learn quickly. It takes a long time to learn and requires a lot of effort. If you have a team that is up to the job, support them through training and recycling. A lot of hotels decide to move "that smart kid from the reservations department" to e-commerce, thinking that just changing the name of their job position will somehow magically inject them with all the knowledge they need. If that person has the ability required (great news!), make sure you support them and train them properly. And not just once, but on a regular basis and with an annual training budget. On the other hand, if your team is not really suitable for e-commerce or would cost too much to change, it might be best to start thinking about bringing in new people that understand direct sales and can lead the project.
Alignment of incentives. Increasing direct sales requires getting all of the participants in the project on board, including the hotel owners, general managers and, of course, sales managers. The objectives do not revolve solely around the typical KPIs of occupancy and RevPAR (the drivers of average rate), but should include a distribution cost or net RevPAR
To sell more through direct channels we have to identify which channels (both offline and online) will be expected to sell less, and we should never allow incoherent incentives prevent us achieving our goals. The highest authority in the hotel (the hotel owner) should also be fully aware of the plans and provide their full support for this change in direction. Changing the priority of sales channels and making a commitment to direct sales may cause some friction along the way (such as causing changes in booking lead time or guest nationalities), and if hotel owners are not aware of the reasons, they may get cold feet and force decisions that undermine the eventual success of the project.
The first floor
If we have solid foundations, addressing the next challenges will be much easier, since they largely depend on the training and skills of your team.
Parity control. The main obstacle to not gaining control over your pricing is to assume that it is not possible or that it is something that is a big problem for everyone and so cannot possibly be fixed. The real reason for this attitude is that we tend to be uncomfortable about leaving our comfort zone. We have to get over this, roll up our sleeves and end these pricing problems once and for all. Why would a customer book on your website if they find a cheaper price on another channel, even more so if that channel is a powerful brand such as Expedia or Booking Genius? It makes no difference whether you have the most amazing website, a great booking engine and a huge marketing budget, your efforts will all be in vain. Parity control is a core requirement for increasing direct sales and can never be ignored. It is a primary-school level subject in the world of direct sales and is absolutely necessary to prepare us for future challenges.
Differential value proposition. Sometimes we are not aware that booking on your hotel website is often an effort and even a risk for a customer. Why should I book on your website if it costs me the same as Booking or Expedia, especially when I have made dozens of reservations with the OTAs in the past and never had a problem? Without a clear and differential unique value proposition that leaves no doubt about why booking on the hotel website is better for customers, then our ability to compete with OTAs is severely limited. And don't make the mistake of thinking that it always has to be about having a better price. There are many ways to favour direct channels: exclusive occupancy, meal plan or room type options, more flexible cancellation policies or payment methods, reserved room allotments for dates with high demand, added values and special services for direct bookers. Power to your imagination!
The second floor
We now have the teams trained and aligned, a clear reason to book on our website and control over our pricing. Now is the time to invest in the best technology.
You need a good website, well-designed, user-friendly and with good content. By a "good" website we mean one that successfully achieves the following objectives:

Explains why the user should sleep in your hotel and not in the hotel across the road.
Explains why the user should book on your website and not on Booking.com or Expedia.
If you manage to address these two objectives, mission accomplished. In my experience, hotel teams love to work and spend thousands of hours on their website. Far too many hours, unfortunately, as this over-optimisation hardly generates any significant return. And even less so if you start focusing on the website without having firmly secured the first two floors. The website is somewhere where hotel teams can spend hours and hours working as it is very much in the "comfort zone" and doesn't really bother anyone. In other words, OTAs really don't care if you spend a load of time on your website, because that means you are not working on what is really important.
Booking engine. Along with a good website, you need a good booking engine. Make sure it is very simple, flexible and fast, and that it efficiently meets all your users' needs. Also make sure it meets all your needs in regard to rate types, opaque sales, cross-selling or up-selling. There are several good booking engines on the market (among which I include ours, of course, especially after the last update). But beware that there are also a lot of not-so-good booking engines that mysteriously claim to do everything that the good ones do but at half the price. A bad booking engine will limit your ability to implement your strategy and substantially reduce the reach of your direct sales. Choose one of the good ones and graduate to the next level.
Third floor
We now have everything we need to succeed: the team, incentives, differential values, control over disparities, a good website and booking engine. Now we need to start driving traffic to the website. And what better way to start than with the most qualified traffic that is closest to conversion?:
The other source of more qualified and high-conversion traffic. Investment in metasearch is growing strongly and even overtook Ads in 2019. And that's because users indicate the dates they are looking for in metasearch and see the price for those dates. If you can drive these users to your website, you will have a good chance of converting them into bookers (and even more so if you have done all the things mentioned above). Your hotel is already actually in metasearch websites, it's just that you're there through the OTAs, which is not the same. In addition, you are also financing these OTA investments with the commissions you pay them. OTAs do not invest a single euro in your hotel, nor will they ever. In fact, a large percentage of OTA sales start in metasearch. At Mirai we have always been a strong believer in metasearch and integration and we have recently launched Mirai Metasearch, a product that connects hotels to different metasearch engines.
Fourth floor
If we get to the fourth floor with all the previous bases covered, we should already be enjoying a significant level of direct sales. It's now time to get to know your customers better and to start building a lasting relationship with them.
CRM and loyalty. It's a bit strange that the OTAs spend just a few minutes with your guests but seem to know far more about them than you do, even though they stay in your hotel for a few days. It is essential that we are aware of why they sleep in our hotel, why they come back, what they like the most, how and when they book, where they are from and whether they use their mobile phone or not. This can all be provided by a CRM system that we have to feed with accurate data and use correctly (for which you need internal organisation and appropriate team training). Loyalty is still a pending issue, but before you start on it, you have to make sure you have done all the previous things. If not, this might happen to you.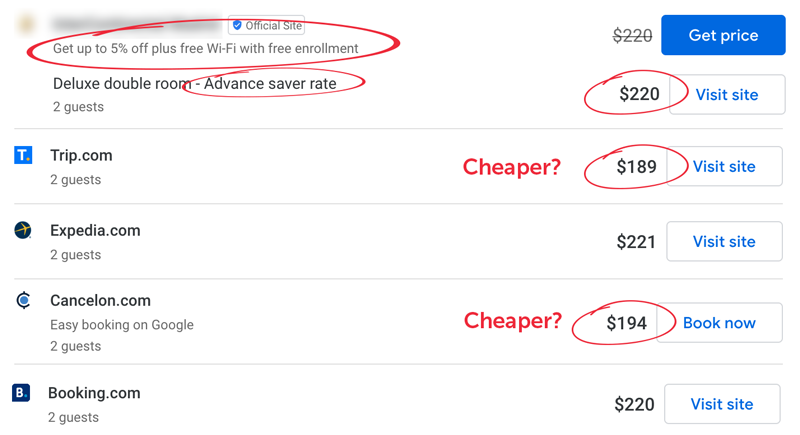 Email marketing. This is an extension of the previous point. With a good CRM system, good data and the right talent, you have very powerful tools with which to build great email marketing campaigns in order to:

Ensure previous guests uncertain about where to stay finally decide to return to your hotel
That they also book through your direct channel rather than an OTA. OTAs are the kings of email marketing. Which of us is not constantly receiving emails from Booking.com? There must be a reason for that.
Future extensions
We leave our construction on level four (five if we include the foundations), although we could continue adding floors as there are still many things we could and should do. Some ideas (which we are not going to say much about, but which should not be left out) would be marketing to attract customers who were not looking for you (generic campaigns, prospecting, etc.) or powerful programmatic marketing techniques to optimise your investments and improve conversion, among many others. A lot to do and to build, but always on top of the most solid foundations.
Conclusion
Direct selling is not simple, but it's also not that complicated if you are clear about the framework in which you should be doing it. On the other hand, there are unfortunately no shortcuts nor magic wands. The order of implementation is essential, and altering it or skipping steps will be counter-productive in the long run and usually generates frustration. The key to success is neither technology nor marketing, but rather training, determination, consistency and flexibility as online distribution changes from year to year and recycling know-how is mandatory. When you have a very solid base, it will then be time for technology, marketing and investment. Just the opposite of what many hotels do. Strangely enough, precisely those hotels that are stuck with a level of direct sales with huge room for improvement.