En español, en français, em português.
There are still hotels that offer different rates for different source markets -if their booking engine has this functionality, as we explain in the post "10 requirements to internationalize the sales of your direct channel"-. They do it to compete with the OTA's that "play" these practices or in markets where the direct channel is not doing so well but OTA's are thriving. And, how can you detect if they are changing your price in other markets? You have to browse the internet of other countries.
Technically, what you need is called a VPN to connect first to another country before browsing there. There is a wide range of software and plugins available for Chrome. Unfortunately, the free versions are not usually very good and can also be unsafe. At Mirai, we use the paid version of PureVPN and we openly recommend it. You will also be able to use it to detect disparities offered by OTA's in third countries that negatively affect your business. That way you will put it to good use.
If you want to run a quick but less controlled test you can use the Opera browser, which has a free built-in VPN option. If you go to Preferences > Advanced > Features you will find a VPN section

Once activated, you will find a VPN button on the navigation bar, on the left-hand side of the URL, where you can choose the "continent" where you want to browse the internet. You cannot choose a specific country, but to run a test it is more than enough.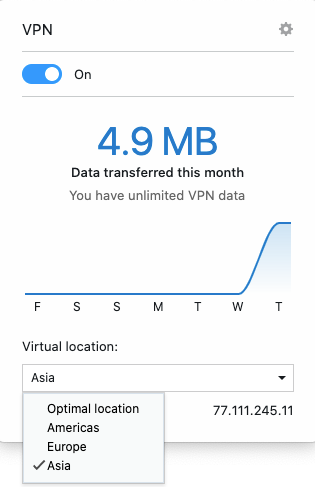 If you choose Asia, for instance, and then look at a hotel and its prices, you will notice it shows them in Singapore Dollars, which confirms this hotel appears in Asia.

After using the VPN, you should disable it by going back to Preferences > Advanced > Features.