En español, en français, em português.
Offering special benefits to loyalty club members is the best way to carry out private sales without having to explain what you're doing to other channels. It's also a great way to reward your best customers.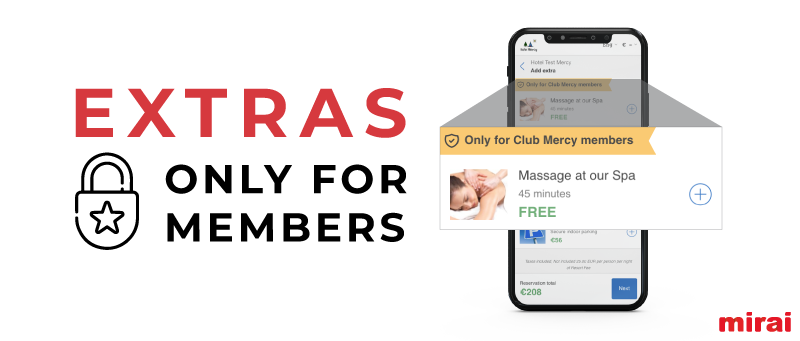 Up to now you've been able to offer the following benefits:
Discounts on any rate or offer you wish
Exclusive rates or offers only available to members
And all of this with different benefits for different membership levels, if you use them.
Now you can also offer extras as benefits:
Offering them only to members or a certain membership level
Discounts or free of charge only for members or for a certain level
Compatible with the benefits you offer for rooms
Like any extra, you can also offer them for reservations that meet certain conditions:
– With whatever booking window you want
– With whatever minimum length of stay you want
– For whatever type of room, room occupancy or meal plan you want
Offering extras as a benefit for club members is also something that's good for business:
It doesn't affect your average room rate
If other channels were no longer able to protest about you providing benefits for club members, they will be even less able to do so if the benefits are extras. In fact, this new option now allows you to compete with OTAs and offer the same value proposition regarding extras.
If Booking.com offers this in your hotel to its Genius members…

You can do the same in your direct sales to your best customers…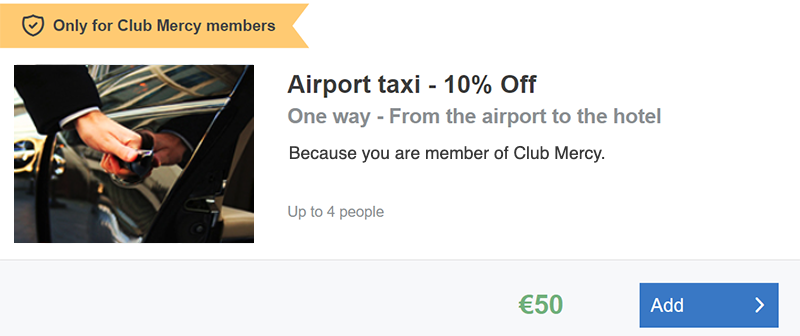 It allows you to enhance the experience of your club members using gifts or special details which are only limited by your creativity. This means you can focus less on the direct discount on the room rate and base your approach on better experiences rather than cheaper rates:

Set it up yourself on the Mirai extranet
The extras set up allows you to restrict them only to club members.
You can assign a club discount to extras in Prices >> Price Modifiers.
Contact your Mirai account manager for more information.
More information about the Mirai loyalty program: