En español, en français, em português.
It's already a year since we launched Mirai BI, our solution to collect and analyse key direct sales data. From that first stage we have continued to work to give it more data and analytic power. Now we are launching a new version, with more data, detail and reports to take full advantage of them.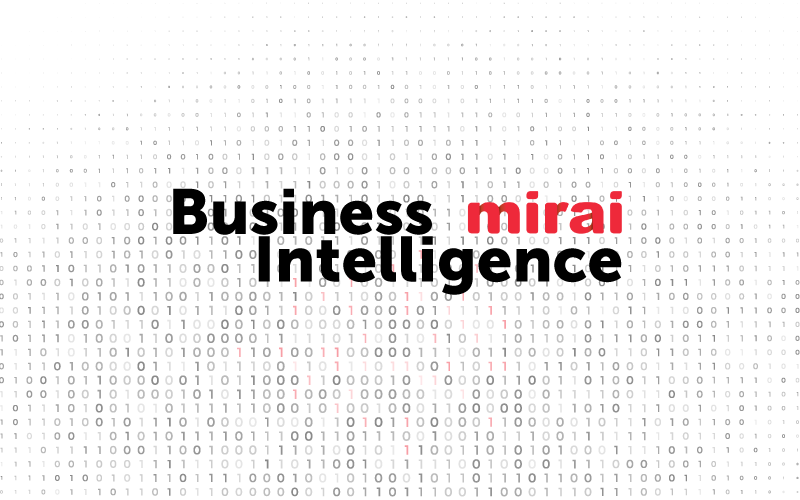 Because in today's world, we can no longer understand a digital business that does not use up to date data for management, something that is key for direct sales in the hotel industry, as we explained in this post. Following the pandemic, direct sales have also gained strength, but we must not rest on our laurels, as we explained in this recent post.
Thanks to our effective teamwork with our partner (Master Data 360) and Microsoft's Power BI platform, we can now offer a fully up to date solution with granular, exportable data that is responsive and interactive, that you can access from anywhere and is usable and visual. It is also possible to programme reports so that you receive them automatically by email when you want them.
Principal Changes
The principal changes are in the database (Dataset) that supports the tool and feeds the reports. We have made transversal improvements in various areas like currencies and the ability to make comparisons between different periods… But what is really important is the amount of valuable new information that we are adding:
Type of stay, which lets you analyse stays (past or expected) by duration: 1-2 nights, 3-5 nights, weekly (6-8),…
Occupation (single, doble, triple, family…) and numbers (#adults, #children)
Promo codes. To see which promo codes are working best at any time
Rate, Payment policy, Cancel policy & Deadlines. Key information right now both to see which rates/terms work best, and to have a view of the level of risk there is in booked reservations
Club. Everything to do with registered customers and customer loyalty, key to direct sales
Sales of Extras: types, amount, value, provider…
Booking CHANNEL (Web, CC, AV, Corporate…). Direct sales can increasingly cover multiple complementary channels that are managed differently that need centralised data
Online visibility. Added digital marketing investment data (SEM, Display, Metasearch Engines) and sales generated (return)
All that new information has been incorporated into a multifunction view that breaks down complex reality in the way that each hotel prefers. With a few clicks, you can configure the view that shows you the answers you are looking for: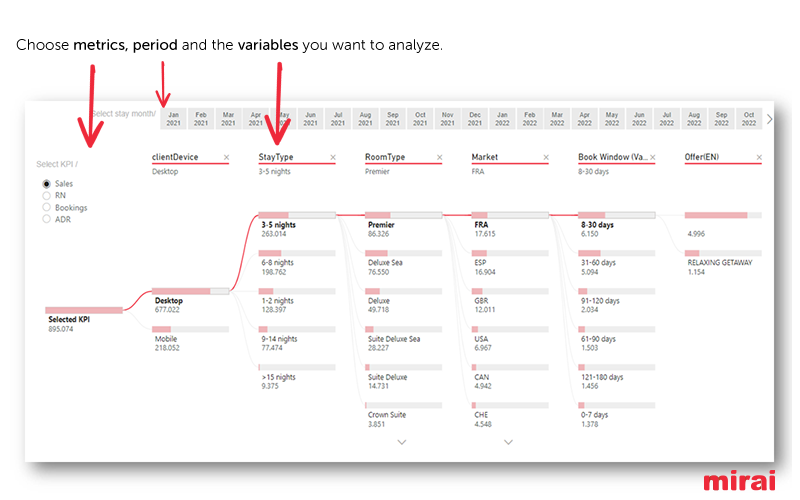 Next Steps
Demand: All requests to the booking engine, regardless of whether they become actual bookings. You will also be able to add availability responses to enrich your analysis
Price competitiveness (price of the same hotel on different channels), useful to see how it affects conversion
Web Analytics: Visits, visitors, conversion…, key information to put booking activity in context and be able to analyse in full the famous "funnel"
Demand for flights, to complement hotel information and give a more complete analysis
Metasearch: Views, clicks, investment, sales, return…
Mirai's BI, an extra benefit of working with our booking engine and a powerful tool that brings you:
Get the most out of this report and make your direct sales more competitive! Your account manager can help you if you have any questions.