En español, en français, em português.
At Mirai, we analysed in this practical guide the main requirements for choosing the best payment gateway for your direct sales. Many booking engines either don't have integrated platforms or offer only a single option, leaving you no choice but to use the features they have integrated and pay the costs they want to charge. However, Mirai has an open philosophy to help you receive your payments —probably one of the aspects of hotel operations that are changing the most due to the recent RGPD (scope regulation in the EU territory)—, and so we have several payment gateways available in different markets.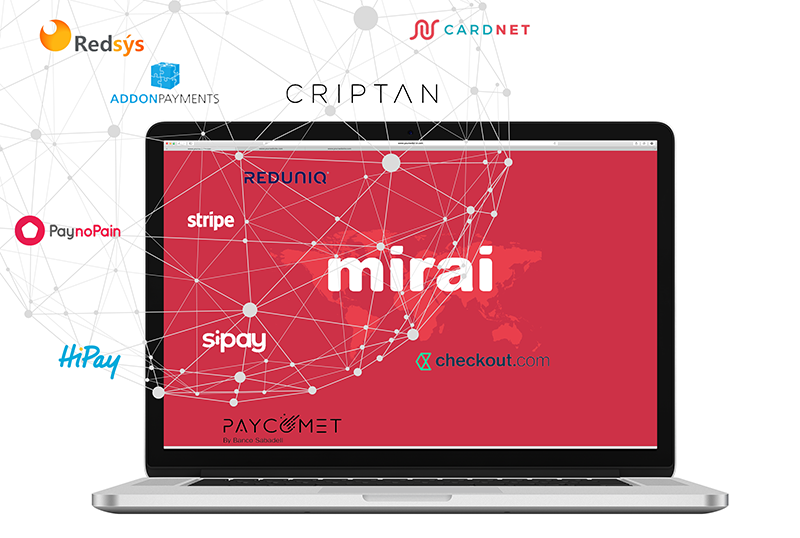 Integrated platforms
Beyond Redsys as a more extensive solution, the payment gateways we have integrated are:
In Mirai we have renewed the integration with Redsys to be able to gradually offer more possibilities with this payment platform. We have incorporated the possibility of payment by Bizum, as well as pre-authorization and tokenization of cards.
We also offer the possibility of incorporating Bitcoin and other cryptocurrencies thanks to Criptan.
This variety of options implies greater competitiveness and will allow you to compare and choose the one that most suits your needs and budget.
Beyond direct sales: use these platforms for your other channels
As this is not a service provided directly by Mirai for direct sales, the other big advantage is that hiring a payment platform will also allow you to apply it to other channels you use for managing your clients' payments.
No extra cost on the part of Mirai
You contact the platform directly. All we have done at Mirai is facilitate the technological integration between the two parties, which means we will not charge you any extras for using these platforms, not even set-up and maintenance charges.
Of course, we will guide you through the process and set it up in our system once you hire one of these platforms. Should this happen, contact your account manager.