En español, en français, em português.
Google Hotel Ads continues to evolve. After introducing its latest innovation, which allows users to book hotels with their voice using Google Assistant, its facilitated booking feature, Book on Google (BoG), has now modified the way it shows users room results and the different prices and rates.
This new layout, called Room Clustering, unifies certain room, price and rate results in order to avoid repeating information and to simplify the display for the user.
Before implementing this change, BoG used to present a list of room results in a data table that contained photos, room descriptions, amenities, rate type, payment method, the price and a breakdown of taxes and charges. Each row in the table had its own booking button. The same room would appear in as many rows as there were rates for said room.
For example, a room with two different rates – a non-refundable one and another that can be cancelled – and two board options – accommodation only and bed & breakfast – would appear in three or four different results. Therefore, several results presented repeated information.
Now, with Room Clustering, all the rates for each room are shown in one single result. On the upper part you can see the photo, the name of the room and its description. These elements are common to the different rates and prices options, shown below.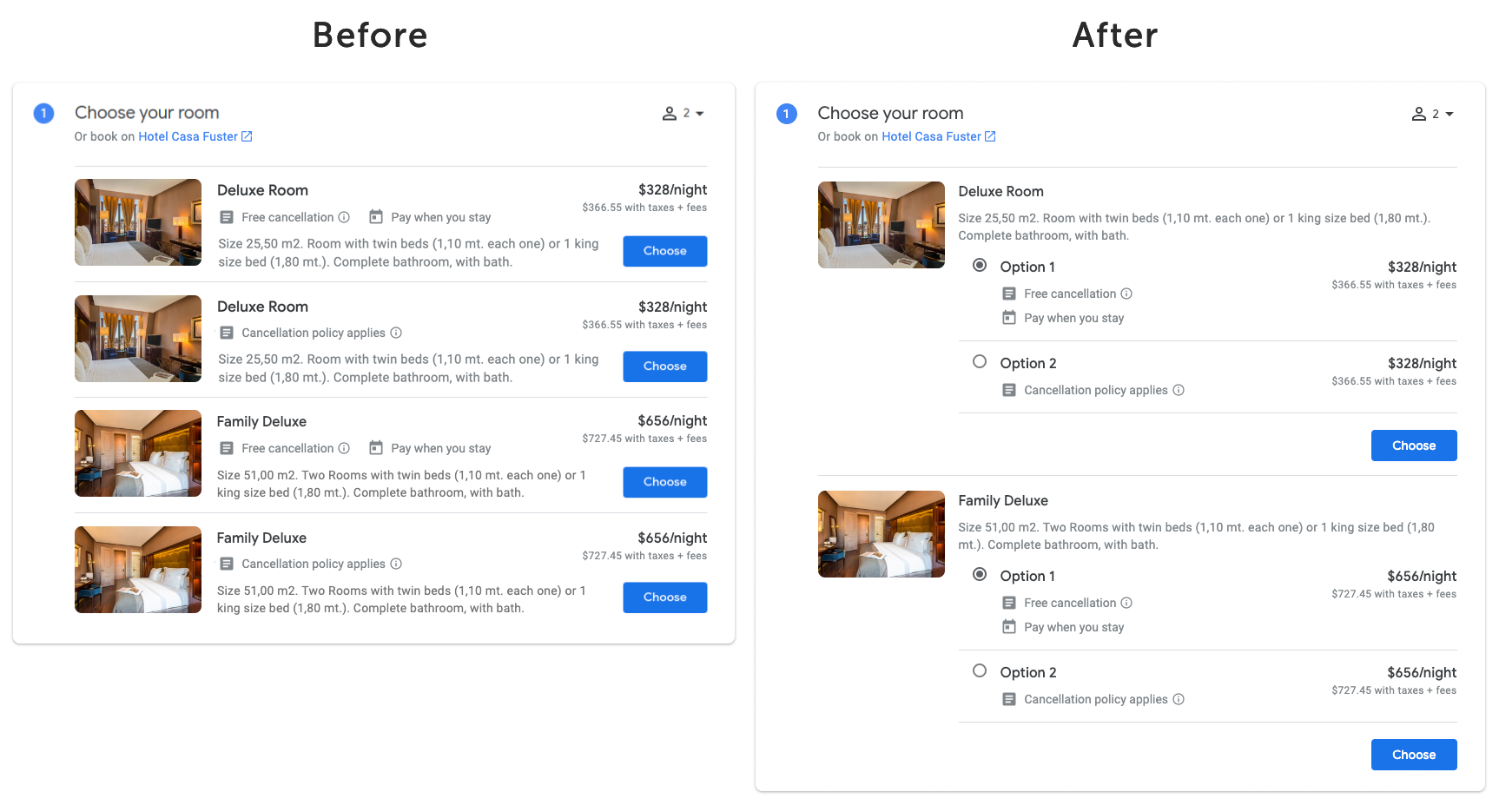 Advantages of Room Clustering
This clean and clear display gives users the following advantages:
Minimises repeated information
Simplifies the display of the results and therefore simplifies decision-making for the user
Less scrolling, most notably on mobile devices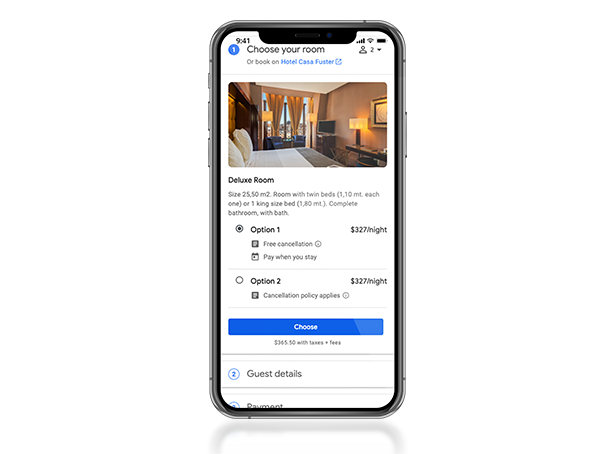 What do I have to do for my rates to appear with Room Clustering?
Nothing, it's an automatic Book on Google change, if you are already participating in GHA and BoG your results will appear with the new layout. Room Clustering does not yet appear for 100% of the traffic, but this percentage will slowly grow over time.
Conclusion
With Room Clustering, Google Hotel Ads continues its development of Book on Google, a product with which it aims to unify and improve travel user experience.
This change may seem more or less ambitious, depending on how you look at it, but sometimes even the smallest modifications to user experience reap the largest conversion results. In order to measure its true impact, we'll have to wait and analyse the results.
As always, at Mirai we aim to offer the latest Google Hotel Ads features to make sure your direct channel is where OTA's are most active. Your account manager will advise you on which are the best participation options through this channel.
To know more about how to boost your direct channel on metasearch engines, please click here or contact us at metasales@mirai.com
Update May 2022: «Book on Google» for hotels closes as of May 25, 2022