En español, en français, em português.
The reactivation of the demand for hotels has led many hotels to seek information about what payment gateway to include into their direct sales. Choosing a platform and deciding how to use it is not easy, as these processes are often technical and cumbersome. Furthermore, the options are very different from one another, and there is no one-size-fits-all solution. In this post you will find the key aspects to take into account when adding a payment gateway to your website.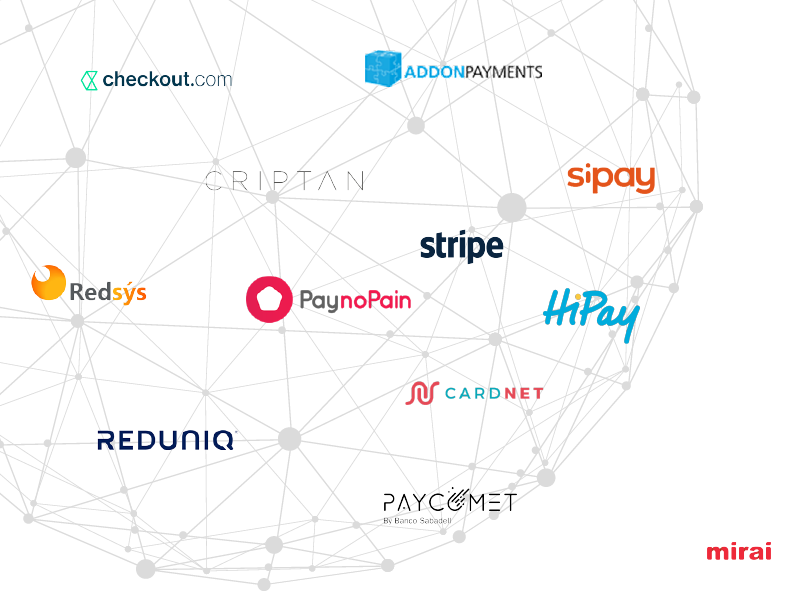 1) Charge non-refundable rates at the time of booking
Total or partial prepayments using a credit card during the booking are a standard that everyone has had under control for a long time now. Of course, this need is still relevant, despite the pandemic dealing a heavy blow to prepayments. Though there may be important differences in the usability of the purchasing process, a key aspect, all gateways include this option of charging a booking. At this point it is important you verify:
That the platform is compatible with the PSD2 regulation (scope regulation in the EU territory).
That you can receive payments in your go-to bank at a reasonable cost. Using a platform in one country for carrying out operations in another can be very expensive. Get the facts straight.
If you have a chain, you want to make sure it can provide services to all your hotels.
2) Offer alternative payment methods and cryptocurrencies
Paypal, Bizum, Sofort, Klarna, Google Pay, Amazon Pay… are becoming increasingly common alternative payment methods that are slowly replacing traditional credit cards. They are the perfect complement for mobile bookings, which are also growing in popularity. Some markets have popular local apps you might want to consider including depending on the national profile of your clients. Likewise, we are also experiencing a rise in payments using Bitcoin and other cryptocurrencies.
Accepting different payment methods beyond credit cards will improve the service you offer your guests, increase your conversion and allow you to compete with the OTA's, which are already including these newer payment methods into their platforms.
Verify what types of alternative payment methods and cryptocurrencies are available in each option and confirm that the ones most used by your audience are included in that list.
3) Validate credit cards to guarantee the booking
One of the aspects that is most changing is the possibility of charging a payment should the client not comply with one of the conditions of the booking: no show, cancellation outside of stipulated dates, etc. This process is calling tokenisation. Instead of using card numbers directly, you use these so-called "tokens" to charge for a no-show or cancellation outside of stipulated dates.
Make sure to ask each gateway about their success rate in this regard, which cards can they do it with, and whether they charge a small amount to then refund it and how much is said charge (some cards reject very small amounts).
4) Multi-currency or charge your clients in their own currency
For any client, seeing and paying in their local currency (the one the client is most familiar with) is much simpler and intuitive than doing it in the hotel's currency. When you include a payment gateway, make sure it offers clients the possibility of paying in their local currency. That way your guests won't have to worry about exchange fluctuation. You offer a better service and increase your conversions. It will add value to your direct sales and help you stand out.
Before choosing a platform, find out what currencies you can charge your clients in and make sure the most important ones are on the list.
5) Programme payment collections
Another interesting service for some hotels is programming payment collections in a way that lets you choose the day you want to receive the payment (instalments or lumpsum) for each booking. If you tie this option to certain offers or rates, you could offer it as a good compromise between not having to pay anything during the booking and guaranteeing the payment enough time in advance before the guest's arrival.
6) Integrate the payment platform with your PMS
A payment gateway for your hotel is much more than simply incorporating it into your direct sales. You must have a global vision of your operations. That is why it is increasingly important for your PMS to include it, so you can manage payments and refunds through all of your direct payment channels (website and telephone, but also booking.com or Expedia's Hotel Collects model).
Read up on the possibilities of integrating different gateways with your PMS. Though this field is still developing, there are already several platforms with powerful integrations with some PMS.
Choose the best gateway… that is compatible with your booking engine
We are done analysing the main requirements for choosing the best payment gateway. Unfortunately, you will not be able to choose the gateway you want, but the one your booking engine provider has integrated. Many booking engines either don't have integrated platforms or offer only one option, leaving you no choice but to use the features they have integrated and pay the costs they want to charge.
At Mirai we have several payment gateways available in different markets. You can find out which ones they are here.
Conclusion
There are many aspects to take into consideration when choosing a payment gateway for your direct sales. It is just as important to understand the goals you want to pursue as it is to have different guarantee alternatives to reach them. This is an important decision, just as important as choosing a good PMS, channel manager or booking engine. The different solutions are wildly different from one another. It is your responsibility to do your research, choose carefully which one suits you best and make sure your providers implement it correctly. Better safe than sorry.