En español, en français, em português.
Over recent years, the Google Hotels metasearch engine has achieved a market penetration of almost 85%, and has become a vital channel for helping hotels increase their direct sales.
From the traditional Google Ads for advertising to new functionalities such as Free Booking Links, Destination Insights, or the recently revamped Trends, Google now offers a great choice of tools and resources to help hotels make the most of all their sales potential.
This article explains a number of different tools available to you through your hotel's profile in Google Hotels that you probably haven't heard about, but which can help you get a much clearer understanding about both your own distribution strategy and that of your competitors.
Tool 1 – Price Range
What is it?
This is a tool that analyzes the price for the dates you select in the calendar, and then categorizes it, based on whether Google considers it to be a lower or higher price than normal for those dates or within the price range Google considers normal. Each of these categories (low, normal and high) is associated with a price range that can really help you assess your price positioning.
How can it help me?
It lets you see what users might be thinking about your pricing strategy, and get a better insight on your current rate positioning for a selected date in the future. If you have a pick-up rate that you think is unusually high or low and you're worrying that this might be due to your pricing, this Price Range information can give you some initial pointers that will then allow you to carry out a much deeper analysis of your strategy. You can also monitor how aggressive your competitors are being compared to their normal pricing.
Where can I find it?
In the "Summary" section of your Google Hotels profile, just below the rates panel. It will be displayed as "See price trends" or "Show price range". Click on the option to view a drop-down screen with the following information:
Tool 2 – Price History
What is it?
This is a tool that you can really get a lot out of, both for monitoring your own hotel performance and the competition. Price History basically shows you how your minimum online rate has changed over the last 30 days. This helps you analyze whether you or your competitors are implementing an incremental pricing strategy or an inverse pricing strategy.
There is one important thing to remember. This is an analysis of your online prices, not the price on your own website. That means that if you don't have 100% control over the competitiveness of your direct channels, you probably also don't have much control over this minimum online price, meaning that the graph will be highly influenced by any weaknesses in your competitiveness over the last 30 days.
How can it help me?
As we said earlier, it helps you in your overall Revenue Management by letting you know whether you are applying an incremental or inverse pricing strategy.
On a much more tactical level, it can also help you analyze the relationship between your pick-up rate and your pricing strategy: to what degree might a slowdown in your pick-up rate be due to an unusually large increase in your price? You can put this into context using Price History.
An important point to take into account is that, if you see very significant price decreases on the graph which you have not implemented yourself, they will most probably be due to the actions of an OTA. In a case like this, it would be interesting to analyze the relationship between the decrease in pick-up for that day and how it might have affected your ADR, available rooms and share of direct sales.
Where can I find it?
In the same location as the previous tools, in the Summary section of your Google Hotels profile. It will be displayed as "See price trends" or "Show price range".
Tool 3 – Price Compset
What is it?
Above all, probably the most interesting feature in Google Hotels. It's a Rate Shopper that basically compares your daily rates with your competitors for the dates of your choice. It's a really dynamic tool that allows you to scroll sideways to change dates and see how your price positioning varies compared to your competitors.
There is an aggregate view that shows the maximum and minimum prices for the hotels on an aggregate level (blue shaded area), and also a personalized view which allows you to compare your hotel with any of the hotels in your compset.
How can it help me?
It allows you to see your price positioning in the market, monitor your own and your competitors' performance over time, and all in a very graphic and dynamic way.
Bear in mind, however, that the group of hotels in the compset cannot be edited. They are selected by Google based on strictly geographical criteria, only including those hotels that are closest to yours. The functionality is currently only available on the mobile version, and we haven't been able to find it on desktop.
Where can I find it?
Once again, in the Summary section in your Google Hotels profile (remember, currently only in the mobile version). It will be displayed as "See price trends" or "Show price range".
Tool 4 – Metacalendar
What is it?
A price calendar for your hotel that shows the minimum online price Google can find among all the distributors connected to Google Hotels, not just the minimum price on your own website.
How can it help me?
It's very useful if you don't have a price calendar on your website, and also in that it allows you to easily and regularly detect any possible loss in price competitiveness in your direct sales channels. If you have full control of your rates and want to quickly detect dates when OTAs are offering lower prices than you, this tool is a great help. It also helps you detect possible rate loading or mapping errors.
Where can I find it?
In your Google Hotels profile, selecting search dates in the "Summary" section, the "Prices" section, and also the blue price that is displayed by default in the upper right part of the screen.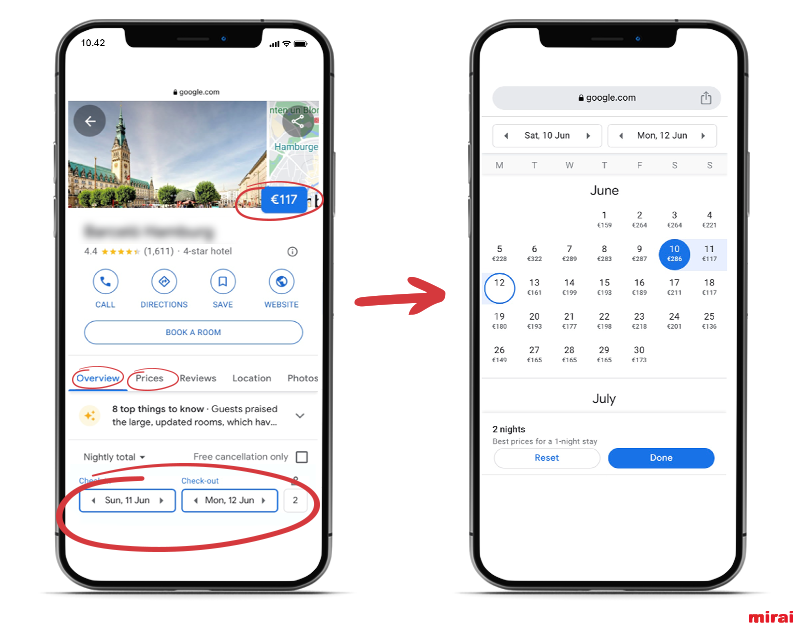 Be careful not to confuse this with the calendar you can see in your Google Business Profile when you do a search in the Search section (1). This calendar is designed to compare the price of each distributor without leaving the Google listing, although without the dynamic functionality of other price display options.
There is another dynamic price calendar with a bar chart format (2) which usually shows up under your SEO result, but with much more limited functionality.
Tool 5 – Price Tips
What is it?
These are suggestions that Google makes to users based on the dates requested. They are usually of two types:
Suggestions to extend the stay one more night. This appears if the average price per night does not increase and generally proposes extending the check-out date. We have not yet seen any examples in which the tip is to bring the arrival date forward.
Tips about changing the dates of your stay for a cheaper period with the same duration.
How can it help me?
If you optimize and adapt your pricing strategy to the low occupancy periods you may be suffering, it can help you generate extra pick-up for those dates by giving them greater visibility in the Google search process.
Where can I find it?
In the "Summary" section of your Google Hotels profile, not in the "Prices" section as you may have expected.
How can I see my profile on Google Hotels?
If you don't work very often with Google Hotels, we'll now show you how you can visit your profile:
Type in the exact name of your hotel in the Google search engine (as it appears in your Business Profile).
Your hotel data will appear on the right of the screen. Click on "Book a room".
You are now in your profile and can see all these tools and more interesting information on sustainability, the destination, reviews, etc.
It's important to note two things:
First, that all this functionality is much quicker and more agile on mobile devices than on a desktop. Take this into account in your searches.
Second, it is not displayed for all hotels, and sometimes it can appear for a certain period for a hotel and then not display when another search is made for the same hotel. The team here at Mirai will continue to analyze all this functionality to try to find out the patterns that trigger these responses.
Conclusion
Google Hotels offers a wide range of functionalities completely free of charge that can be a great help to hotels in their distribution and direct sales strategy. The analytics and monitoring tools give you a great chance to measure the impact of your marketing campaigns and adjust your strategy accordingly, which can help make your advertising campaigns more effective and also maximize your return on investment.
About Mirai Consulting
At Mirai we have spent several decades helping hotels optimize their distribution and maximize their direct sales in the most sustainable and controlled way. We achieve this through first-class technology and now also through Mirai Consulting, a consultancy service which is independent from our technological solutions. For more information contact consulting@mirai.com