En español, en français, em português.
Data is essential to determine whether your metasearch campaigns are working properly, if you are reaching your target audience, what profitability you are achieving and what areas of improvement you need to address. Without data there are no good decisions and that is why we have provided our metasearch dashboard with the best reporting system. It includes four different reports and formats, so that you can use the one that best suits your needs at all times, as well as API for those more sophisticated users who want to connect their BI systems to our data.
Even if all your participation in metasearch engines is through commissionable models and, therefore, with minimal optimization, access to the performance data for your campaigns is essential. You may not be reaching your target audience or missing opportunities to gain visibility in your key markets. Data will also help you decide whether a CPC or cost-per-click model might better suit your needs. Here is a summary of all the new reporting features you will find on our dashboard:
Functionalities common to all reports
Customisation of display currency. Users are able to choose the currency in which they want to see the data, regardless of the currency in which bids are placed or sales generated. This unification is also necessary for chains with hotels in different currencies, as aggregate reports for different destinations and currencies can be seen. The options currently available are USD and EUR.
Two attribution models. In addition, and throughout the dashboard, is the "attribution model" control. While data is displayed by default as "last click" (where the last meta clicked gets the credit), you can easily change the view to an " assisted" booking attribution where everyone who participates in the booking gets their share of the prize.

Downloadable in Excel format. All the reports you find in the dashboard are downloadable in Excel format to allow you to work on them, cross-reference them with other data or incorporate them into your BI platform.
Big picture or main dashboard
The first thing you will find when you access the dashboard is an executive summary of what is happening right now with your campaigns, with accumulated data per metasearch engine. By default, we show data for the current month (month-to-date), but you can also choose yesterday, the last week, the last month or the current year (year-to-date).

Business Intelligence
This is undoubtedly the most complete tool as it brings together information from all metasearch engines, giving you a global view of all your investments, instead of having to go from metasearch engine to metasearch engine as if they were silos. The main features of this section include:
All relevant variables. You can choose the variables you want to display, or hide them, depending on your needs. There are a whole host of KPIs available including number of clicks, number of bookings, average cost per click (CPC) and total cost, average booking value, as well as total production generated, and finally, three profitability indicators, ROI or return on investment, ROAS or return on ads spent, and the data that hoteliers understand best, equivalent commission.

Grouping of results. One of the most interesting functionalities in this section is the option to group the information according to the variable you are interested in. You can view the data by click date (to see the evolution over time), by metasearch engine (to group and compare each target), by device (to understand the differences between mobile and desktop) or by issuing country (to analyse which are the most and least interesting markets).

Powerful filters. Additionally, you have access to filters that allow you to reduce the hotel or chain variables in order to display only the data you want to see at that moment. Data by date but only from Google Hotel Ads on mobile and from the UK market? The performance of a specific group of hotels per metasearch engine on the US market? No problem!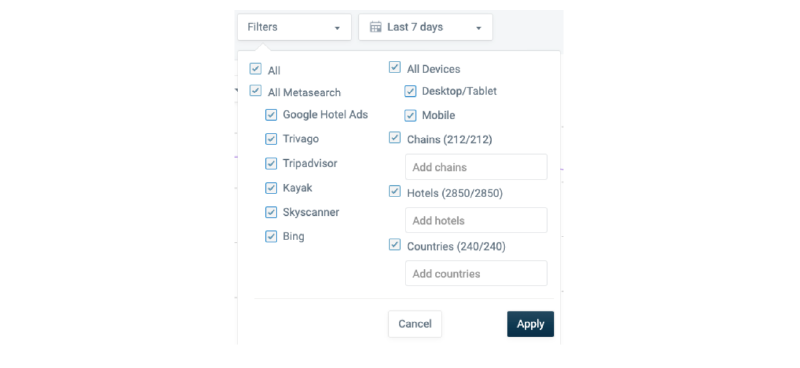 Date selector. You can choose from several pre-set date ranges or customise the dates with complete flexibility.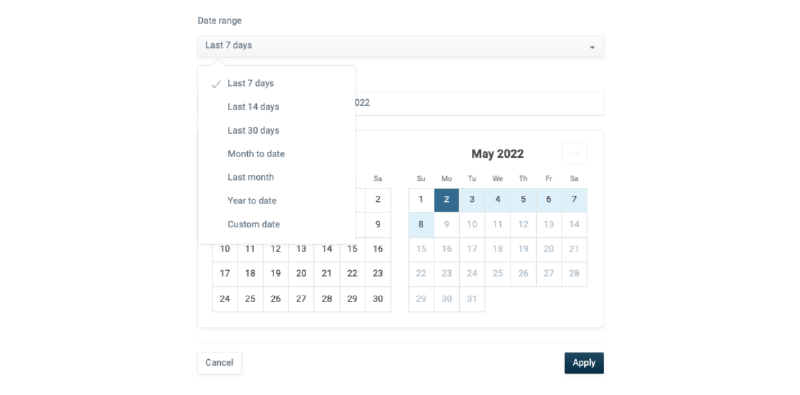 Up to three simultaneous graphics. You have the option to visualise all the above KPIs in one graph and combine up to three graphs at the same time. You can also include specific data from the table below in the graph, with the option to visually combine the data, giving interesting results like this: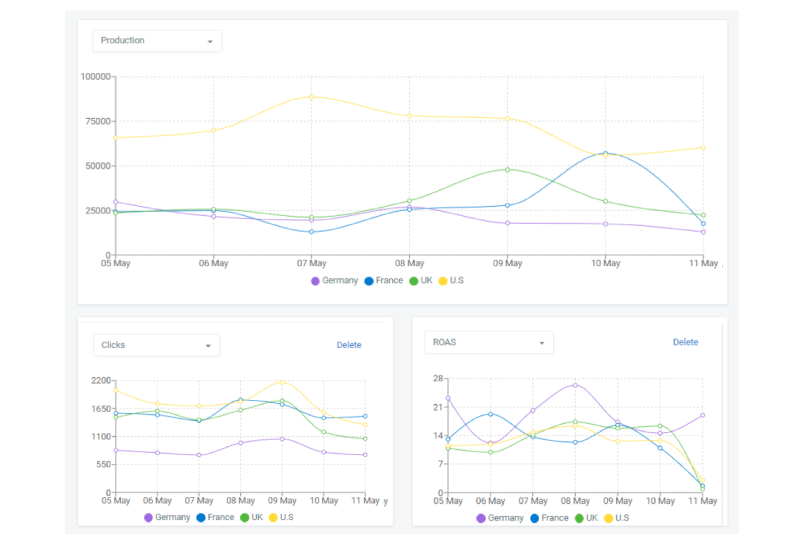 KPIs in bid management
In those metasearch engines in which you want to participate using a CPC or cost-per-click model, you will find a KPI option that allows you to see the status of all variables at all times, allowing you to decide on the changes to be made in each of the bids. The data you will find here is much more in-depth and specific to each metasearch engine, as bid management requires much more precision and detail.
Starting from the main impression metrics such as eligible impressions or impression share, you can go through the entire conversion funnel identifying those areas where you need to focus your efforts. You also mustn't forget the importance of price in the success of your metasearch campaigns. For this reason, there are metrics that indicate your price competitiveness (beat, meet, lose) in each of the impressions.
There are indicators showing the average position of your ad (rank, top position share) that will not only allow you to see if your ad is displayed, but also if it is in one of the most visible positions.
You can also see the breakdown of this data by point of sale (POS), so that you can adjust your bids where appropriate or identify opportunities in new markets.
All of this makes it easy for you to see where you need to take action to increase the reach and profitability of your campaigns. While an increase in bids will tend to increase your reach with the existing demand, the profitability of your campaign may be affected if you do not take into account the other indicators, especially price.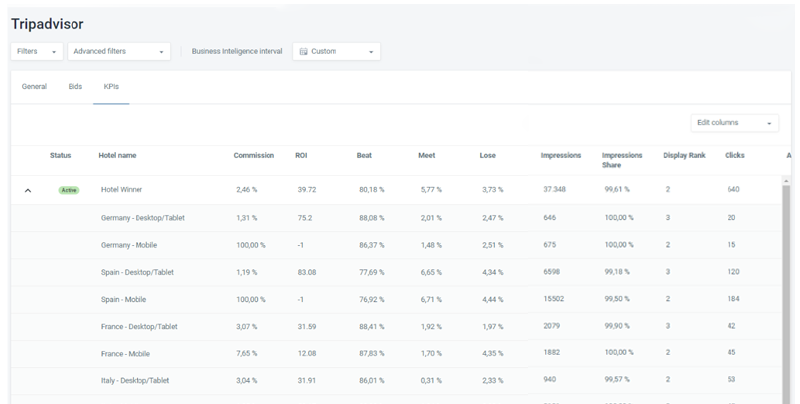 Downloadable reports
Often you don't need a web format but something more exportable and compatible with other reporting systems. For this reason, there is a downloadable reports section. All reports for the entire chain and for each hotel can be downloaded in Excel format on a monthly basis.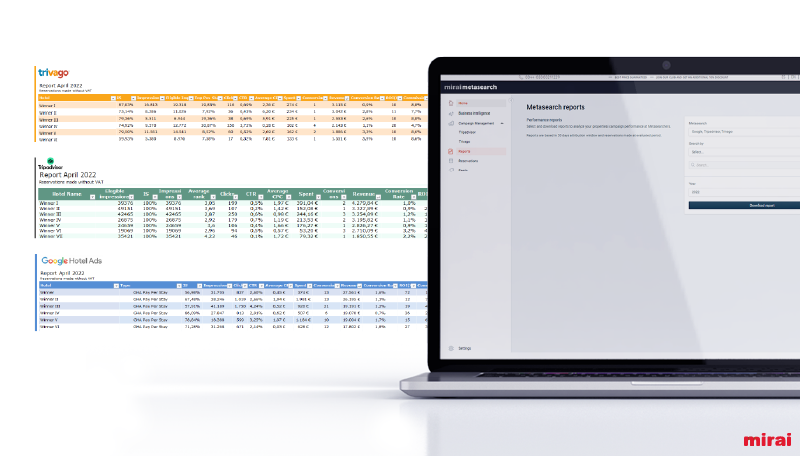 Automated sending of reports
For your convenience and to save you time, you can receive reports automatically. At the end of each month, you will be able to receive the reports for all your hotels and metasearch engines in which you are participating. All the information will be sent directly to your inbox for agile and efficient decision making.

Access via API
For the more advanced and analytical users who want to transfer the data to their platform and use them in their own Business Intelligence tools, we have several APIs, as well as our own data team that can assist in the integration process.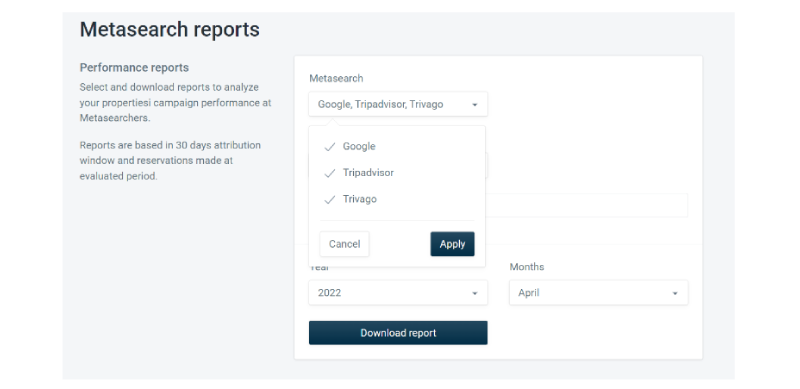 I want access to the Mirai Metasearch dashboard, what do I have to do?
All you need to do is contact your account manager to create a user profile for you. Once you have done this, you will receive an email with a temporary password, which you will have to change the first time you log in. After that, you will be able to see the performance of your campaigns on a daily basis, as well as receive monthly reports to your email inbox.
If you have any questions or need Mirai to explain more about our metasearch dashboard, please contact your account manager.
If you are not yet one of our clients, why wait to take control of your campaigns? Get in touch with our sales team, they will be happy to demonstrate how our solutions can help you.