En español, en français, em português.
Choosing the "perfect" gateway for your hotel is complicated. Costs (per card), alternative forms of payment (Wechat, Klarna, Apple Pay, etc.), compatibility with PSD2 or the markets in which it can operate are just some of the many questions that the hotel faces when choosing.
In order to offer the best payment management tools to our hotel clients, especially chains with a global presence, and so that they can choose the platform that suits them best, we announce the long-awaited and demanded integration of Stripe in our booking engine.

What Stripe offers you
Stripe is the leading financial infrastructure platform in the world, used by more than one million companies of all sizes, from start-ups and small businesses to technology giants such as Spotify, Salesforce, Amazon or Booking.com to simplify payments and other business operations on the Internet.
Simplicity for the user
Without leaving the booking process, the integration of the booking engine with Stripe is clean, simple and very easy. It minimises friction and maximises conversion.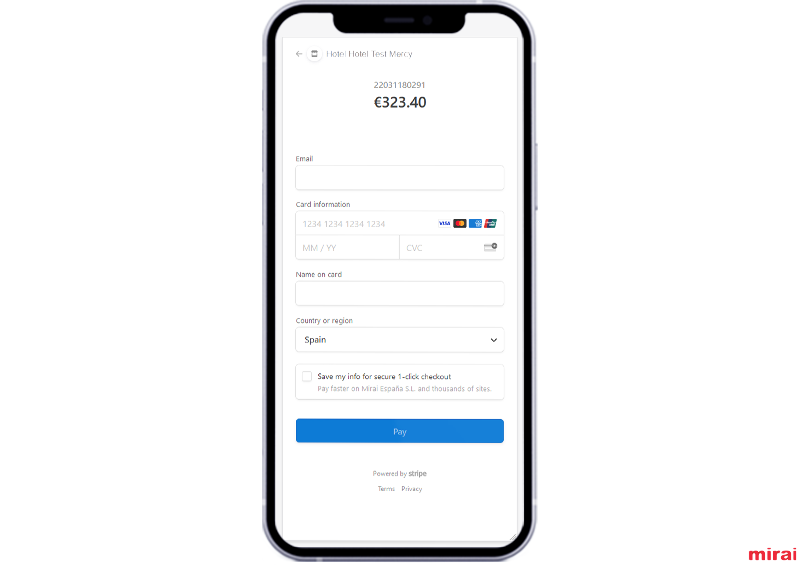 Simplicity in the registration and operation
Undoubtedly, one of its best virtues. Starting with a straightforward registration process, without exhaustive financial controls and with an effortless operation, Stripe is a great partner that will make your life easier from the beginning.
Don't miss a reservation
According to Stripe, its acceptance rate (transactions completed out of the total number of attempts) is one of the highest in the market, thanks to the fact that the company's priorities are, on the one hand, to achieve a smooth payment experience and, on the other hand, to offer maximum security thanks to "machine learning" technology, which detects and blocks fraud in any type of company. Forget about denied payments: Stripe has been created to increase the acceptance rate and offers a unified API for cards, e-wallets, etc., which allows customers from all countries to pay using their preferred payment method. You will access practically the entire available market.
Expand your direct sales internationally
With more than 135 currencies and dozens of payment methods accepted, Stripe makes it easy to launch into new markets and includes customers' preferred payment methods to increase conversion in other countries.
A global platform
Present in more than 47 countries, it is ideal for chains with hotels in other continents and countries. Forget about a payment gateway for each market. You already have a real global financial platform at your fingertips.
Apple Pay, Klarna, Wechat and many more alternative payment methods
Your goal should be to make life easy for your customer so that they book through your website. OTAs are aware of this and that is why they make it so easy for the customer. Stripe simplifies this process quickly integrating a wide range of alternative payment methods. Just open the control panel and activate the ones that interest you the most:
Apple Pay and Google Pay: worldwide widespread digital wallets.
Klarna (formerly Sofort): Swedish fintech that offers financial services.
iDEAL: the most popular payment method in the Netherlands, which has a share of 57 % of online payments.
Alipay and WeChat Pay: China's most popular payment methods with more than one billion users.
Bancontact: leader in Belgium and supported by 80% of the shops in the country.
EPS: the Austrian benchmark for online payments, accepted by 80% of local businesses.
FPX: Malaysia-based payment method that allows customers to complete transactions online using their bank credentials.
Giropay: suitable for business models in Germany that require a guarantee of the funds resulting from a transaction.
Multibanco: an interbank network that links the ATMs of all major banks in Portugal, allowing customers to pay through either their ATM or online banking environment.
Przelewy24: based in Poland, it allows customers to complete transactions online using bank transfers and other methods.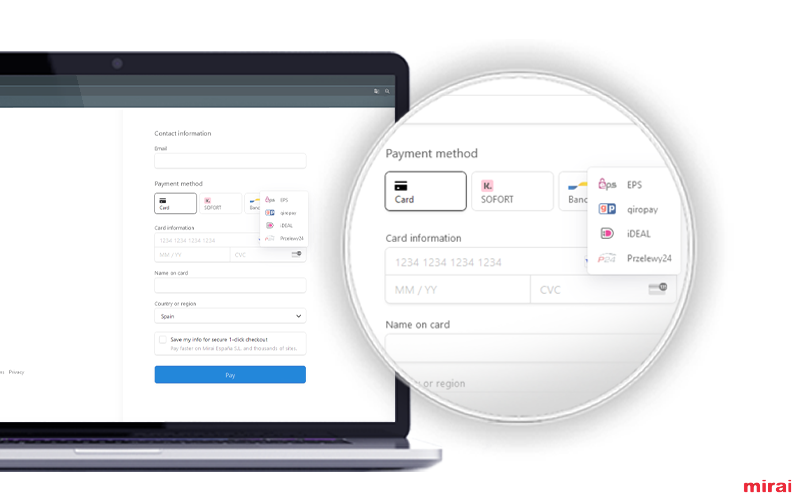 Payments made using any of these methods will appear the same way in your Stripe dashboard, significantly reducing operational complexity and simplifying review or refund tasks.
It also validates the card in the flexible rates
In addition to charging non-refundable rates on the spot, another key point is to be able to "validate" the card of those rates with flexible cancellation. For two reasons: first, for a security issue (avoid fraudulent reservations) and, second, for PSD2 regulations (if applicable), since it will allow you to make charges in a secure and non-reversible way on the card used by the customer in case of having a past-due cancellation or a no-show.
Security
Stripe's platform meets the highest certification standards to ease the burden of compliance and protect payments.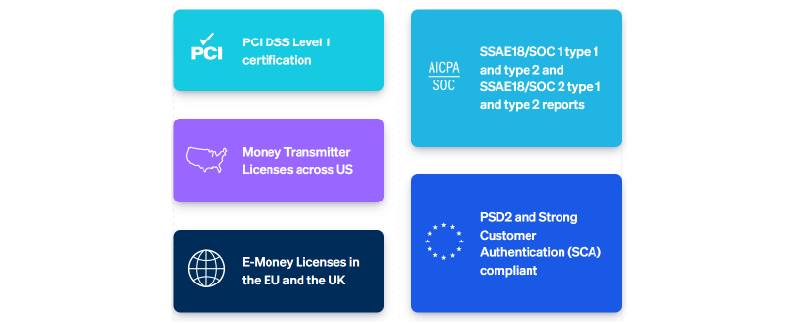 Can I manage refunds (total and partial) from Stripe?
Yes, you can totally operate from your extranet reliably and safely.
How much does Stripe cost?
Stripe advocates for a very transparent model, and here you can see the fees you'll pay for each transaction with each type of method. Remember to compare the commissions of national or European cards and also the international ones especially American Express or Diners. It also reviews the costs of alternative payment methods.
Get up and running in minutes
Create an online account and in a few minutes you will be ready to accept payments securely. Stripe is responsible for depositing the charges made on your website, directly into your bank account.
Mirai's integration with Stripe means that you only have to create an account on Stripe. Once your account is created, Mirai will ensure that this financial infrastructure is available and you can use it with all the cancellation and payment policies you want, quickly and online, without great complications or a lot of paperwork.
And remember that, at Mirai, we are at your disposal. If you have any questions, please ask your account manager and they will advise you on everything you need.