En español, en français, em português.
Does your hotel's booking engine distinguish between adults and children? If so, we have good news for you. We have given more visibility to the baby policy so that your clients see it more clearly.
From now on, only when your clients make an availability inquiry that includes babies …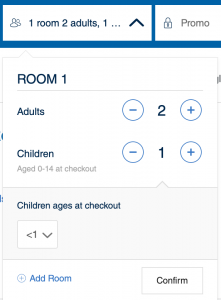 … they will clearly see the policy you have decided to apply. The following example specifies that the occupation with a baby is "for free when sharing the existing beds".

How can you manage it?
Check how it is displayed in your booking engine. What policy are you applying?
You can personalize this information. Would you like to do so, please contact your account manager and they will modify it on the spot.
If you have never considered the baby policy in your engine, "free" will appear by default.
Other possible texts you could create are:
"Free cot".
"Free, sharing existing beds".
"Free if you bring your own cot".
"Free cot, subject to availability"
"Free, contact us if you need a cot"
Etc.