En español, en français, em português.
Not travelling now is unavoidable, but if you let your customers cancel just like that, without taking any action on your side, you lose all link with a booking you were about to materialize.
However, any reservation you manage to postpone, rather than cancel, has better chances of becoming effective one day.
We know that the way back to your hotel's normality will not be easy, but if you manage to recover at least a percentage of these customers, you already have part of the walking done. And we want to continue walking alongside you.
We recommend you to take the initiative and contact your customers with pending reservations, even canceled, in the most personalized way possible. Given the high risk of permanently losing them, you can offer them the lesser evil of keeping their data, their contact, and even their prepayment to be reused in a future reservation. 
There are many types of customers, and we are sure that some will be interested in your proposal. These are the main cases we have come across:
There will be customers whose bookings have free cancellation who prefer to cancel, forget about it and search again for the best option when the time comes.

There will be others who, even having free cancellation, may be willing to postpone instead of canceling if you offer them any benefit. Maybe you would like to offer them a discount, an upgrade, keep the price for future dates, or any other thing you can think of.

And above all, there will be customers who do not want to lose the money they have already invested, either because they have non-refundable bookings or because their bookings have prepaid percentages.
Allowing customers to postpone their bookings is especially useful for this last type, and we believe so it is for you. Neither they will lose their money, nor will you have to refund the amount, thus avoiding more paperwork and procedures during these times.
In addition, the image you will be giving your clients is one of flexibility and adaptation to their circumstances, one of  wanting to ease as far as possible the management of their bookings, while showing that your hotel is committed and hopes to be able to host them with the best guarantees in the future.
What have we done and how?
Now you can mark a booking as "postponed" from our extranet, add a comment on it and reactivate it when you need it and,  in the future, change dates, price, etc. as agreed with each customer.
You do not need to "review" postponed bookings. For statistical purposes, these reservations will be counted as canceled, but if you "un-postpone" them, they will be automatically reactivated.
See the example we show below: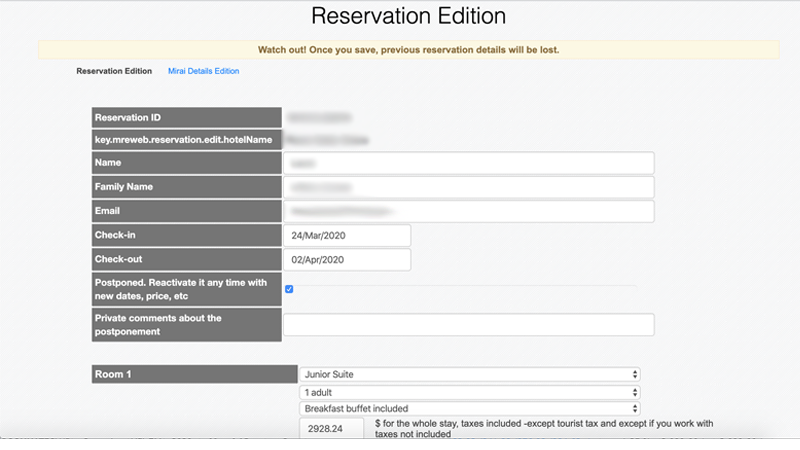 Keep in mind that if you "postpone" or "un-postpone" a booking, no notification email will be automatically generated for your customer. However, from the same section, you can resend the booking information with a personalized header text.
This postponing functionality is now available and you can use it on your own initiative.
Next step: offer customers to postpone by themselves
We do not want all the management to fall solely on you. We would like you to be able to offer your customers the possibility of postponing their bookings on their own, instead of canceling them.
We hope to have this extra functionality ready in the next few days (we did not want to wait to have all the development finished to let you know about it). Please, contact your account manager if you are interested in being kept up-to/date and in knowing more about what you can do.