En español, en français, em português.
From now on, your hotel and direct sales can offer a unique and innovative experience to users booking a room: the possibility to choose a specific room and do it from a bird's eye view, hovering over a 3D digital rendering of your building, resort or hotel complex.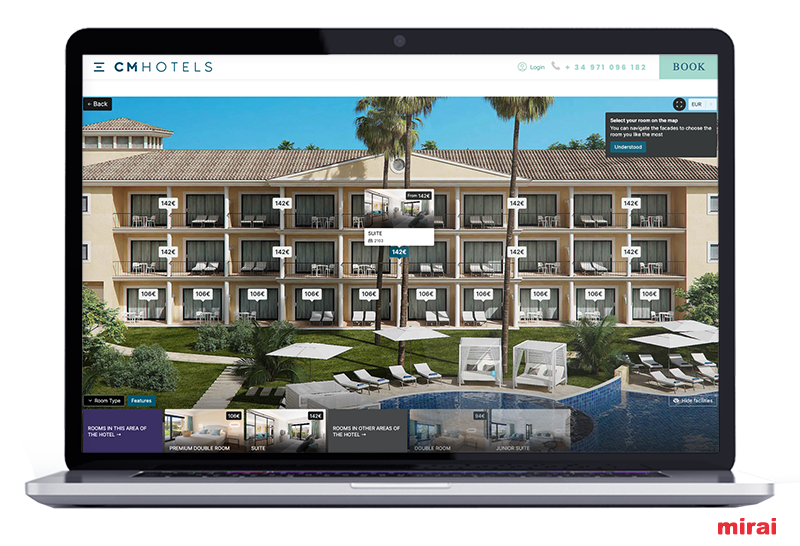 This exclusive service is now available through Mirai thanks to our integration with Hotelverse and their Book your room product. The ability to select a specific room number marks a significant innovation in the industry, up until now limited to selecting a room type with generic photos and descriptions, without being able to specify a particular room. This level of personalization revolutionizes the way guests can plan their stay, allowing them to choose which hotel area or building they prefer to stay in, the bed type, noise level or even the actual views they will have from their room.

Differentiate your hotel. Differentiate your direct channel
The use of 3D digital rendering to showcase your hotel is a powerful tool that provides potential guests with a highly immersive and interactive experience. Users can now get a bird's-eye view of the entire hotel and its facilities, allowing them to virtually explore the building and its exterior and surroundings. This level of detail and interactivity can play a crucial role in persuading potential guests to choose your hotel over your competitor across the street.
This interactive experience is also another factor that could convince them to book through your direct channel instead of through an OTA.
This is how it is integrated into the booking process
The booking engine results page will display a banner that invites the user to book your room after seeing an alternative 3D view.
Hotelverse will create the visual layer and enhance it with the content provided by Mirai, such as prices, rate conditions, etc. The system will also tag the booking with the specific room number after the room has been chosen by the user, and this number will remain attached to the booking throughout the booking process and returned to the Mirai booking engine on confirmation of the reservation.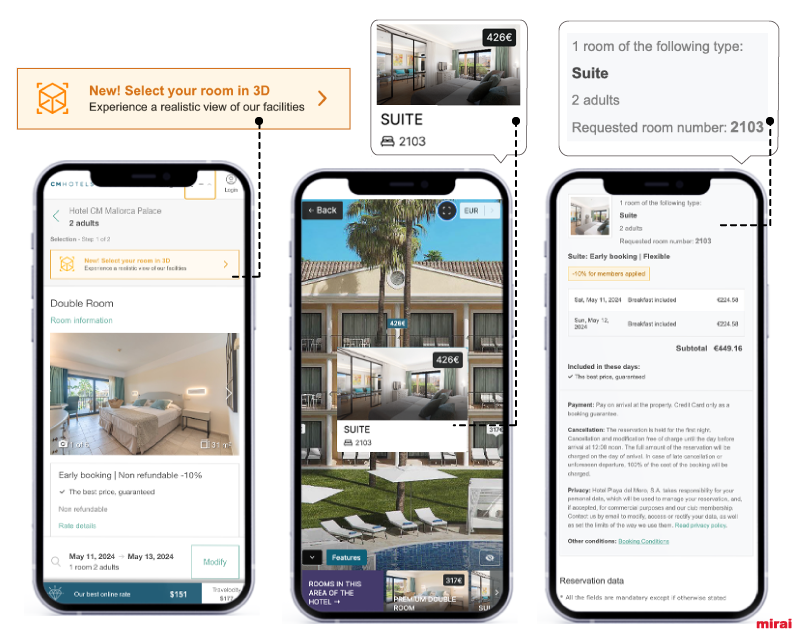 You can see live examples at CM Mallorca Palace.
Confirmation of the room number or "on request" model: you choose
The integration with Hotelverse allows for two models of participation:
Confirm the booking of a (specific, real) room chosen by the user in the hotel's 3D digital version of the hotel.
Request as inquiry, subject to final confirmation by the hotel team upon arrival.
In both cases, we inform the client of the chosen room and whether it is confirmed or a non-binding request.
Where does Hotelverse get the room inventory and prices it shows in 3D?
All inventory information, pricing, rates and restrictions are obtained from Mirai's system, as Hotelverse queries via API the dates chosen by the client, and we thus ensure that the availability and final price are consistent with the ones shown to the client.
It is therefore impossible for a booking to be made when there is no availability, or at a price different from the one published in your booking engine.
In addition, we provide Hotelverse with the currency in which the client is viewing the prices as well as the taxation, to exclude taxes when necessary (US clients) or to show final prices as required in Europe.
The opportunity to differentiate your hotel for those ready to take on the challenge of reconciling marketing and operations
Allowing guests to choose the specific room number at the time of booking, rather than a few days before check-in, is a significant enhancement to your direct channel and your customers' experience. However, it also creates certain challenges in hotel operations that have traditionally operated independently of the sales and marketing process. On the other hand, this is a challenge that airlines overcame many years ago, and nowadays plays a significant role in their sales process and commercial success.
To improve operations, Hotelverse has a real-time integration with the most important hotel PMS, meaning that the available room numbers are updated in real time. Furthermore, when a customer makes or cancels a reservation, the Hotelverse system will automatically block sales or open sales for that specific room in the PMS.
The hotel can also restrict when it wants to offer the room choice experience. For example, for booking requests with a minimum stay of X nights or with a specific lead time. The hotel can also block certain room numbers for specific dates or define the maximum percentage of rooms to be assigned, to help adapt the system to the capabilities and limitations of each hotel.
Upselling within the same room type
One of the benefits of being able to choose a specific room is that you can set a different price for each room in the same room type category. If standard rooms cost €100, there are sure to be some guests that would be willing to pay €105 or €110 to guarantee they get a room on a higher floor or further away from the lifts. This makes the system a great way to generate incremental revenue and raise the average room rate. This is undoubtedly a major improvement with the potential to have a huge impact if used wisely.
Setting different rates like this is impossible in a traditional booking engine, but much simpler when you are able to choose the room from a 3D model of the hotel. We are working on adding this powerful and differential functionality very soon.
Find out more and register my hotel
Your account manager will be able to provide you with more information and put you in contact with Hotelverse.