En español, en français, em português.
We present one of the most eagerly awaited and requested features by our customers: the "Price comparison & Parity" module. This is a fully integrated native module in our booking engine that will show your customers prices from all major OTAs without the need to leave your website. Additionally, we will analyse all the data collected and present it to you in our BI to give you the most complete parity analysis, identifying non-compliers (or pirates) by name and providing the exact dates and % of the disparity.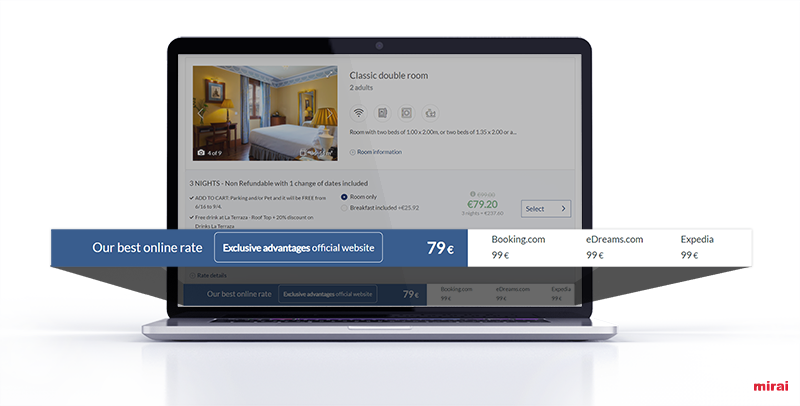 Price comparison tool
Our comparison tool provides maximum transparency and all the information your customer needs to make the best decision on where to book. It includes many details that make it unique. We have also provided it with multiple configuration and customisation options.
Our comparison tool will only show OTAs that have the same or worse price than the one on your website. Never the opposite.
You will be able to customise which OTAs to compare as each hotel is different and has different channels. We will compare up to six or eight OTAs and all this information will be saved and provided to you in the parity panel (see below), but we will only display a maximum of four to website users, which is the appropriate number for them to assimilate. Among these four to be displayed we will always try to ensure that Booking.com and Expedia are present.

We will make comparisons in real time, i.e. we will not show cached data. We will display prices as we receive them so as not to keep customers waiting.
PriceMatch functionality to automatically match the price for the customer when a disparity is found. You always control the OTA that will trigger the price match, as well as the limits for when to trigger it ( e.g. 5% against Expedia or Booking.com). This price adjustment will only ever be shown to the customer who is seeing the disparity and never to the rest, ensuring that the impact on the average price will only be for those customers who are seeing a relevant disparity. The price will never be lowered for all.
Fully adapted for mobile devices. We have worked hard to create a seamless integration that guarantees the best customer experience, avoiding annoying pop-ups covering key buttons in the booking process.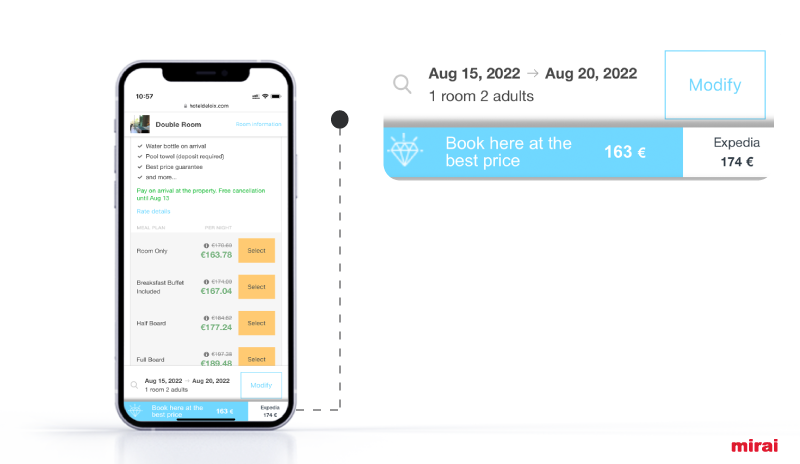 No annoying pop-ups. As a native integration in our engine (controlled by us from the source), we will ensure that the comparison tool, as well as messages, never cover or condition the fundamental elements of the engine (buttons, language changes, etc.) which often happens, especially on mobile devices where space is very limited. These details have been carefully considered in order to provide the best user experience.
Customised to the colours and style of your website. We adapt the font, colours and other visual elements for full integration, providing the best possible experience for your customers.
Pricing by market. Unlike other alternatives, we will always compare prices from the customer's country or market. Therefore, we will have access to the geo-disparities of OTAs, which are often so difficult to detect. A real headache.
Always from a mobile device. OTAs tend to show more disparities on mobile devices (upper funnel), so we will always consult their mobile version, which will ensure the best possible price control.
Tailored to the customer's currency and taxes. Our engine always shows the customer's currency and taxes (like OTAs), as this is what users expect. Therefore, we should always compare in this currency and take into account whether or not the price is subject to tax. We therefore ensure an accurate comparison without confusing the two concepts.

Translated into all the languages of your booking engine.
Differential values of booking online. Taking advantage of the fact that we have the attention of our customers for a few seconds, we have reserved a space in the comparison tool to highlight the differential values of booking through our website. This space is fully configurable by language and will help you to reinforce a message that is sometimes difficult to get across and that will stick in the memory of your customers.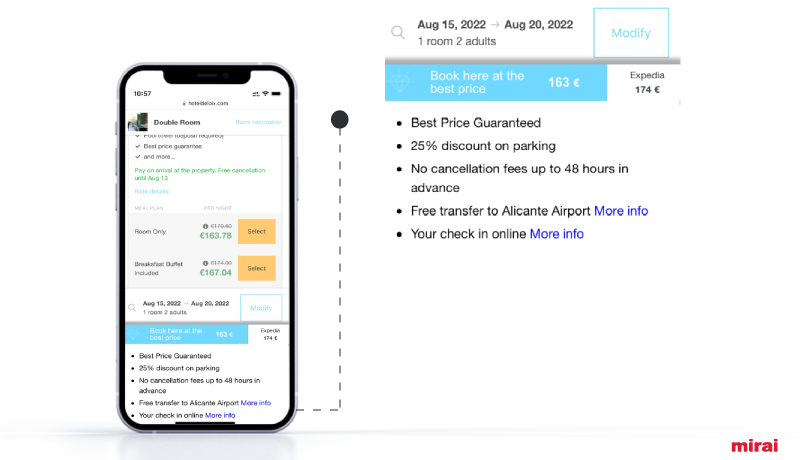 Parity panel on the extranet
We store all the information from the comparisons we make when your customers check availability and prices on your website. All this information is analysed, sorted and made available to you in our BI on the extranet so that you can identify who are the "non-compliers" who do not respect your price and make the best decisions.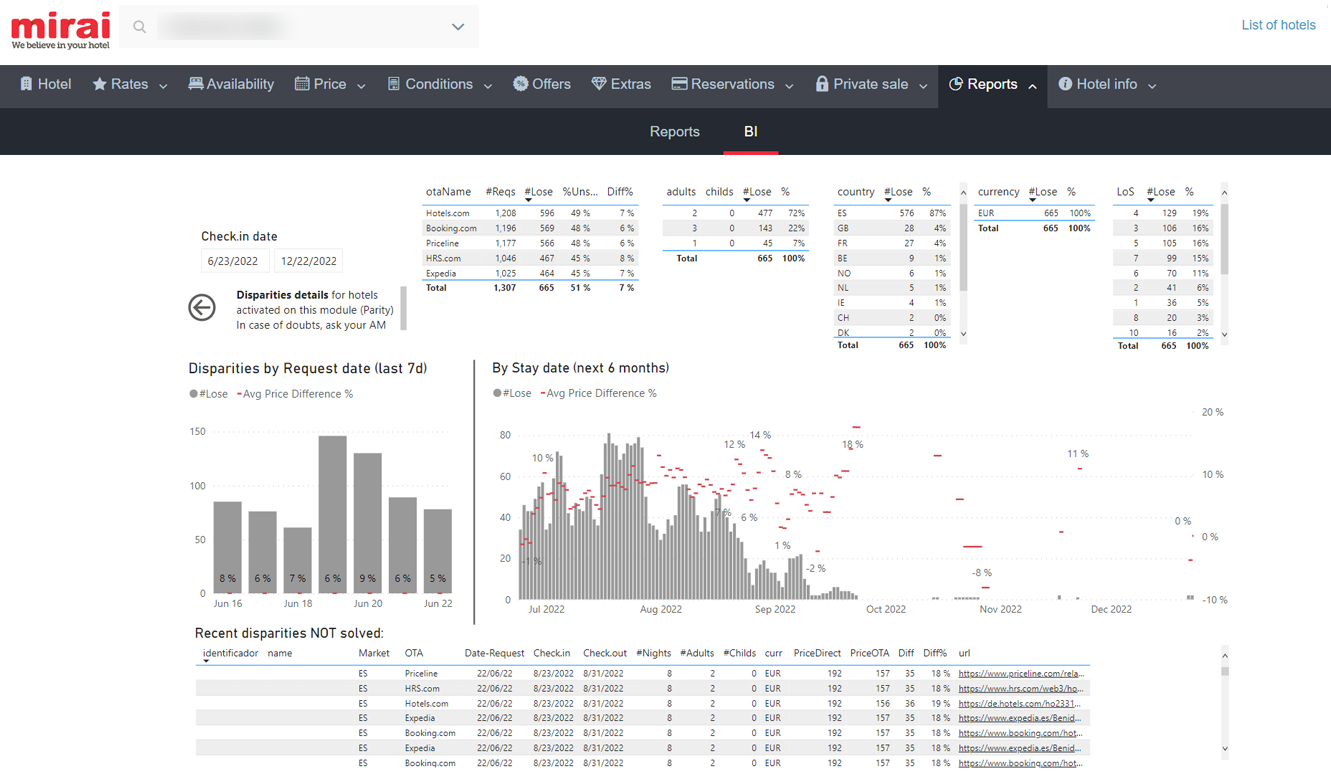 This functionality has always been important, but it is even more relevant now that Booking.com will be able to create disparities thanks to their ability to charge the customer.
These are the many advantages and possible uses of the parity panel:
Data on actual demand. Unlike other parity solutions that give you general enquiry data for 1, 2 or 3 nights for each day, we will give you the actual demand information for your hotel. This is the information that really matters, especially on the dates when disparities can be really damaging.
Geo-disparities. Remember that we will take into account disparities by market (geo-disparities) and always by consulting on a mobile device, so that we can identify disparities that are difficult to detect or even test (unless tested via a proxy). These disparities exist and you have to be aware of them.
Details of each disparity found. You will be able to see the data of specific disparities with the date of the enquiry, dates consulted, occupation, country of the user, currency, as well as a direct link to the non-compliant OTA.
Aggregate data. You will be able to see the data by date of enquiry and by date of stay, or both. This will tell you, for example, if you are having problems at particular times such as on weekends (when you are not around to check), or if you should focus on hot dates such as stays during holiday periods or when there are major events being held in your destination.
You will also see a breakdown of the percentage of disparities by OTA, by occupancy, by market, by currency or by length of stay. This is valuable information that you can work with and act upon.

Chain view. You will be able to aggregate all data for a single hotel or for your chain.
Downloadable to Excel. You will be able to download all this data in Excel format to cross-reference with your own reports or for internal reporting to the teams responsible for managing and monitoring OTAs.
I want the "Price comparison & Parity" module, what do I have to do?
Contact your account manager, who will explain the activation conditions and next steps.