En español, en français, em português
Just over a year ago, we launched our "Price Comparison and Parity" module, fully and natively integrated into our booking engine, which allows you to show your customers the prices of the main OTAs without having to leave your site, while maintaining your look & feel (colours, typography, etc.).

There are now more than 500 establishments that have inserted the comparison module alongside the results of the engine, and the feedback we have received is that it has not only helped them greatly in the fight against disparities, but also that the users who consult it are more aware of the great advantage of direct sales: the best price.
If you have a clean and controlled distribution, your customers need to know about it! Thanks to the comparison module, your customers will know that your site offers the best price and conditions. Moreover, if an OTA "plays you" and offers a better price, with the Price Match functionality you will be able to match that price or even apply a discount to prevent the guest from booking with the OTA.
Also, don't you think you should know if an OTA is offering better prices than you are on your website? For this reason, we provide a parity report in our BI, where you can find:
Data on actual demand.
Geo-disparities.
Details of each disparity found.
Breakdown of the percentage of disparities by OTA, by occupancy, by market, by currency or by length of stay.
All downloadable in Excel.
First new feature: display personalized messages
In the competitive world of hospitality, communication with your guests is essential to ensure an exceptional experience. With that in mind, we have listened to your needs and extended the functionality of this module. We now offer you the ability to display personalized messages, not only in your booking engine results, but also on any page of your website. These personalized messages allow you to create messages tailored to the needs and preferences of your guests. Here are some of the many options available to you with this new functionality:
Inform your users about some of the services you offer (free transfers, pets, etc.).
Promote a specific offer.
Display a conversion accelerator message, for example: "X people are currently viewing this page".
Reinforce the message about the benefits of booking through your website. You can also adapt it according to the season, current events, etc.
There are endless ideas that you can implement on your website. All your creativity will find its place in creating campaigns with the messages, formats and configurations you want.
What can you do with this new tool?
You will benefit from the following features:
Ability to 100% customise your messages. You can fully configure the texts, images, colours, etc. so that they are fully integrated into your website.
User-friendly environment. Intuitive and very easy to use.
Ready-made templates. If you don't have the time, you can start with pre-designed ideas that we have provided, which you can "fine tune" to suit the graphic environment of your website.
Option to choose the pages on which you want it to appear, whether on all pages of the site, on specific pages, etc.
Ability to configure the frequency and time of display for your users. Should it be displayed all the time? Only the first time they access the site? For the whole time they are on the website or just for a few seconds? You decide.
Numerous filters so that the message is only displayed when you want. These include:

By IP country
By language
First visit or subsequent
During certain dates or others
If the user has checked availability for specific dates
Only on X days of the week
Only at certain times
By type of device
By number of days or number of rooms requested
And many more!
As you can see, with this functionality you have a wide range of options available to you to make your messages unique, to let your imagination run wild and to "reach out" to your customers by highlighting what they are interested in, at the time they want and in the way that best suits their needs.
With this new feature, we continue to evolve and offer you powerful tools to improve your communication with guests and achieve more direct sales.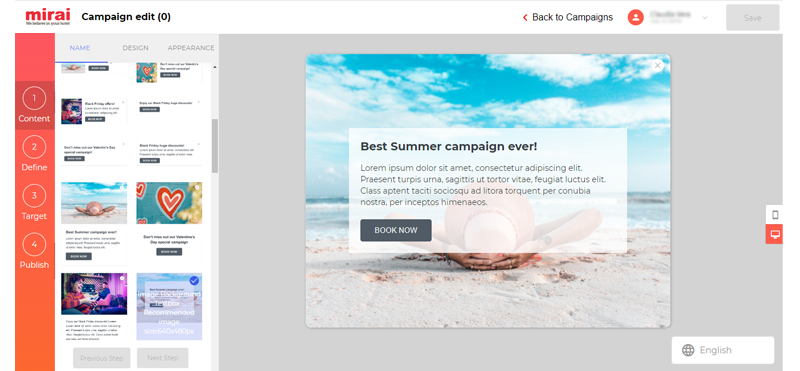 Second new feature: display reviews of your hotel
You work hard every day to make sure your customers leave your establishment satisfied, so why not brag about it? The Mirai comparison module now allows you to display the reviews your customers have left about you on various platforms.
This feature is fully customisable using the colours of your website. You can also choose how many years back you want to go to display all the reviews from that period. And you can choose between different widgets to display the reviews in the way you want:
Rating widget: Shows the reviews broken down by each of the main services.
OTAs reviews widget: Shows the scores you have received on the main OTAs.
Summaries widget: Displays a summary of the most important reviews.
Sentiments ratings: Displays the ratings for each of the services you offer, in more detail than the rating widget
I want the "Price Comparison and Parity" module with the new features of personalized messages and Mirai reviews, what do I need to do?
Contact your account manager, who will explain the activation conditions and next steps.
Other Mirai engine features related to "Price Comparison and Parity" module: Mirai Rescue or how to recover a lost sale