En español, en français, em português.
If you are a chain and you work with Mirai, this is for you. We have changed the results from top to bottom when looking for properties in your destinations. A more modern site, with a fantastic map view, better price details, supporting and highlighting your loyalty club's discounts, promotional codes and language and currency change.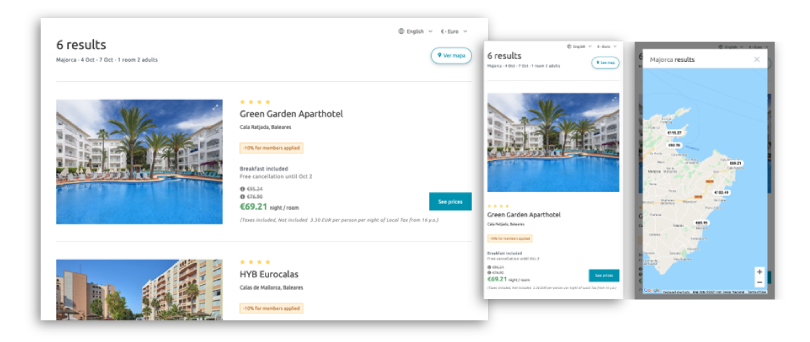 The renovation of this page is one of our significant developments this year. We have worked very hard to give a substantial boost to what users find when they want to see several of your properties simultaneously.
A more modern and renewed visual appearance
The great challenge was to visually unify the contents with our reservation process, offering a better user experience and making conversion easier:
Pictures are more prominent: with gallery and loading times have been optimised
Relevant hotel content: discounts, "from" price, board, cancellation policy and rate information that allows a first comparison …
Large and clear call-to-action button to draw attention
With your brand identity: personalised look and feel
Not only has its structure improved, but this site also reflects your brand's individual styles: your colours and your font, so that it is perceived continuously throughout the reservation process and even from your chain's website.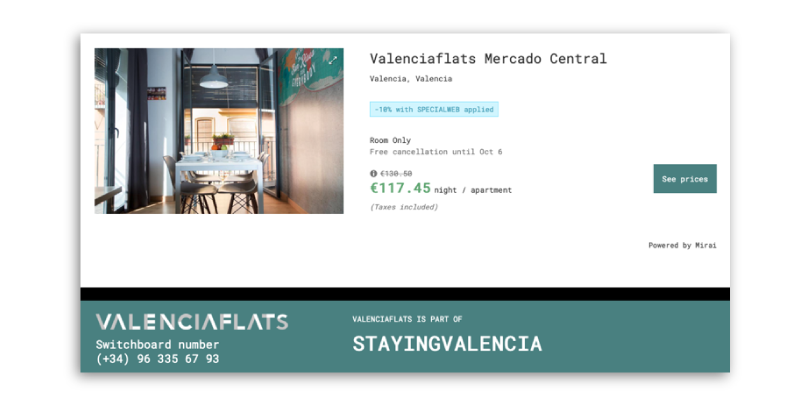 Designed for mobile and desktop
Most of the current visits come from mobile phones (between 50 % and 80 % depending on the chain and increasing). Our redesign has taken this into account and it looks terrific on small screens. If you are going to show off your new chain results, show them on mobile.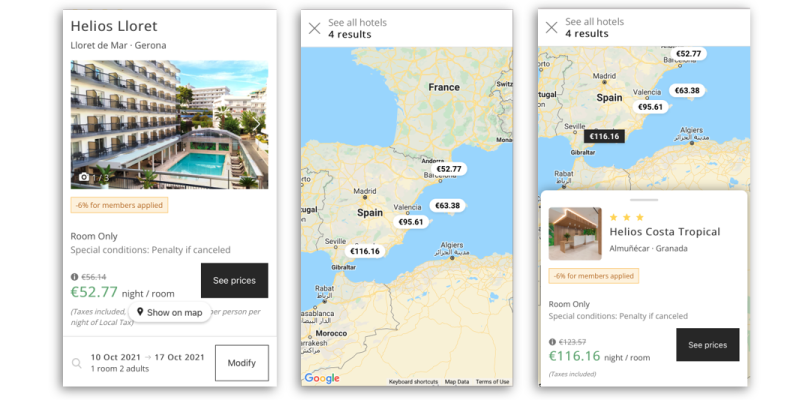 With a fantastic map view
To compare your properties, it is essential to see their location. Now, we incorporate a view in Google Maps in which each point displays a card for each hotel with the same content as in the list.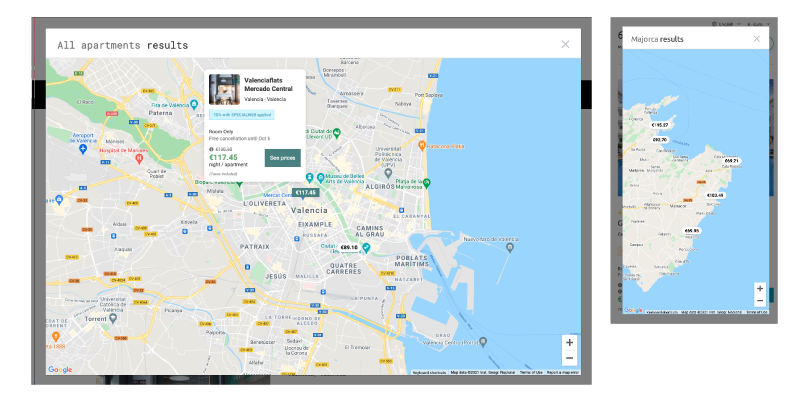 Languages and currencies (all!)
We have incorporated both elements integrated as fixed content. We have done it with the best practices:
Currency and language choice are embedded as permanent content elements
The user can change the currency for informational purposes, choosing among all the possible ones, not just the main ones
Your selection is remembered when advancing or going back in the reservation process
See the page in the language in which it arrives, regardless of the languages of your website. If you still want to do so, you can change it
Currency, taxation and formats according to the user's country
Like OTAs, by default we will show the currency corresponding to the user's country, which we automatically detect: an American will see dollars, a Japanese yen …
Each property can display tax information as it wishes or as required in our system: included or not, with or without tourist tax. On the new page, each hotel shows its taxes as you have them configured. We also adapt to the country's norm from where your customer visits: in the United States we will show prices without taxes, while in the EU we will show them with taxes. Again, as OTAs do.
You can overwrite both points if you wish, showing the currency and the taxes you want for each of the countries from which it is viewed.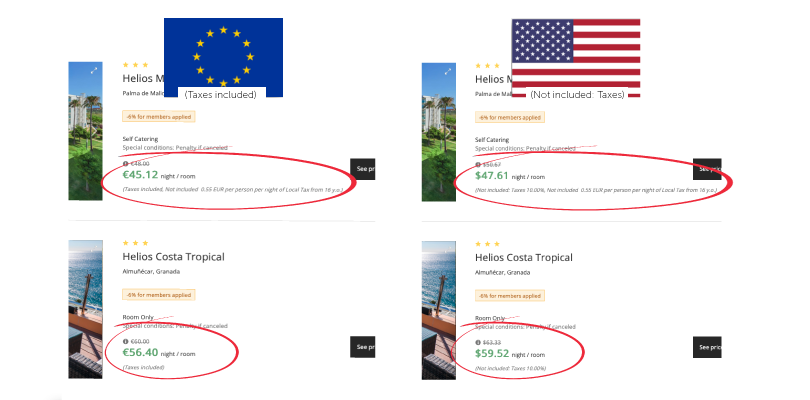 We also customise the calendars so that your Anglo-Saxon customers find Sunday as the first day of the week, as is customary in these countries. A usability detail that, for a change, OTAs master perfectly and now so do you.
Compatible with your loyalty club
If you have a loyalty club with Mirai, the search by destination will be 100 % compatible with your club.
You can choose whether to show the club's special prices open, that is, even to non-members, inviting them to register with the reservation, or only show them if they log in.

Smart discounts and rates differentiation: according to market, promotional code …
As you know, you have many options to show different prices to different markets. Our new page will pick it up. It will also show, or not, special prices or discounts to enquiries with a promotional code. All these variables are also cumulative in each result, if applicable.
And all of this highlighted in each case
Not only the prices will reflect that intelligence. We have also added explanation labels and strikeouts to make discounts attractive and add value. They are also compatible with each other. If this is the case, there may be discounts per offer, for the use of a promotional code and the loyalty club, each one explained.

100% integrated in your website without popups or domain changes, not even subdomains
Your users will never leave your website when searching. No popups, no changes in domain, not even subdomains. Thus, a seamless experience is guaranteed as your domain, image and colores are kept at all times.
We also eliminate the annoying problems in Google Analytics tracking when you change the domain or subdomain. You will have all the accurate data when you need it to track your marketing campaigns's performance.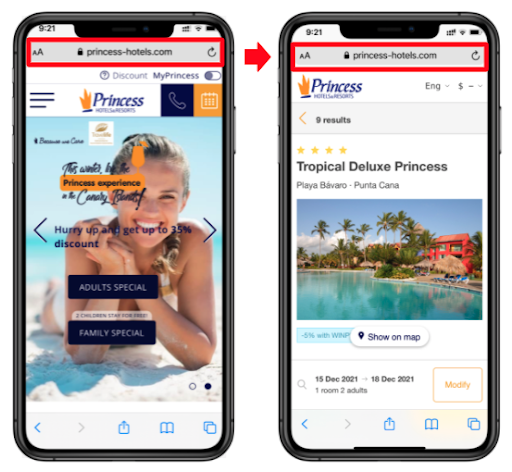 Support for apartments, campsites, villas…
Our renewed page adds one more intelligence: besides displaying "hotels" with their "rooms", it also shows other types of properties, even mixing different results.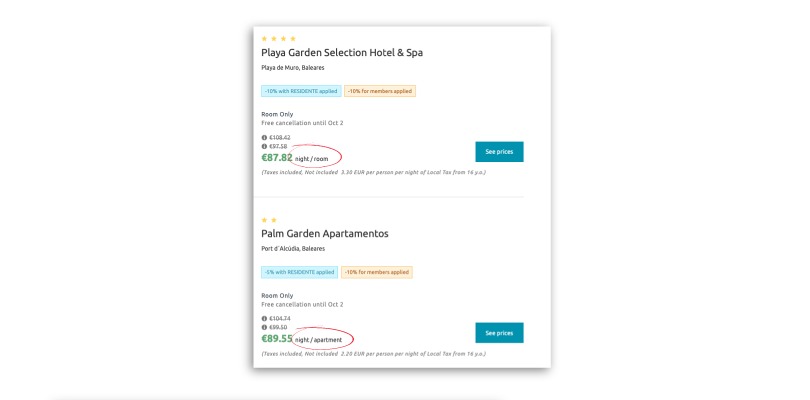 For those looking for a destination … or a sub-brand or a theme: make the most of it!
Did you know that this page can show all the property groupings you want? Usually, there is no lack of classification by destinations, but any other additional possibility is open: such as sub-brands or themes (golf, for families, by stars, beach / city …).
You can also use it as important pre-set filters in your chain: adults only hotels, all inclusive, open all year …
Any classification is possible, you can combine several compatible ones, with the name you want, at various levels and they are easy for us to place.
Your account manager can advise and configure it for you. It is almost immediate.
Maintaining the option to search for several rooms, different occupations, promotional codes and resident discounts at the same time
Our good practices are reflected in how the user can search to get to this page. It allows you to search for several rooms, supports promotional codes and asks for occupancy so that it can be used for any configuration of your properties, even if they have different characteristics.

Remembers your last destination / hotel, dates and occupation choice
Many users come and go before making a reservation, which means they go back to your website to carry out the same search again. There is nothing more frustrating than choosing all the fields again, especially if you have children. Our chain search will save the user from choosing the same thing again as they will always remember their last choice.
Designed with accessibility criteria
All of our layouts comply with accessibility standards, such as Alt and Title tags, as a good practice. Our new chain results page is no exception.
Two things you could check to make it look perfect
1.- Check your properties' pictures. Load several. Make sure the sizes, quality and resolution are adequate (1440 px wide by 1080 px high). On the extranet, in each hotel: "Hotel info" >> "Pictures". If you don't have access, ask your account manager for help.
2.- In addition to the usual classification in destinations, think about adding new searches: by sub-brands, themes or filters. The same hotel can appear in different categories.
What do you have to do to see the new page in your chain?
Nothing. You will see it soon, as we deploy it in all the chains.
Contact your Mirai account manager if you have any questions.