En español, en català, en français, em português.
To offer you more opportunities for profitable investments in metasearch engines, Mirai has completed its integration with Skyscanner to allow the use of a CPA model in addition to the original CPC model available through Mirai since 2016.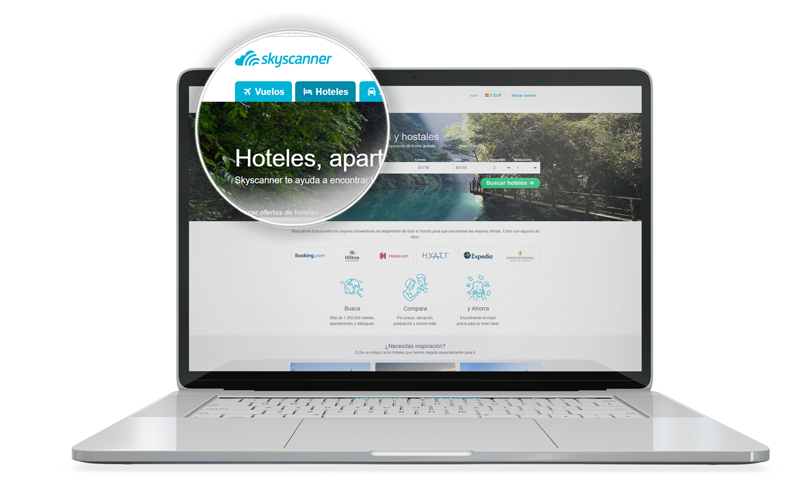 Investment models
Up until now, only the classic CPC model was available, in which every click costs a certain amount of money and the challenge has always been to make campaigns profitable by managing bids and choosing the markets and devices in which to make them.
Now a CPA or "Cost Per Acquisition" model is also available. This is like paying a commission for every booking (after discounting cancellations and no-shows). This new model has the following benefits over the classic CPC model and it also raises some questions that we address below.
Monthly budget or initial investment
As the model is based on commissions, no up-front investment is required. You only pay if there are sales. This therefore becomes more of a sales cost (easier to accept and sell internally as it's a term which is very common in hotels) rather than a marketing cost (always less flexible and more difficult to obtain).
Profitability
Skyscanner commissions are based on net booking revenues after discounting taxes or fees. As mentioned above, commission is only paid on effective bookings in the month after check-out and after discounting cancellations and no shows. Profitability is therefore guaranteed.
Campaign reach (markets)
You no longer have to limit your campaigns to certain markets, devices or minimum number of nights. Now you can carry out campaigns in all the available markets (currently Spain, France, Germany, Italy, United Kingdom, Ireland and the United States), on all devices and for all booking values.
Cash flow
Instead of paying the full cost of campaigns every month, you only pay after guests have left the hotel and after they have paid you. You therefore get cash-flow benefits which are important for many hotels.
Attribution of bookings to Skyscanner
When users click on your hotel link in Skyscanner, a cookie is placed on their browser. If they end up completing a booking, the conversion code in the Mirai booking engine is activated and attributes the booking to Skyscanner.
The duration of the Skyscanner cookie is 30 days.
Is this direct sales?
Yes. Bookings are made on the official hotel website and both the booking and the customer data are owned by the hotel. The hotel manages payment and any questions related to the booking.
Results and ranking
The results display in Skyscanner is the same as for CPC campaigns.
Both on desktop: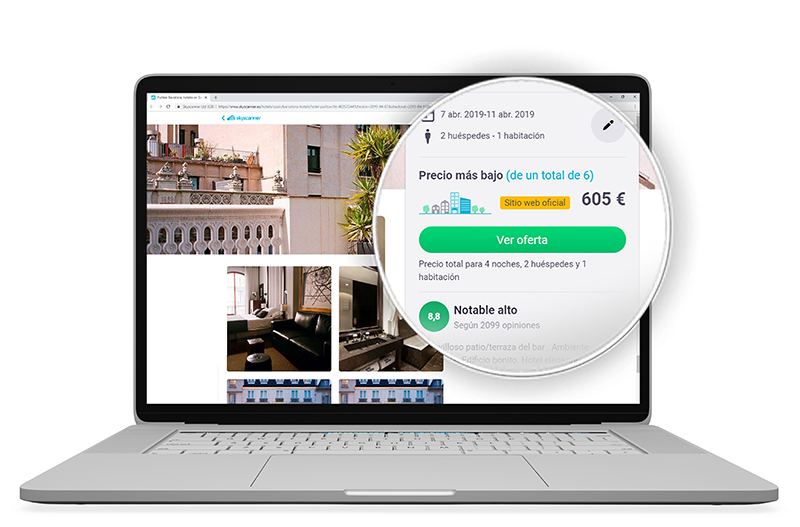 … and the mobile app: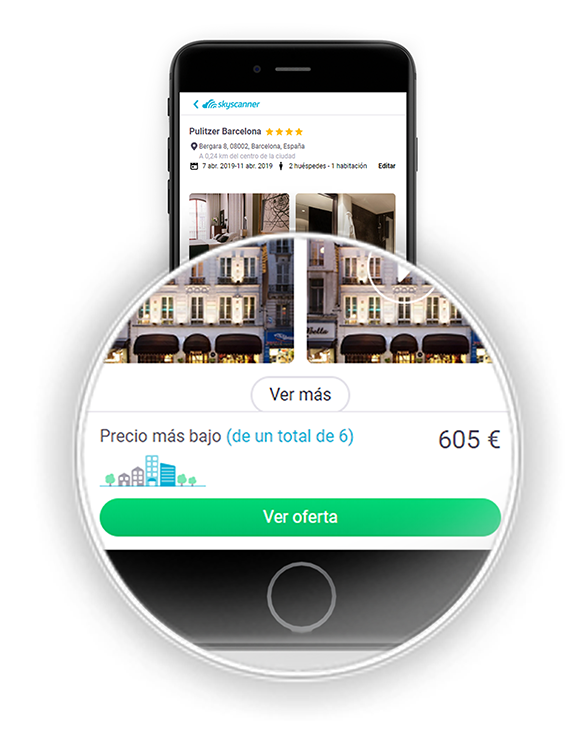 As there is no specific bid like in CPC, the advertiser that has the best price is far more important in the ranking of results for CPA. The best price is the most important parameter used by Skyscanner to rank ads in first place. This is therefore a very interesting option for customers who have a lot of control over their pricing.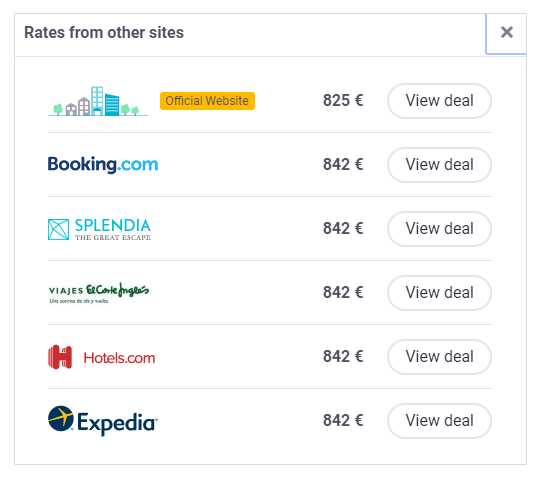 How to see your bookings
You can see your bookings in Google Analytics with Source/Medium skyscanner/cpa.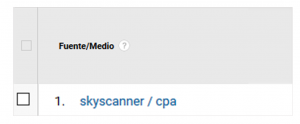 Compatibility of CPC and CPA campaigns
You cannot use both systems at the same time. You have to choose one or the other. Whatever your initial choice, or if you decide to change, we advise you to use the same type of campaign for at least 3 to 6 months so that you can thoroughly analyse your results. There is no required minimum period in neither of the systems.
Campaign management, booking reconciliation and billing
Mirai will take charge of managing your campaigns. Every month, as soon as you finish reviewing all the bookings, we will send Skyscanner a list of all the bookings with check-out date in the previous month (booking reconciliation).
Mirai will pay the total final amount to Skyscanner and then issue invoices for the individual amounts to our customers, just as we currently do with all the other metasearch engines.
How to take part
If you already invest in Skyscanner using CPC, check the amount of commission you have paid throughout 2018.

If it is less than 10% for the year, best not to change your investment. Your commission rate is already very profitable.
If it is greater than 10%, you should seriously consider investing in CPA.

If you still do not invest in Skyscanner, this is an excellent opportunity to try this channel using a risk-free CPA model.
Skyscanner today
Like many companies, Skyscanner has changed a lot in just a short space of time. The company is currently part of the Chinese multinational Ctrip, but managed independently and with more than 1,000 employees and offices in Europe, Asia and America.
Skyscanner is one of the world leaders in travel search, especially for flights, with more than 80 million users and more than 70 million app downloads per month. Their leadership in flight search opens the door to interesting cross-selling opportunities for hotels.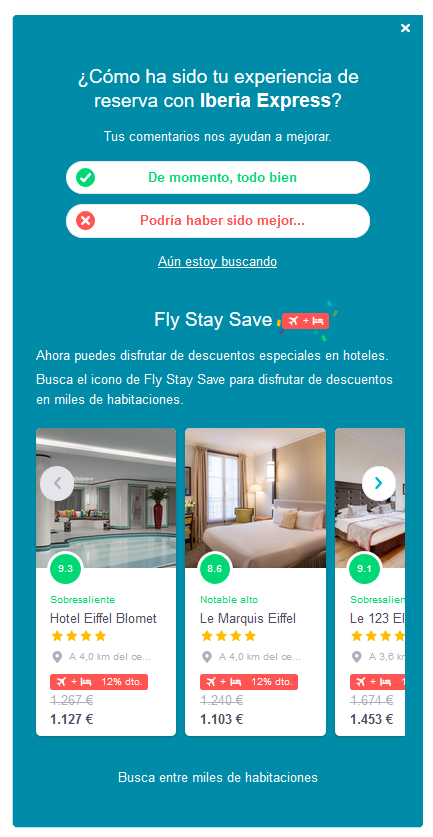 The Skyscanner platform allows you to search in more than 30 languages and use more than 70 currencies to see prices. It has users from 49 countries, two thirds of which are from EMEA.
Here are some interesting facts about their hotel search traffic: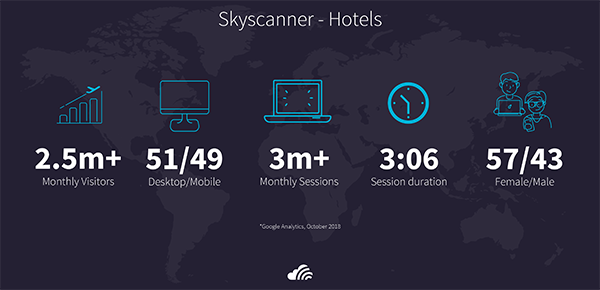 Its main feeder markets are the United Kingdom, the United States, South Korea, Spain, Russia, Australia and Germany, among others. In recent years, it has seen very strong growth in Asia Pacific.
These user numbers makes it a showcase for displaying your prices with significant potential for traffic growth in the future.
Conclusion
At Mirai we constantly seek to extend investment opportunities in metasearch engines to ensure they generate the best possible results for your direct sales.
We believe that this extension of campaigns in Skyscanner to the new CPA model is an excellent option to display your prices and compete with OTAs without any up-front investment or risk and only paying a very competitive commission rate for the effective bookings you receive.
We encourage you to try it. Talk about it with your Mirai account manager who will advise you on the best investment options in this channel.