En español, en français, em português.
Mirai already has the best booking engine, with a large built-in loyalty programme, and many ideas on how to incorporate data and retain guests. But we do not have a CRM, as this is an element that depends more on the PMS, which requires a more cross-sectional view, not one that only takes into account the direct channel. (Read the post "CRM or how to automate most of your retention strategy and direct sales")
We do not believe in a global, monolithic solution that can do everything. That would mean you only get a partial solution for every need, which would ultimately place you at a competitive disadvantage. Our philosophy has always been to integrate with the best solutions on the market in every field. We have done it with channel managers, PMSs, chatbots and payment platforms.
This time we are proud to announce our integration with one of the best hotel CRMs on the market: PUSHTech.com.

With this integration, your CRM will now include:
The data of the guests who book through your website.
The data of those who cancelled or modified their bookings.
The people who sign up to and leave your loyalty programme.
All the information on the performance and return on investment of the campaigns you run on their tool. This can be done because we incorporate into the confirmation page a conversion pixel with all the variables PUSHTech.com needs and that are already included in our Google Tag Manager data layer.
PUSHTech.com is a CRM specialising in hotels and among other things it will let you:
Easily activate communications before, during and after a stay by choosing from between more than 20 pre-defined hotel automations ready to be activated.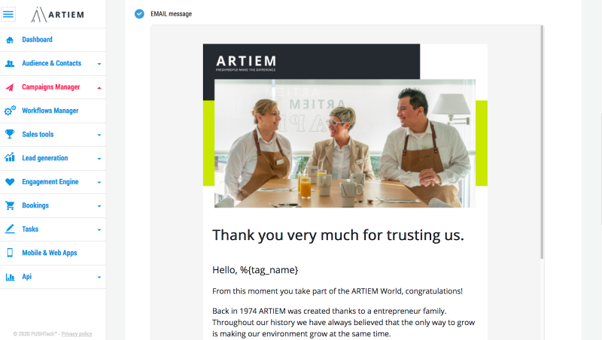 Exclude contacts who have already made a booking at your hotel from campaigns and automations.
Get to know and better segment your clients by unifying all your data sources. PMS, booking engine, online reputation platforms, loyalty programmes, mobile applications, Wi-Fi portals, pre-check-in system, online check-in and other platforms of the hotel tech ecosystem.
Accurately measure the return on investment of your campaigns and retention strategies.
Artiem Hotels is one of the hotel chains that is already enjoying the benefits of Mirai's integration with PushTech.com. According to Víctor Mayans, their Marketing Manager, "In order to improve the process of getting to know and building a relationship with the client it was essential for us to integrate two highly strategic components, namely PUSHTech.com's CRM and Mirai's booking engine, to guarantee all actions can be accurately tracked."
Will Mirai charge more now that it has integrated with PUSHTech.com?
No. As usual, we do not apply any extra costs for integrating with third-party solutions.
I would like to find out more about PUSHTech.com and the integration with Mirai. What should I do?
Contact your account manager, who will provide more information and put you in touch with a PUSHTech.com representative so that you can receive a tailor-made budget.