En español, en français, em português.
Hotels with the Mirai booking system can now use Quicktext to help improve communication with customers and enhance upselling. Quicktext includes a powerful chatbot to automate service and give price proposals on the hotel website, Facebook Messenger, SMS and also soon on WhatsApp.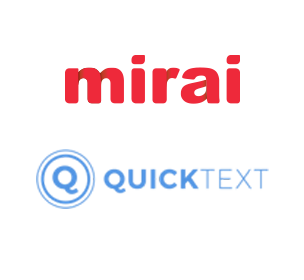 Chatbots have a lot of potential in the hotel industry. They provide a simple way of improving our customer service and capturing some of the sales that we may previously have lost.
It is very important to understand that chatbots are not tools that you can just implement and then forget. They require your time and dedication, especially at the beginning. But according to Benjamin Devisme, CEO of the company, "the results are usually excellent, with an average conversion rate of 17% and a reduction in costs, which can be particularly important in reception or customer service."
In the end, chatbots help answer questions immediately and automatically and thus influence the decision-making process, removing doubts that might otherwise prevent sales, dissatisfy customers or lead to unnecessary calls and emails to our hotel.
What is Quicktext?
Quicktext is a tool that allows you to improve communication with your customers in a simple, efficient and very effective way.
It can be integrated with many different data sources such as your PMS or booking engine, and can also manage customer communications through several channels: a live-chat function on the hotel website, SMS, Facebook, Booking.com and Airbnb, among others that are already available. This is a powerful chatbot that allows you to automate between 70 and 80% of all your interactions.
The company has made a 2-minute video about the benefits of Quicktext and there are more details on its website.
What features does Zoe, the Quicktext chatbot have?
This post analyses all the features we should expect from a chatbot. Quicktext offers many of them, as described below:
Easy to add and customise questions and answers that are most relevant to your hotel. You just need to provide the raw information and the chatbot will automatically convert your content into responses in 8 languages.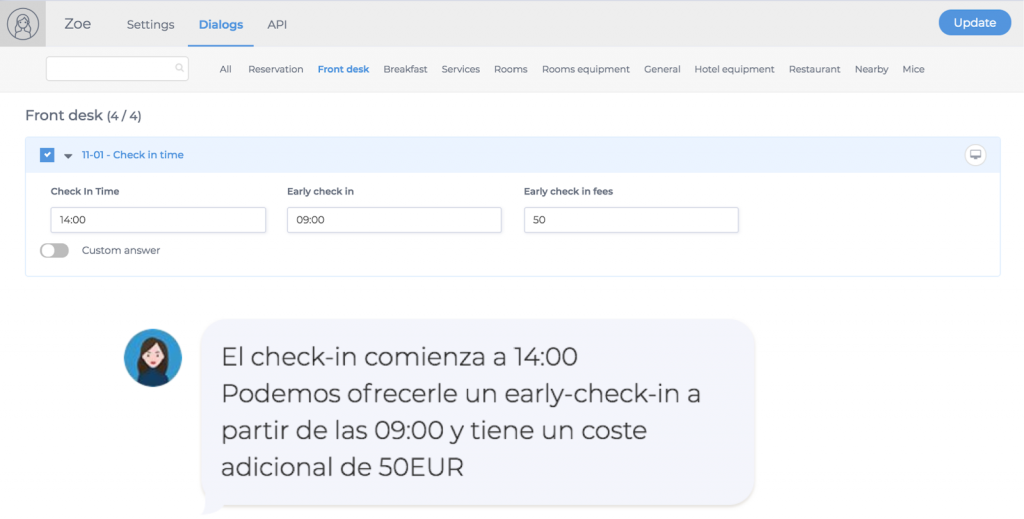 Languages: Zoe currently speaks English, Spanish, Portuguese, German, Italian, French, Dutch, Czech and Russian. The company is working on adding Chinese in the short term.

Collection of customer data (name, phone, email), which helps your business by allowing you to contact customers whenever necessary to close a sale. Compatible with the new GDPR standards.

Full functionality on mobile, as well as compatibility with the most popular browsers such as Internet Explorer, Chrome, Firefox, or Safari.

Compatibility with the hotel website, its Facebook page, Viber, Twitter, Telegram, SMS and soon also with WhatsApp.

Possibility of passing on the customer to a real hotel agent for more personalised service. Quicktext has a mobile app and computer programme to allow hoteliers to see how Zoe is responding and intervene if they see fit. These tools make it much easier for hotel staff to begin to use the system, especially receptionists.

Real-time price proposals. One of the most important functionalities thanks to the integration with our booking engine. This allows users to:
Know how much a specific stay costs for a certain number of people.

Be able to specify the number of adults and children and differentiate prices depending on their ages.

Offer not only the cheapest room, but all the available rooms and/or rates to help boost upselling of superior products.

Be able to deal with customers who have a promo code.

Differentiate prices depending on the customer's country location and/or device if this type of pricing policy is used by the hotel.

After presenting the price, provide customers with a link to click to make the booking easier.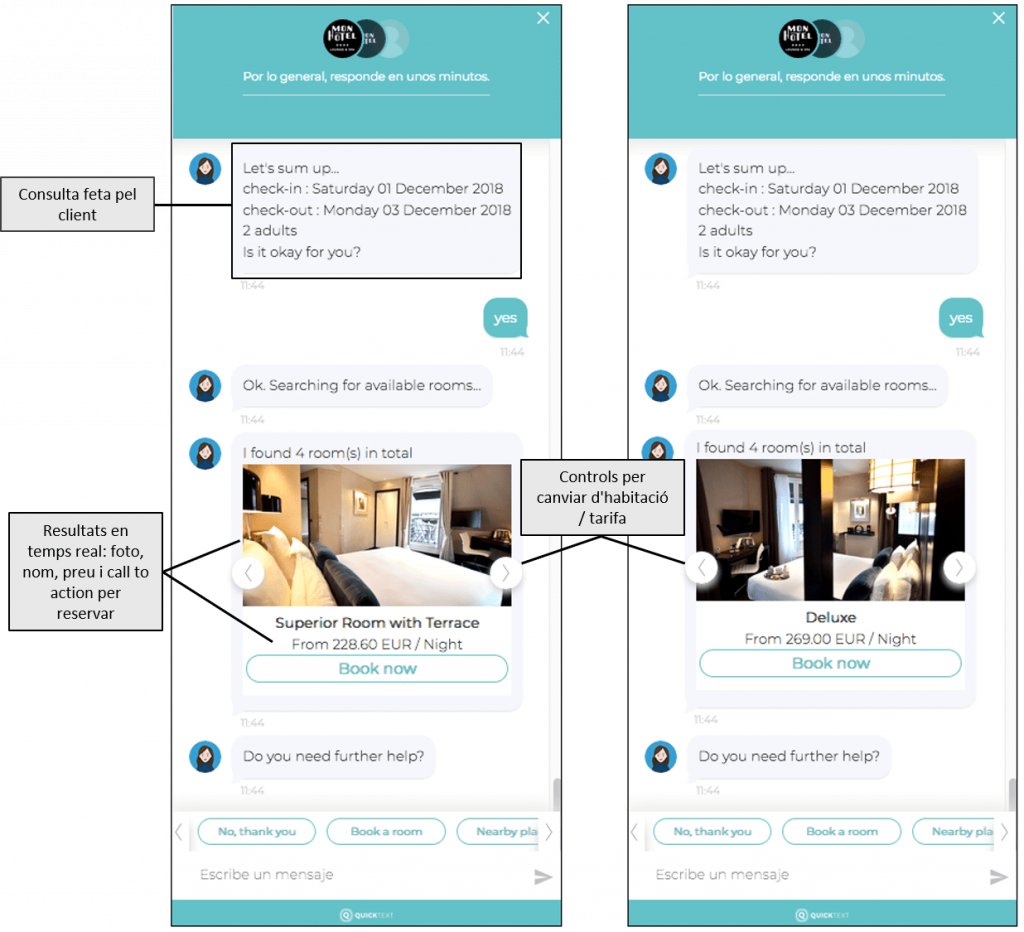 "Call me back" option if an answer cannot be found to any question.

The chatbot for all your hotels can be held under the same account. This is perfect for hotel groups or chains.

Telephone and/or email support for resolving any doubts or incidents.
I'm interested. What do I have to do?
Contact your account manager for a little more advice and an explanation of the next steps. Your account manager will provide you with the contacts in Quicktext. If your website is managed by Mirai, we will take care of the entire implementation. As always, all at no charge by Mirai. Quicktext obviously charges its own rates, and they will be explained to you by the Quicktext team.