En español, en français, em português.
What is Duetto?
Duetto is a company that offers cloud-based applications to improve revenue management decision-making and allow hoteliers to increase efficiency, revenue and profitability.
The SaaS platform allows hotels to leverage dynamic data sources and practical knowledge about prices and demand across the entire company.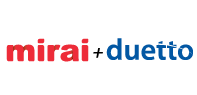 More than 3,500 properties in more than 60 countries have partnered with Duetto to use applications such as GameChanger for strategy definition and implementation, ScoreBoard for creating hotel and company reports, forecasts and budgets, and BlockBuster for optimization contracted room allotments and group business.
What does Duetto offer? | What is available through the integration?
Most hoteliers still use traditional data sources for Revenue Management decision making. The Duetto Open Pricing model allows you to achieve higher profitability in each of the market segments and for each room type.
The integration with the Mirai booking engine allows hoteliers to get a clearer picture of demand using data such as regrets and denials to identify new opportunities and adapt strategy to the changing market.
Duetto reads data from our booking engine on all the booking requests that are made, allowing the system to calculate the best price for each room type based on demand and time of the request, depending on the rate type, demand and room availability.
Interested in taking advantage of this new integration?
Our integration has been made through Google Tag Manager. To find out more about the opportunities created by this integration, please contact: hello@duettocloud.com.