En español, en français, em português.
We have announced the launch of a two-way integration between the Mirai booking engine and the channel manager or CRS of TravelClick, a subsidiary of Amadeus, one of the global market leaders in the industry. The integration further extends the already numerous list of channel management systems integrated with our booking engine.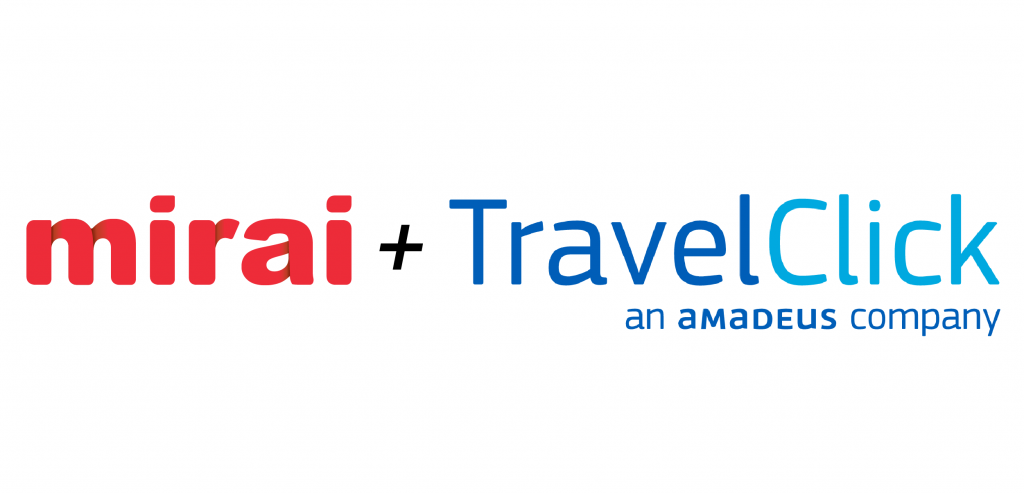 After several months work together with the TravelClick team on testing and certification, in June all the work was finally completed and Mirai officially became a TravelClick certified partner with a two-way integration with its powerful CRS.
The integration will allow customers of both companies to:
Update inventory, rates and rate restrictions in the TravelClick channel management system. More specifically, the restrictions supported by the TravelClick integration are:
-Close out
-Closed to arrival or CTA
-Closed to departure or CTD
-Closed to book
-Minimum stay
-Maximum stay
-Lead time restriction
Download bookings (with all the booking details, meal plans, comments, extras, etc.) to the numerous PMS integrated with the TravelClick CRS.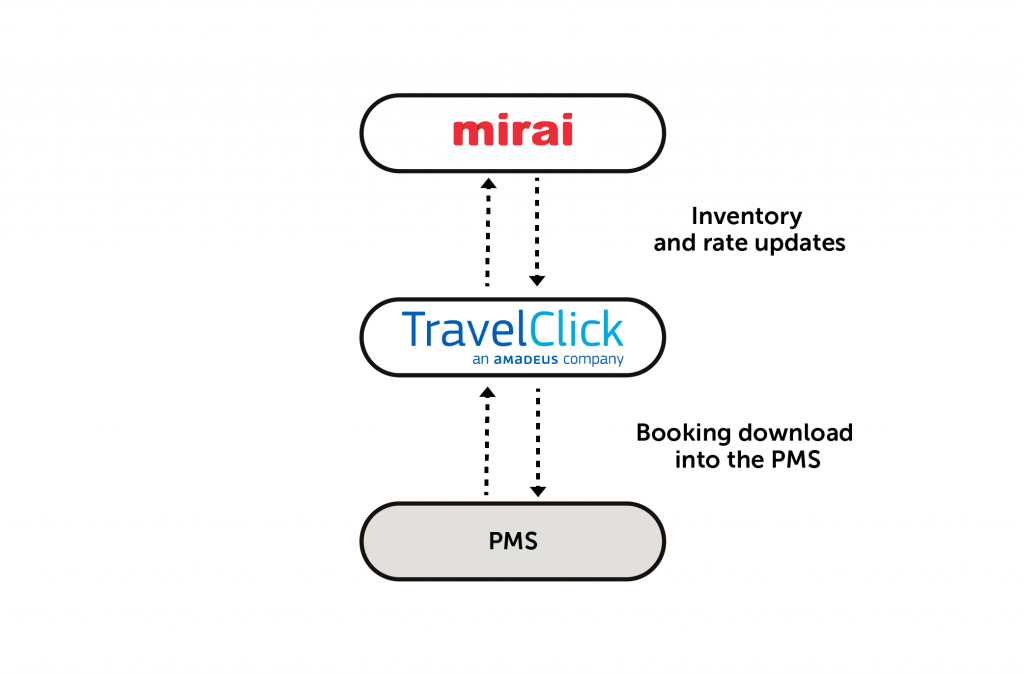 In truth, Mirai has already been integrated with TravelClick for more than 8 years due to the integration we did with EZYield, a channel manager that TravelClick acquired in 2011. What we have been working on recently is updating all the functionality and making it all available to our customers.
Towards full integration: PMS-Channel manager-Booking Engine
Many hotels use their channel manager to update rates and availability rather than their PMS (supposedly the natural place to do it). This is mainly due to the fact that the PMS is usually the least flexible (and oldest) system the hotel uses, making it unsuitable as a candidate for the powerful and flexible central command system that every hotel needs to optimise its distribution. Hoteliers therefore increasingly tend to operate in the channel manager and then download bookings to the PMS for check-in and billing.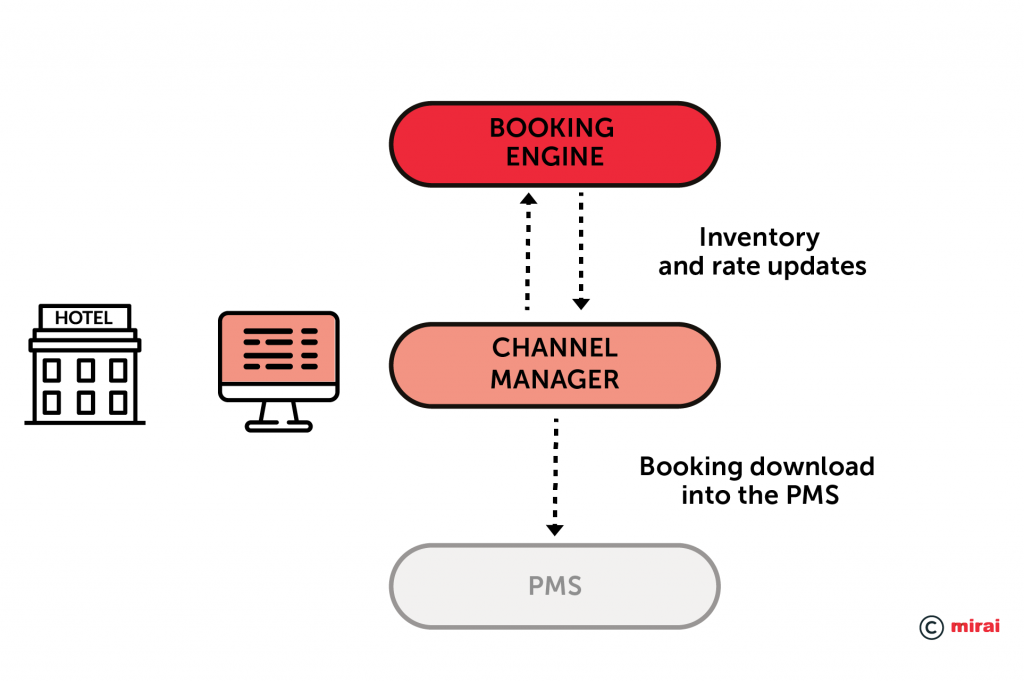 PMS have begun to appear that solve this problem and many hotels are moving decision making back to the PMS from the channel manager. To do so they need to be sure that communications between the PMS and channel manager are 100% in order and error free, as well as having a powerful and flexible tool. TravelClick has excellent two-way integrations with many PMS and meets all the baseline requirements between the PMS and the different channels, including direct channels. The two-way integration between TravelClick and Mirai guarantees the correct implementation and operation of an online distribution and direct sales strategy managed entirely from the PMS.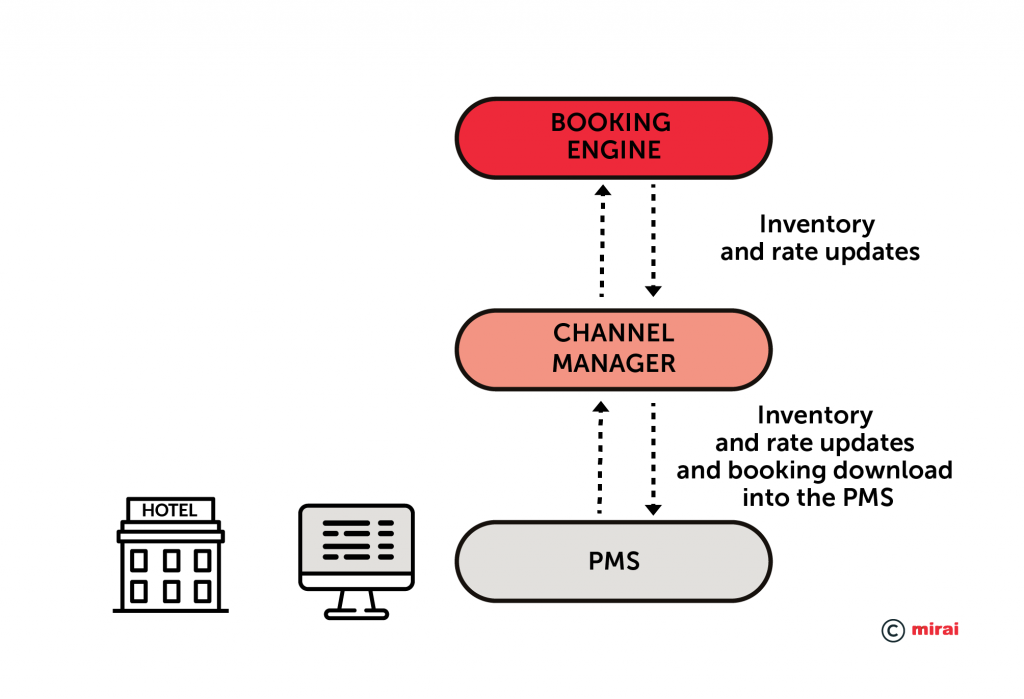 I already work with TravelClick and Mirai. Do I have to do anything?
Our account management team is currently contacting all of our customers who use TravelClick as a channel manager as a few changes do need to be made. More specifically, hotels have to create a new rate list and remap everything in the channel manager. This is a one-off job after which you can enjoy all the benefits of the integration. Contact your account manager so they can help you out with all the steps you have to take to make sure everything is done in the easiest way.
I would like to know more about the TravelClick channel manager
Contact your account manager to get help and advice in making your decision and details about how to contact them.