En español, en catalá, en français, em português.
Hotels that use the Mirai booking system can now use HiJiffy to improve their customer communication and enhance upselling. HiJiffy has a chatbot to automate customer service and price proposals on the hotel website and through Facebook Messenger, WhatsApp, Telegram, Line and even WeChat.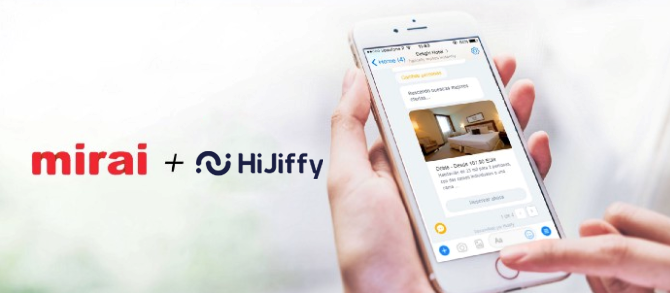 As we wrote a few months ago, chatbots have great potential for improving the user experience and sales, and adding one to our website sounds like a good idea. While it is true that the chatbot industry is still very much in its infancy and that there are lots of things to improve, it's also true that it's probably a good time to start getting used to them as they will be permanent fixtures in the travel environment sooner or later.
After several months working with many customers, we have to insist that it is really important to understand that chatbots cannot just be implemented and then forgotten about. They require time and effort, especially at the beginning. In fact, the most important factor in the success of a chatbot is not the chatbot itself, but rather the way we use it. The more time we spend and care we take, the better it will work. We cannot expect a chatbot to think and respond like us from day one. Obviously a lot of the success depends on the quality of the chatbot itself, but we would make the way you use it the number one factor on the list.
What is HiJiffy?
CEO Tiago Araújo says that HiJiffy is "an all-in-one communication platform for hotels" that allows you to improve customer communication in a simple, efficient and effective way. Its main product is the AI-powered Guest Communications Hub for hotels that, according to Tiago, successfully handles up to 85% of questions asked by users. In addition to a website widget, it is also able to handle communication with customers through their preferred communications channels, including Facebook Messenger, WhatsApp, Instagram, Telegram, Line, WeChat and Google My Business. The solution keeps on being enhanced with the latest tech developments, such as voice assistance and GPT-4.
Price proposals in real time
The integration between HiJiffy and Mirai allows HiJiffy chatbot users immediate access to accurate price proposals (for given dates and occupancy, differentiating between adults and children if necessary) by taking real-time data from the Mirai booking system. This is due to a level of integration far above that of other chatbots and booking engines that normally just send booking requests to the engine without any knowledge of room availability or prices, often creating frustrating experiences for users looking for more specific answers. After resolving any other doubts with the chatbot, your customers can get real-time access to availability and prices before easily booking both on desktop and mobile devices.
The HiJiffy chatbot shows all the available rooms and the price of the cheapest room to start with. It also shows photos and a brief description of the room to help make it easier to decide and boost upselling.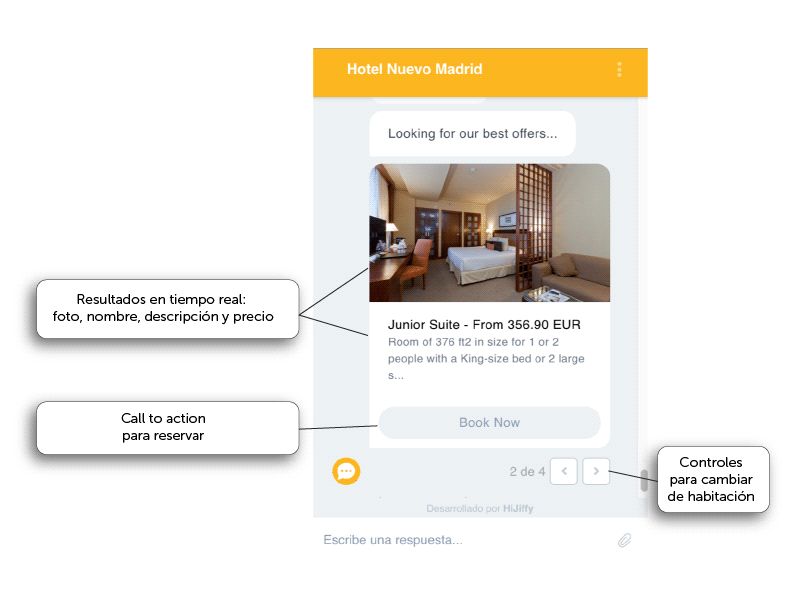 What are the features of the HiJiffy's Guest Communications Hub?
HiJiffy has provided this brief summary of their benefits:
Quick installation and set-up. You fill in the questions and answers you want to start with in the chatbot and the HiJiffy team uploads them to the system so you can approve them. Try not to go too fast. As we mentioned before, a good set-up is vital for the correct operation of the chatbot.
All the relevant channels. As well as those already mentioned, the hotel's own website via widget, as well as Facebook Messenger, Instagram, WhatsApp, Telegram, Line, WeChat and Google My Business.
If a real person has to get involved, the conversation is transferred to the right agent and a ticket is opened in the console for management. The same console allows you to review all the conversations and all the questions that didn't get an appropriate answer so you can continue to update the chatbot and improve its performance.
For both independent hotels and chains. If you have several hotels, you can create content which can be shared among them all from the same console.
Reports and suggestions. The console contains information on the chatbot performance and also allows you to centralise information on the most frequent customer complaints or your customer satisfaction index, among other data.
Conversational AI across the entire guest journey. From assisting prospective guests with their questions and the booking process, through process automation and upselling during the stay, to facilitating smooth operations during departure, HiJiffy's solution empowers hoteliers to boost revenue and improve guest satisfaction.
I'm interested. What do I have to do?
Contact your account manager to get more information and learn about the next steps. We will provide you with the contacts in HiJiffy. If your website is managed by Mirai, we will take care of adding it to your website, as always at no extra charge from Mirai.