En español, en français, em português.
You probably receive several emails a day asking all sorts of questions about your hotel, hostel or resort and its services. Many will be easy to answer, such as questions about available services, opening hours, rooms or common areas. Others will be about opening dates, which facilities are currently open, COVID-19 protocols, etc. There will also be an important number of potential guests asking for quotes, both for individuals and for groups. A wide range of incoming emails to handle and in all cases the clients expect an answer that is simple, precise, friendly, swift and in their language. How are you handling this right now? Would you like to automate part of this work, saving you time while giving you the chance to provide a better service?
We have good news. Thanks to our recent partnership with HERA by Hotel Resbot, Mirai now offers the chance to incorporate an email manager to help your team provide professional answers to the most frequently asked questions you receive every day, as well as requests for quotes, saving your team up to 70% of their time. With more time on their hands, they will be able to pay closer attention to the more complex queries that require special care.
And the best part is that you will receive this service as an extra feature of our value proposal completely for free.
What exactly is an email assistant?
It is no more and no less than a software tool (programme) that helps you automate part of the handling of the many questions you receive by email. From the most basic questions to some of the more complex ones. And it can also send quotes. The goal is not to automate 100% of the answers, as that is currently not realistic, but only the most recurrent ones, which make you spend up to 70% of your time checking prices and availability or copying and pasting the answers from your FAQ's into your email.
How does this email assistant work?
The system has two configurations: automatic and semi-automatic.
● Semi-automatic: It is usually recommended to start by using this configuration. It will save you lots of time writing up and customising emails while maintaining complete control over when the replies are sent. HERA will take care of all those repetitive manual tasks you perform with every request, such as drafting a reply, providing quotes for specific dates in real time or translating the answer into the client's language. With all this time you will suddenly have on your hands, you will be able to better manage each query and reply to more questions than you previously had time to. When set to semi-automatic mode, HERA does the following:
● "Reads" the content of your incoming email.
● In the case of quote requests, HERA will check the prices and availability on your Mirai engine for you in real time.
● It will show you all the information gathered in a comfortable interface on your email so that the booking agent can send the offer they think most convenient; the preselection will be based on the client's request.
● In just a few seconds you will be able to easily go over the suggestions made by HERA, customise them, modify them and send the email. What used to take several minutes will now not take more than a single minute.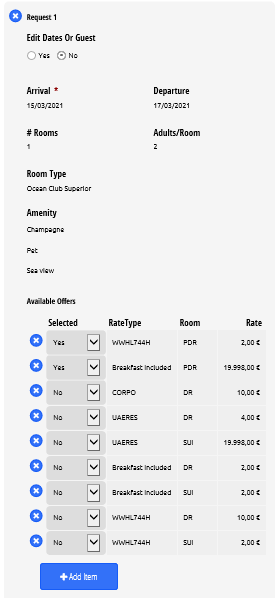 ● For other types of question, HERA will preselect the most useful answers and present them to you for you to choose the most appropriate one in a quick and comfortable way, saving you time and improving your service's quality.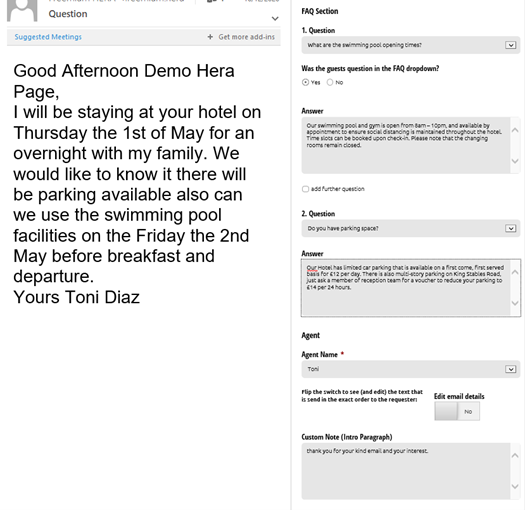 ● Automatic: Hotels that want to optimise their team's time more ambitiously, respond more quickly to clients or simply don't have anyone available to answer these questions at the moment might want to consider fully automating their email responses. HERA will write back to your guests without you having to go over the answers first. You can set the automatic mode to run on certain days of the week or in daily time slots if you wish to keep it on semi-automatic mode the rest of the time. These are the steps HERA takes when fully automated:
● HERA "reads" the content of your incoming email.
● Using an artificial intelligence algorithm, HERA analyses if the email contains an automatable answer or not based on the criteria you have established (there are different levels of automation, FAQ [yes/no], public quote request [yes/no], corporate request [yes/no/depends on the rate], small groups or promo rates [yes/no/depends on the rate].
● If it is a general question, it will check the answer database you have programmed and select the most suitable answer.
● If it is a quote request, HERA will check your Mirai booking engine in real time, using an API, and pull the most suitable room and rate information to offer the best available price.
● HERA writes back to clients in their own language.

Can I offer better prices in my replies than the ones shown on my website?
Yes. Sometimes it is in your best interest to offer a better price to a client who contacts you by email. You can do it without a problem. All you have to do is configure the promocode you want to apply in the HERA assistant and the system will offer prices associated to that code. By clicking on those rates, the client will be redirected to the search engine with the promocode readily applied. It couldn't be easier.
What type of FAQ's can I automate? Is there a limit?
Most of the emails you receive will be about a number of subjects that, with small variations, repeat constantly. These questions are the first step towards automating customer service by email and its starting point.
Configure each of these themes in HERA's extranet together with their corresponding answers and translations. It is important to dedicate time to properly setting up this configuration in order to provide the best possible service when answering your clients' questions.
There is no theme or answer limit. Programme as many as you like.
Can I customise the emails with my logo and corporate colours?
Yes, among many other parameters, including the header or footer of the reply email.
Can I add cross-selling messages?
Yes, you can. You can include personalised messages in each template you configure, along with images and calls to action (CTA) in the form of links to your website.
How does it offer quotes for bookings? How precise and comprehensive is the answer when sending quotes?
By "reading" and "interpreting" every email, HERA detects the check-in and check-out dates as well as the requested occupancy (including the ages of children if the client mentions them). Even the board type, when it is explicitly mentioned. It is even able to detect several rooms when dealing with requests for multiple bookings or small groups.
After extracting all these parameters, HERA consults (via an API) your Mirai booking engine to obtain the relevant information. We have worked hard on the integration to make the answers sent to your clients as precise, simple, friendly and quick as possible – and all in the client's language – to ensure your clients receive a pleasant surprise when they find the exact information they requested in record time.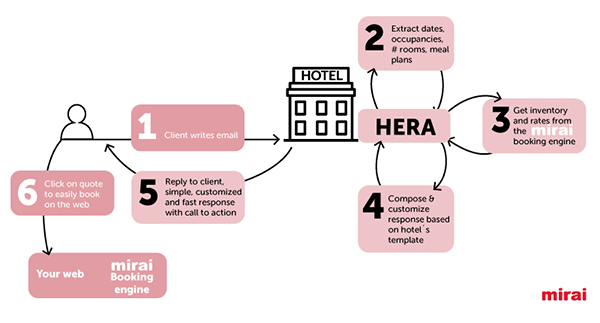 The quote sent by email to the client includes:
● The dates indicated by the client in their request.
● All relevant information about the quoted rooms: photographs, name and descriptions.
● Breakdown of the rates offered and their cancellation policies.
● The total price of the stay per room.
● Upselling messages.
● Corporate header and footer.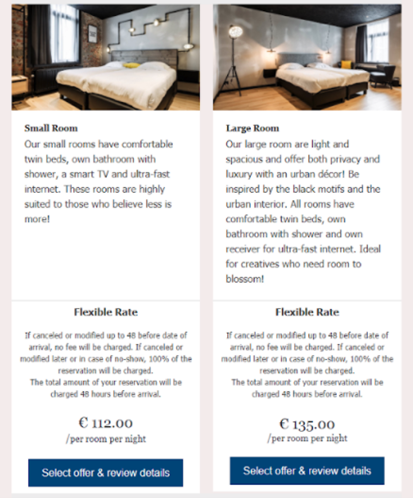 On top of all this, there is another key element to guaranteeing the answer is a success: a simple call to action with the link through which the guest can book the room at the announced rate with all the requested parameters preselected. That way, the guest does not have to indicate them all manually again (dates, occupancy, room and rate).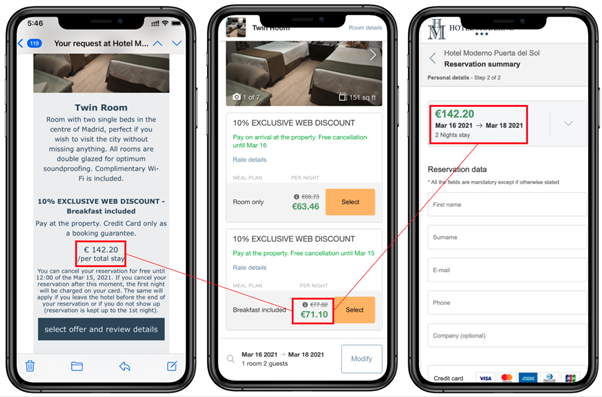 Can I provide quotes for multiple bookings or groups?
Yes, you can. Every selected room will have its own quote. You can also configure from which parameter (for example, number of rooms or access to a public or corporate quote) you would rather the answer not be automated. As HERA knows that from a certain number of rooms the prices for these groups will differ, it has a function for creating answers to group requests in which you can manually introduce a price for said group even with a different price per night.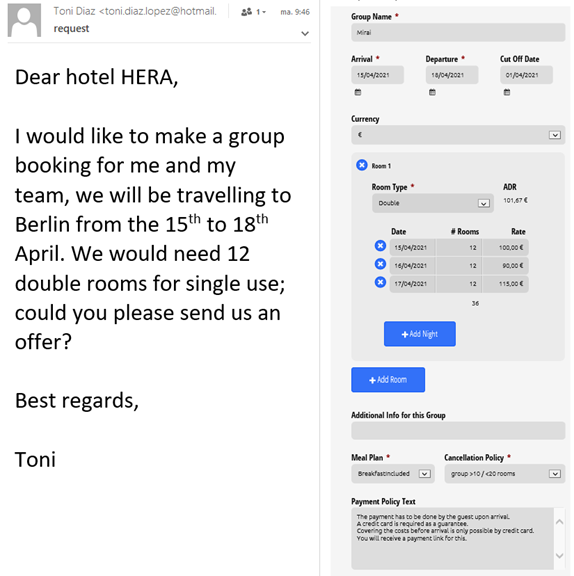 What are the advantages of (fully or partially) automating the sending of quotes?
There are three main advantages, all considerably important.
● More sales. Not answering questions properly – in the wrong language, without photos, descriptions or links for booking comfortably – or in time – within a few hours of receiving the client's email – translates into a bad experience that can make the guest end up booking a stay at another hotel that will answer their questions quickly and efficiently.
● Fewer intermediation costs. It is not only a matter of increasing sales, but of increasing your direct sales, which means you will save considerable amounts of distribution costs. Remember that for these bookings you create and derive to your website there are no associated marketing costs (nor Ads nor meta-search engines) involved, making it the most profitable online sale possible.
● Higher conversion rates. By deriving qualified traffic to your website in the guest's own language and where they can use a credit card instead of sending the card information by email (which is unsafe) or even use alternative payment methods such as PayPal or Bizum, will increase the possibilities of converting each visit into a booking.
● Fewer operating costs. Saving the booking agent time by generating offers and providing the guest with a complete offer featuring all necessary information. At the end of the day, this reduces the number of communication instances between the booking agent and the guest, thus improving their overall experience and satisfaction.
In how many languages can I set my answers?
The languages currently available are English, Spanish, French, Italian, Hungarian and Czech. Other languages are going to be incorporated in the next few months, including Portuguese.
How can I monitor the visits, conversions and sales associated to these quotes?
Directly on Google Analytics, thanks to a special tag in the links to your website and booking engine. Look up the traffic and bookings featuring the source "HERA" and the "Semi-Auto" mode to see the traffic generated by the joint effort of HERA and the booking agent. The mode should be set to "Auto" for the work done solely by HERA in its fully automatic configuration.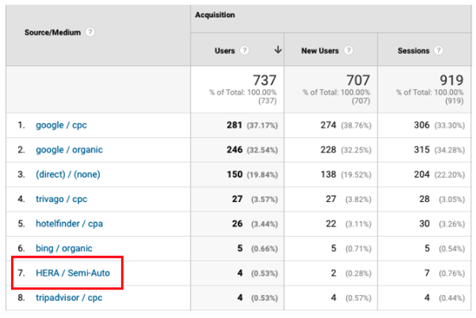 Additionally, HERA will provide regular reports you can download from its extranet.

What are HERA's installation requirements?
A minimal amount of set-up is required to start operating with HERA:
● Add a plugin to your email provider (Outlook, Gmail, IBM Notes, Microsoft Dynamics)
● Redirect a copy of inbound emails to HERA
● Set up your database of frequently asked questions associated to their respective answers and their translations into different languages
● Add HERA to your list of trustworthy email issuers (to avoid the answers ending up in spam)
● Create rooms and rates (you will not have to add details as HERA will pull them from your Mirai engine; think of it as a mapping to teach HERA what each room and rate includes, such as bed types, amenities, etc.)
● Add your corporate logo and colours to the template
Does HERA comply with the General Data Protection Regulation (GDPR)?
Absolutely. HERA only processes your clients' data on your behalf.
What do you mean when you say this new feature is "free"?
Exactly that. If you are a client of Mirai, you can enjoy HERA and its semi-automatic version completely for free. There are no set-up costs or maintenance fees involved. You can also cancel your account at any time if you are not satisfied.
If, after using the semi-automatic version and getting a feel for the automations, you feel like you are ready to try the fully automatic version, you would then have to pay a fee directly to Hotel Resbot.
I'm interested in this new service provided by Mirai in cooperation with HERA. What must I do?
To sign up you can register by filling in the form you will find here. As usual, your account manager can answer your questions and put you in contact with Hotel Resbot.