En español, en français, em português.
Quality content as 3D and 360° virtual tours on your website as well as in the booking process has multiple advantages, as we explain in this other post.
Unfortunately, coronavirus crisis has halted most of the investments planned by many hotels. The cash box has the last word and only essential matters are addressed. On the other hand, "do not waste a good crisis" is a common expression, to which I would add "if you can". FirstView and Mirai want you to be able to do so!
FirstView is a specialist in the production of immersive 3D content for hotels, having produced content for over 300 hotels to date. They cover the production of rooms, but also common areas, meeting rooms and other facilities. High-quality material with many uses, one of which is, of course, making your website and booking engine shine.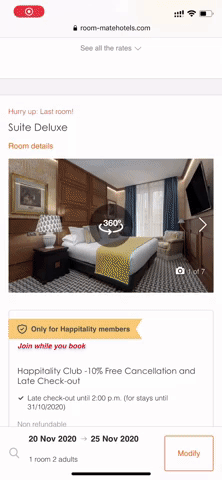 Some other uses are improving your quotes and converting more leads, or selling upgrades in reception. In addition to its content, FirstView acts as a true virtual site inspection tool, which will help you showcase your facilities and rooms to business and event organizers, as well as allow you to present your hotel to agencies and tour operators in a dynamic and appealing way.
Furthermore, FirstView provides you a whole set of tools and additional content to cover all your needs in a single production, such as:
Unlimited high-resolution images up to 36 Mpx.
Mini virtual tour of each room, in 10″ mp4 video format.
Sales tool in Virtual Tour format with all 3D tours integrated.
iOS mobile application where you can download all the content to show it even without internet access.
Quarterly statistics of tour viewings.
Possibility of inserting information points along the tour.
All of the above delivered within a maximum of 15 days.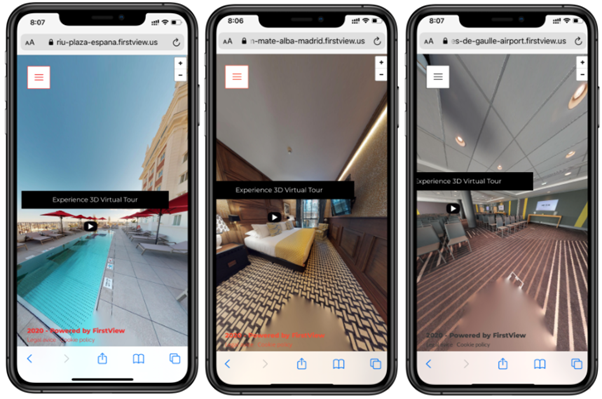 In short, with a single production you can have everything you need to position your hotel at the forefront of digital content.
Fixed cost model
The traditional FirstView model is based on a production fee for each space (rooms, lounges, restaurants, exteriors…), where half the price is paid at the beginning of the production and the second 50% at materials' delivery. Prices vary according to the size of the space to be recorded and start at only 195 euros (or dollars) for each of your facilities. In this model, we at Mirai are just observers, since it is a direct agreement between FirstView and you.
Variable cost model
For those hotels that cannot undertake investments right now but would like to incorporate 3D virtual tours, we have some good news for you. Mirai and FirstView are joining forces to offer a variable cost option instead of a fixed cost system.
How does it work? Instead of the fixed cost model, we move to a variable cost or commission model based on net web sales.
Would I have all the material without paying a euro? Yes, all the payment would be at commission (except for the annual maintenance fee, starting from the second year).
What if my hotel does not open for another 6 months? We could say that you would have a 6-month grace period since you would start paying in the 7th month.
What is the commission increase and for how many months? It will vary from case to case. It is not possible to set the same number for everyone. A study must be made of your case to give you a defined answer.
Who would charge this commission increase? FirstView directly. We will provide them with the amount to be charged each month (as we know it and have it centralized) and they will invoice you directly.
Who would provide the 3D virtual tour service? FirstView would do everything. Mirai is the vehicle to variabilize a fixed cost at a time when investment options are very limited.
I would like to know more, what do I have to do?
For any questions, you can contact your account manager, who will provide you with more details, as well as with the FirstView contacts needed to get a personalized quote.