En español, en français, em português.
The Mirai booking system is able to show different prices depending on whether the user is using a computer/tablet or mobile device. In line with our commitment to offer the highest quality integrations with metasearch engines, we have now further extended the functionality available in trivago: your hotel can now show one price for users of a computer or tablet and a different price if they are using a mobile device, both in trivago Direct Connect (its traditional price comparison site) and trivago Express Booking (its booking interface).
Update September 2022: «Express Booking» for hotels closes as of 1 October, 2022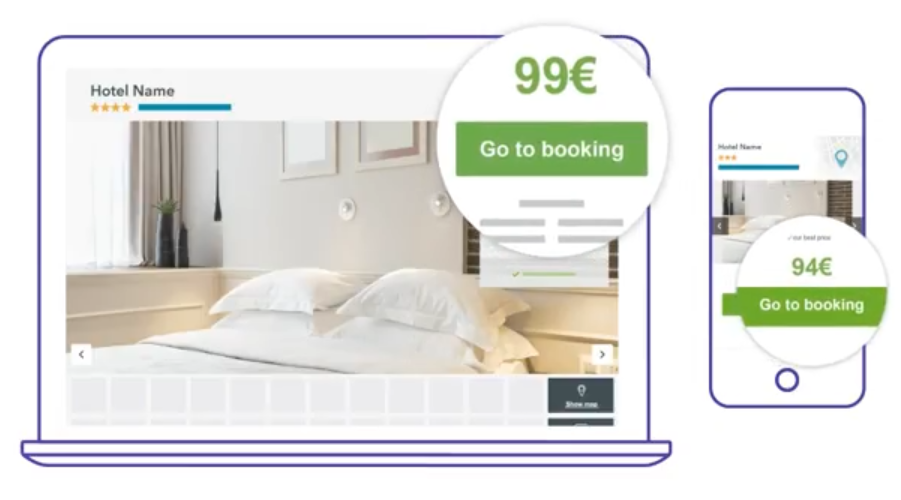 Image: trivago
Competing with OTAs on mobile
Hotels are losing out on a lot of direct sales by allowing OTAs to show lower prices to mobile users (which we show you how to detect in this tutorial).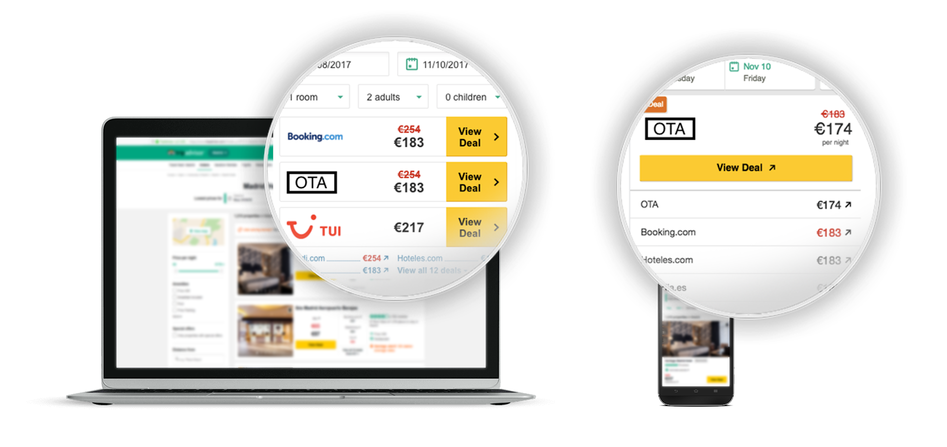 At Mirai we recommend that you take a hard line against this due to the harm it causes your business. One way to avoid it is to do exactly the same thing in your direct channel: load exclusive rates for mobile users and also show them to mobile users of metasearch engines. And this is something you can now do with our new development.
Adding trivago means that we can now show different rates by device in the five most important metasearch engines: Google Hotel Ads, trivago, TripAdvisor, Kayak and Skyscanner. The objective is to ensure your direct sales are competitive compared to other channels in key travel sites.
Now that trivago has also added a filter that shows mobile users exclusive rates, the channels that use this type of rate get even greater visibility. This is another reason to take full advantage of this functionality to help you compete with OTAs in the mobile environment, one of the most complicated areas for direct sales, and hopefully improve your conversion rates on mobile.
Metasearch strategy
When customers use metasearch engines, they have already decided to stay in your hotel and to book it, so the price in the different channels displayed by metasearch engines is a key factor in their choice of channel.
But to optimise your results in metasearch engines, it's not enough to just "plug them in". The best thing to do would be to remove the OTAs, which in metasearch add absolutely no value, but nowadays that is just a pipe dream. If that's not on the table, to beat the OTAs you need a strategy in metasearch sites and a booking system that allows you to implement it. Mirai gives you those weapons.
In addition to the filters for mobile, trivago has also added other filters to improve usability in finding the most appropriate rate and channel for each user: by meal plan, free cancellation policies, payment at the hotel and the availability of Express Booking. Mirai is one of the few integration partners to send trivago both your rates and all the metadata they need to apply these filters, which can help differentiate your direct sales from other channels. It is explained in greater detail in this post. This level of integration with trivago is far more advanced than integrations made by other companies that are unable to use these features. Would you like to use them?
How to activate rates by device and filters in trivago
If you have already loaded different rates by device and have an active trivago campaign, you don't have to do a thing, trivago mobile users already see your exclusive rates and can use the filters to find them more easily.
To find out more about how to improve your metasearch strategy, or if you are not investing in metasearch but would like to do so, please contact your account manager.