Web design for hotels: done by people for people
versatile
Conceived for the end-user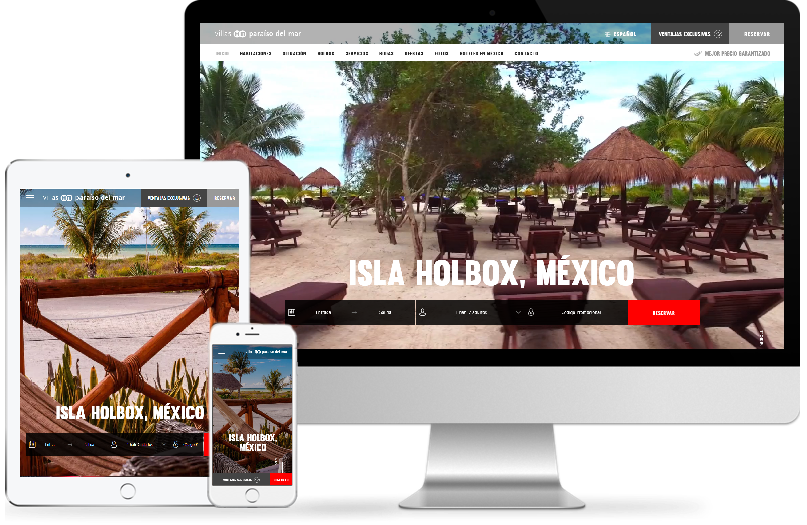 in progress
Focused on conversion
Analytics reports
Perfect for making decisions and staying up to date regarding your sales strategy.
SEO & SEM
Visibility is important, so we help you to be present.
Content manager
Add offers, occupations and prices that will be displayed on your website instantly.
hotelier
With advantages for you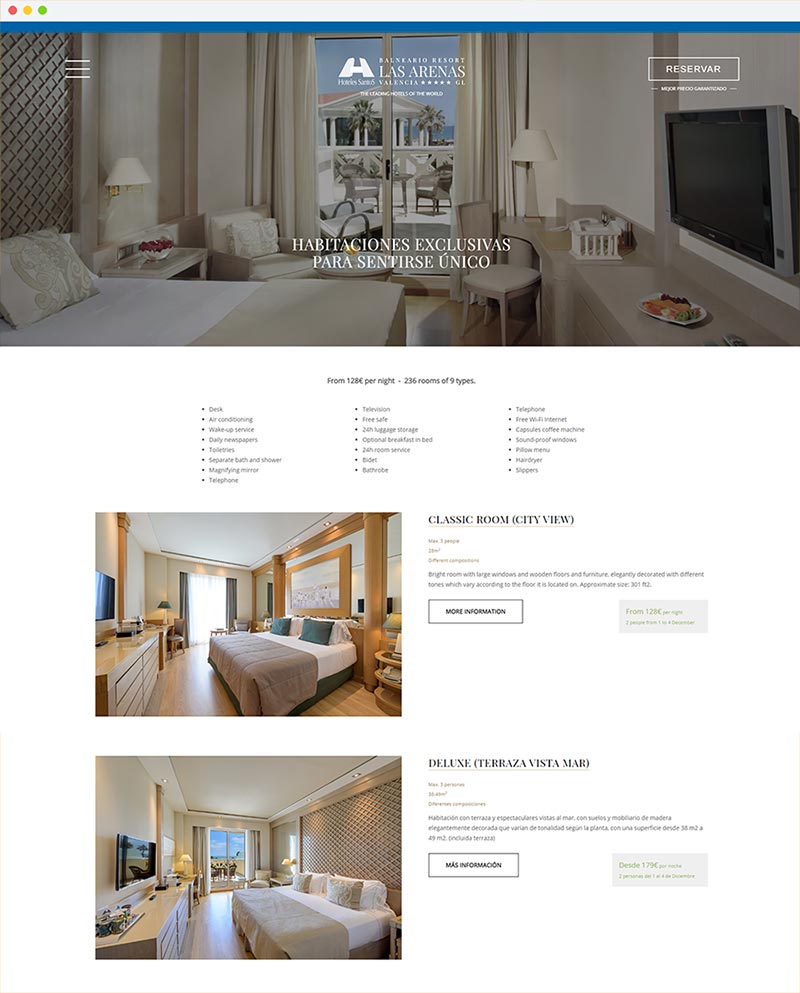 Dynamic room section
Any change you make to the information about your rooms such as pictures, descriptions or services will automatically be reflected on your website.
Our "Rooms" section is conceived to show all relevant information for every room, occupation, bed typology, square metres, room equipment and it even shows the offers associated to that particular room so that you can reserve it directly.
Content updated instantly
Price "from" per night
Remaining rooms
Last reservation done
Dynamic offer section
Our powerful system allows the generation of multiple different offers. All of them as well as "dynamic rooms" will be shown on your website the moment you create it in our customer extranet. You won't have to worry any more about uploading pictures or manually uploading your offer on your website.
Each offer will appear in the general page of offers, featured in the homepage and each one will have its own localised URL in international format so that you can share it as well on social networks or use it in email marketing as target landing page.
Content updated instantly
Far-reaching
Extras linked to offer at all times
Individual URL for marketing actions
success stories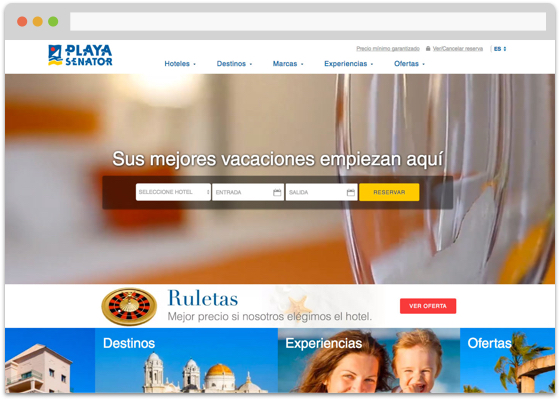 Playa Senator
This was a big challenge, as the main objective was to transfer the hotel's brand image to a functional website, making it suitable for all devices and personalising it with a focus on constant special offers. We had to organise information, provide a corporate design and tune the end-user experience.
Visit Playa Senator
Gloria Hoteles
This hotel chain had a specific target which required us to configure several prototypes of structure and a complex information architecture. The website needed to transmit a nice and relaxing atmosphere, so we used colour coding that covered this need as well as high quality photographs.
Visit Gloria Hoteles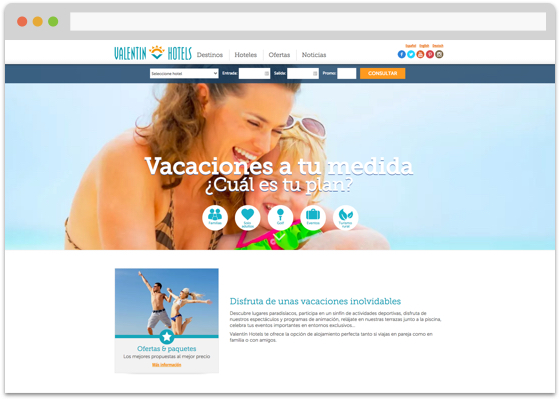 Valentín Hoteles
The challenge in this case was to tow the line set by the corporate image, maintaining the elegance that this hotel chain inspires. We had to take into account a wide diversity of destinations and activities, which in turn forced us to create a new concept that is easy to use and improves conversion.
Visit Valentín Hoteles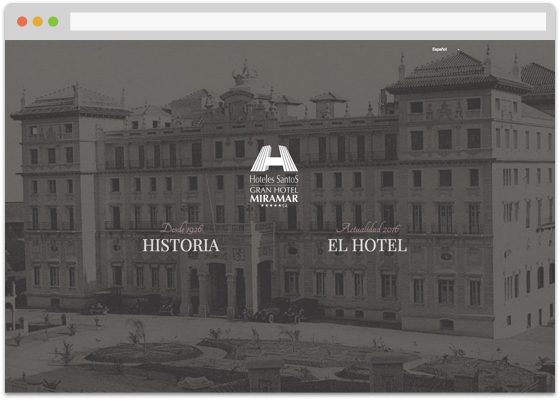 Gran Hotel Miramar
This 5-star hotel full of history returns to become a luxury reference in Málaga, a premise that we wanted to reinforce through bright colours and texts that bring this idea of exclusivity closer to customers.
Visit Gran Hotel Miramar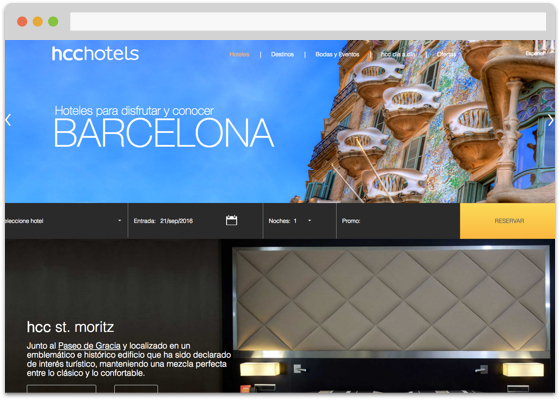 HCC Hotels
The requirement in this case was to move a big amount of well-positioned content, SEO-wise, to a new website. For this, we had to think about how to organise information and reinforce the visual layer. The result was a website easy to navigate on any device.
Visit HCC Hotels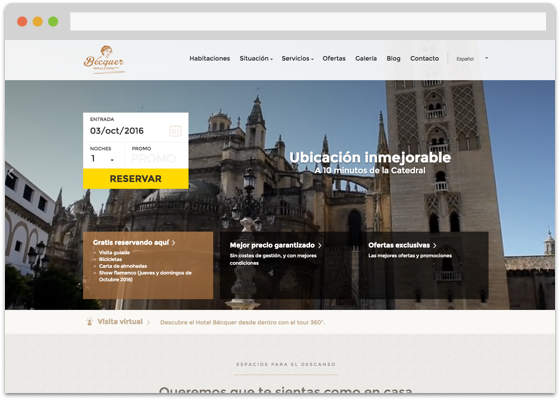 Hotel Bécquer
The website had to visually transmit the same values that the brand represents: tradition, closeness, commitment and trendiness. We performed an architectural revision of the information layout so that end users could access content that would allow them to experience the city of Seville.
Visit Hotel Bécquer